If your interests have made you consider exciting career fields like marine and atmospheric research, policy, conservation, environmental law, medicine, business, or broadcast meteorology, we'd like to introduce you to someone. Dr. Neil Hammerschlag is the University of Miami's resident shark expert and Research Associate Professor for the Department of Environmental Science and Policy. The marine ecologist focuses his research on behavioral ecology, conservation biology, and movement ecology of marine predators. Based at the Rosenstiel School of Marine, Atmospheric, and Earth Science, Dr. Hammerschlag also runs the Shark Research and Conservation Program (SRC). Here are five facts about his work, which you may be a part of some day! 
He's performed an ultrasound on a pregnant shark. While not much is known about the reproductive system of tiger sharks, Dr. Hammerschlag and a team of scientists set course to reveal some of the mysteries behind this life stage. The expectant parent was a 10-foot, 850-pound tiger shark, and the ultrasound showed several pups in her abdomen. 
He's led a 'Cane Talk (think TED Talks, but at UM) to describe the urgency of protecting one of the ocean's most misunderstood, and important, creatures. Dr. Hammerschlag spoke about sharks' biggest predator (humans), how they're facing overfishing, and suffering dramatic population declines.
His research shows the impact of climate change on shark migration patterns. Dr. Hammerschlag and his team found that for every one-degree Celsius increase in water temperature, tiger sharks migrated about 250 miles closer toward the poles.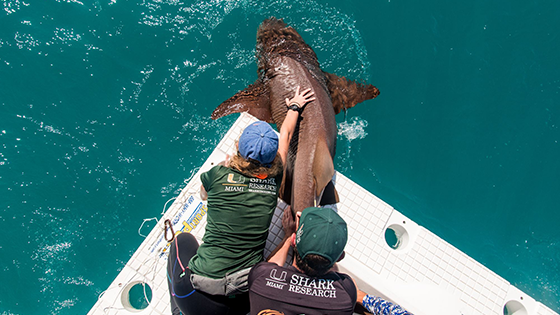 He founded the Shark Research and Conservation Program as a Ph.D. student at UM, after realizing the need to involve young researchers in shark conservation efforts. The program has been leading marine predator research efforts for high school students for 12 years, and has exposed more than 1000 students to field research.
He helped facilitate a race between Michael Phelps and a Great White during Discovery Channel's Shark Week 2017. Dr. Hammerschlag can be seen in footage of Phelps' close encounter with two Great Whites, and helping him to prepare for a race.
Choose your own adventure at Rosenstiel School of Marine, Atmospheric, and Earth Science with undergraduate degree programs in Geological Sciences, Marine Affairs, Marine Biology & Ecology, Marine Science (Double Major Program), Meteorology, Oceanography, and more. Who knows? You may be on a research vessel with Dr. Hammerschlag someday.
---