Through a series of anecdotes, Gary illustrated how he was able to transform the adversities in his life into the successes he now enjoys, while remaining true to his humble roots.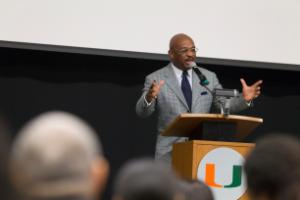 ‌
Attorney Willie Gary speaking at the 38th Annual NCBS Conference
"It bothers me when I see those who have made it and don't give back," said Gary. "You have an obligation to help those in need."  Gary's philanthropic outlook stems from his background and the people who encouraged him in his youth. "Don't look down on anybody unless you're picking them up," said Gary, recognizing that what truly matters is how many people you have lifted up.
Dubbed the "Giant Killer," Gary has developed a reputation for being an indomitable force in the courtroom – going 17 years without losing a case.  Gary wasn't selected as the keynote speaker for his legal prowess, but for his philanthropic work through the Gary Foundation. His foundation's gifts include a $10 million gift to Shaw University.  Gary acknowledges that Shaw University took a chance on him when no one else would by waiving his $10 application fee. He sees the donation as simply repaying a debt.
When Gary first arrived at Shaw University, he only had a suitcase tied together with a rope.  A self-proclaimed farm boy, Gary came from a background where he would go to school half the day and spend the other half working in the field until sundown.  Gary's rearing keeps him humble in spite of his successes, "I am a living witness that tough times don't last – tough people do."
The National Council for Black Studies is an organization for black studies professionals, based in Atlanta, Georgia, United States, which works for the development of Black or Africana studies as a respected academic discipline. 
For more information on the Africana Studies Program, UM College of Arts & Sciences, please visit http://www.as.miami.edu/africanastudies/
College of Arts and Sciences
---