Looking back, Mona Nasser knows she could not have done it alone. Almost 30 years ago, Nasser was a young mother raising a child diagnosed with autism. She remembers feeling lost and unsure about where to go and what to do for her daughter.  

"My daughter was about five years old when she was diagnosed with autism and resources during that time were pretty scarce," said Nasser. "I heard about this new center for autism that was assessing children on the spectrum, so I reached out and it changed our lives forever."
Not only were the services provided by the center free of charge, but Nasser said she felt hope for the first time in a long time. "They built up our strength, gave us hope, and made us feel that we belonged. Every step of the way, they supported my daughter from childhood to adulthood. I don't know where I would be without them."
Nasser is singing her praises about the University of Miami-Nova Southeastern University Center for Autism & Related Disabilities (UM-NSU CARD). Part of the University of Miami Department of Psychology in the College of Arts & Sciences, UM-NSU CARD is a state-funded resource and support center dedicated to improving the lives of children and adults with autism.
Now celebrating its 30th anniversary in South Florida, UM-NSU CARD has assisted more than 16,000 families in Broward, Miami-Dade, and Monroe counties who are affected by autism or a related disability. Families who join UM-NSU CARD receive step-by-step assistance that includes referrals for schools, speech therapists, behavioral analysts, neurologists, pediatricians, family support groups, and job creation opportunities for adults with autism.
Executive Director of UM-NSU CARD, Michael Alessandri, has dedicated his 40-year professional career to helping people with autism. He joined UM-NSU CARD during the center's early years when it was spearheaded by its former executive director, Dr. Peter Mundy, who is now the Distinguished Professor of Education and Lisa Capps Chair in Neurodevelopmental Disorders and Education at the University of California, Davis.
In 2007, Mundy left his post for UC-Davis but says UM-NSU CARD was serving about "4,000 families at the time and now that number has grown dramatically, thanks to Michael and CARD's dedicated team."
"UM-NSU CARD is my life, and I like it that way," said Alessandri, a professor and assistant chairman for community outreach and engagement in the Department of Psychology. "More and more families need our support, and more families are finding us. But there are still so many families out there who have yet to make that critical call to us. When they do, though, we are ready to support them for the rest of their child's life, if needed."
Jennifer Durocher, CARD's director, works alongside Alessandri and arrived when she was a graduate student at the University of Miami. "I believe so strongly in CARD's mission and the work that we do. I can't picture myself doing anything else," said Durocher. "I am so fulfilled by the close connections that I've made with the families I've worked with. It's been an amazing experience to see their growth and progress over the years."

Programs created to change lives
UM-NSU CARD offers specified programming for individuals with autism as well as support groups for parents with children and adults on the spectrum. It was at the "Just for Dads" support group where Pastor Fuster Jr. remembers meeting Alessandri after his son's autism diagnosis in 2017.
"Michael, and the team at UM-NSU CARD, have guided our family from the very start," said Fuster, Jr., who also chairs UM-NSU CARD's constituency board. "From choosing providers to the right schools and therapies, they are a great support system. The support groups for parents have also played a big part in us not feeling alone on this journey."
"I love the brotherhood of dads we have created with our 'Just for Dads' group," said Alessandri. "I have never been part of something so deeply rooted in love, trust, and honesty. It truly is a fraternity of men linked only by the love of their children."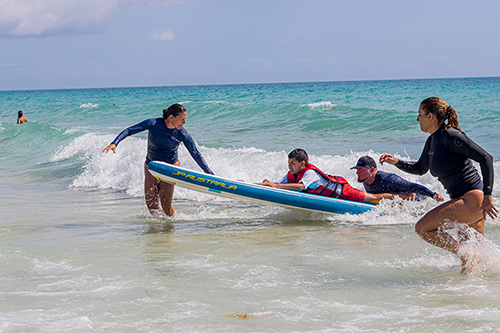 Giving kids with autism a chance to learn how to surf is the goal of CARD's Surf Camp. Celebrating over 20 years of teaching kids how to surf, swim, and explore the big, blue ocean, UM-NSU CARD has partnered with the City of Miami Beach Parks and Recreation Department for a week-long, fun-in-the-sun experience for kids between the ages of 8-12 years old. Along with supporting parents and teaching kids how to surf, UM-NSU CARD created a vital partnership to create employment opportunities for adults on the spectrum by collaborating with The Daniel Jordan Fiddle Foundation (DJFF), which was founded in 2002 to support and advocate for adolescents and adults with autism.
In 2014, the DJFF made a generous donation to establish The Daniel Jordan Fiddle Foundation Transition & Adult Programs. The initiative provides employment readiness programming and training for adults on the spectrum and offers businesses support to understand the unique needs of their employees with autism.
"I have been a part of UM-NSU CARD for almost 30 years and there is always more to do for the community," said Diane Adreon, division director for The DJFF Transition & Adult Programs. Adreon provides coaching for parents with young children and adults on the spectrum and guidance to two essential support groups at UM-NSU CARD: Parents of Adults with Severe Autism and Parents of Adults Striving for Independence. "When we opened the first office with Dr. Mundy at the helm, I remember connecting with families throughout South Florida, even down to the Florida Keys."
With the generous donation made by the DJFF, The Taft Foundation, and Canon, UM-NSU CARD established the Job SEEKers (Seeking and Enhancing Employment Knowledge) program, which is an employment readiness program for autistic adults. The Taft Foundation is UM-NSU CARD's most significant private funder, donating nearly $2.5 million over the years to fund numerous impactful autism programs for the center.

Through state funds and other generous donations, the center has provided autism-related training for healthcare professionals, teachers, and first responders, education programs for the public, technical assistance for South Florida schools, and support for local businesses that hire people with autism. During the summer months, UM-NSU CARD offers a summer camp program for children that is funded by The Children's Trust.

"For some children at the camp, it's the first time that they have a successful camp experience. For others, it's an opportunity to make friends," said Durocher. "The camp program is also responsible for bringing so many new professionals to work in the field of autism. We traditionally hire University undergraduate psychology students as camp counselors. Many of these students are now special education teachers, psychologists, and behavior analysts because of the passion that was sparked during their work at camp."


Looking into the future with optimism
What's the next big step for UM-NSU CARD? Alessandri says he would like to see the center have an even greater footprint throughout the South Florida community. He envisions satellite offices in the Florida Keys, Homestead, and the northern parts of Miami-Dade and Broward counties, as well as an expansion of adult services with housing and employment initiatives throughout the South Florida region. 
"A greater presence on our two campuses—UM and NSU—would also be very welcome as we are growing quickly and outgrowing our existing spaces," he adds. "I always say that CARD is more than an excellent program, it is the vehicle that created the autism community here in South Florida. I'm so proud of all the innovative programs we have created. I'm particularly proud of our strong partnerships throughout our region which help to amplify our work."
College of Arts and Sciences
---