John Daversa recognized for excellence in teaching and scholarship
UM News, 03-29-2021
Frost School of Music D.M.A. Chair, Professor of Studio Music and Jazz John Daversa has been awarded the prestigious Phillip Frost Award for Excellence in Teaching and Scholarship.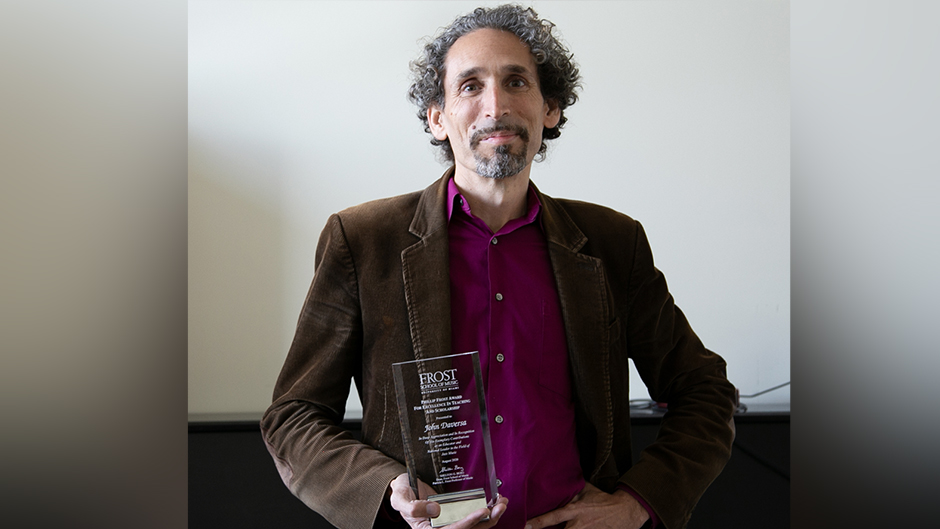 Dr. Daversa was recognized by a selection committee of his peers as an exemplary faculty member for his outstanding contributions as an educator, scholar, and internationally respected artist in the music industry.
"The GRATITUDE I feel for both the gifts and challenges of service through the muse of music—my love and passion—fills my soul beyond capacity and guides my inner mission and purpose," stated Dr. Daversa. "To be recognized with this prestigious honor by Frost faculty, staff, and students, for whom I have tremendous respect and admiration, is an honor I hold close to my heart."

John Daversa is a three-time GRAMMY® Award winner for his 2019 recording American Dreamers: Voices of Hope, Music, and Freedom. He also received three GRAMMY® nominations in 2017 for his big band release Kaleidoscope Eyes: Music of the Beatles.
Dr. Daversa has appeared on The Today Show, Late Night with David Letterman, and Oprah Winfrey as well as major festivals including Live 8 in Berlin, Monterey Jazz Festival, Montreal Jazz Festival, Montreux, and Playboy Jazz. Among artists he has recorded with are Herbie Hancock, Fiona Apple, Sheryl Crow, Andraé Crouch, and The Yellowjackets.
Additional accolades include the Herb Alpert Award, David Joel Miller Award, the National Trumpet Competition, the ITG Jazz Soloist Competition, and a finalist in the Thelonious Monk International Jazz Competition.