University's Lakeside Village welcomes first residents
UM News, 08-13-2020
Lakeside Village, a 12-acre, transformative housing complex on the shores of Lake Osceola in the heart of the Coral Gables Campus, officially opened its doors on Thursday to greet the inaugural class of students.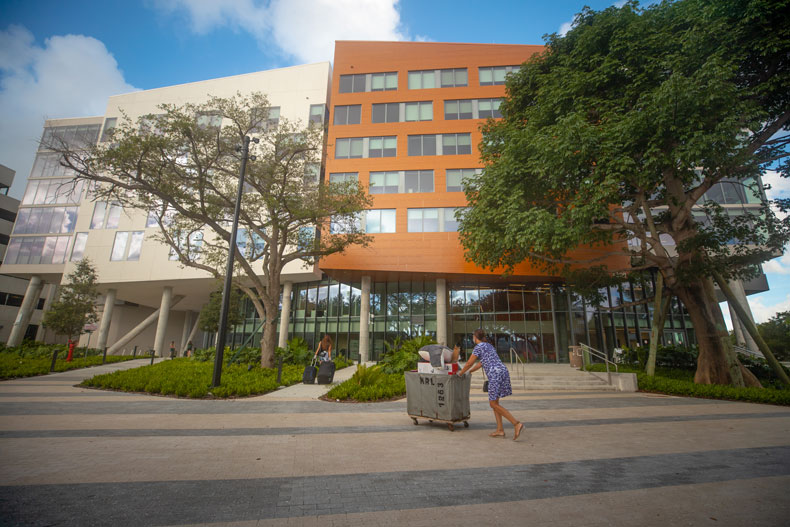 "This place is gorgeous!"
"The architecture is very 'Miami.' " 
"This place is beautiful!"
Phrases like these and more could be heard throughout Lakeside Village as the transformative student-housing complex officially opened to University of Miami students on Thursday. Initially breaking ground in February 2018, Lakeside Village features modern apartments and suites for 1,115 students and a variety of indoor and outdoor spaces that will elevate the on-campus living experience and provide a variety of new amenities. 
As students—and their families—unloaded moving carts and checked out the new rooms, some of Lakeside Village's first residents offered their initial impressions of the facility and what they most look forward to in their new home on campus. 
Natalie Rodas is sharing her apartment with roommates she met while living in Hecht Residential College during her first year on campus, and she appreciates not only the complex's modern look but also its proximity to other popular campus locales. 
"This place is really nice and the view from my room is better than I expected," said Rodas, a sophomore majoring in marketing and finance. "I am glad to be centrally located on campus, so that I can be everywhere I need to go within a short walk." 
Alexander Miller, a neuroscience major in his second year on campus, said he walked around Lakeside Village's outdoor spaces this past summer but couldn't imagine what the living quarters would look like. 
"There are so many things in here to see and explore," he added. "I had a good on-campus living experience last year, but I am looking forward to apartment living and a more mixed living experience with other students." 
Jimmy Dickey is originally from Cleveland and said his experience living in Stanford Residential College was a positive one, but he missed his ability to cook. 
"I love making breakfast food like pancakes and eggs," he said while he and his mother unpacked kitchen essentials. "And it will be nice to have my own space as I continue to grow and learn." 
Similarly, Sofia Diaz, who is from Miami and majoring in finance and broadcasting, said that moving from her traditional double room in Hecht Residential College to her apartment in Lakeside Village will help with her personal development while on campus. 
"Now I have the opportunity to make my own food and be more self-sufficient," Diaz said as she put some finishing touches on her private bedroom in her four-bedroom apartment. "Having a room to clean and maintain last year was a good first step, but now I also have my own space, a kitchen, living room, and bathroom to clean and maintain with my roommates." 
Students will continue to arrive to Lakeside Village through the weekend as classes are set to begin on Monday, Aug. 17.