'Year of Glass' Celebrates Medium with a Variety of Pieces
Janette Neuwahl Tannen, 08-27-2018
Two additional exhibitions—one featuring the work of celebrated Venetian glass artist Giampaolo Seguso—will open at the Lowe Art Museum in October.
When you walk into the Lowe Art Museum's Rose and Albert H. Friedman Lobby, it's hard not to notice the scarlet, indigo and golden flowers sprouting from floor to ceiling.
This glass piece by renowned Seattle-based artist Dale Chihuly and entitled Mosaic Persian, was donated to the museum in 2017 by Dale and Doug Anderson as a catalyst to the larger exhibit beyond. It is a small preview of the "Year of Glass," a celebration of the medium and two of its strongest Miami enthusiasts, Myrna and Sheldon Palley.
Glass is special, said Myrna Palley, a former University of Miami art major who has been collecting glass for 35 years.
"It's got a life of its own; it's fragile but strong, and wherever you move it in the house or in a gallery, it takes on new dimensions," she said. "It's like no other medium because it's not flat. It is affected by light and the atmosphere."
The couple's 2008 donation made it possible for the Lowe to open a 3,500 square foot wing, named the Palley Pavilion for Contemporary Glass and Studio Arts. And this February, a new installation curated by Linda Boone was opened in the space, completely devoted to glass art. The spacious gallery allows natural sunlight to showcase the art, and includes textured glass windows leading into the wing, created by artist William Carlson. Carlson is a former University of Miami art professor and art department chair from 2003 to 2012.
Lowe Director and Chief Curator Jill Deupi said that the museum is committed to counteracting the idea that glass is a separate category of art, or more challenging still, a craft. To elevate the genre, the Lowe is not only highlighting the medium through the "Year of Glass" programming, but is also installing glass art in galleries beyond the Pavilion.
"We want to tell a fuller story to infuse our wonderful permanent collection galleries with glass, so it is not seen as something inferior or seen as separate from contemporary art," Deupi said.
The current display in the Palley Pavilion contains a multitude of glass and ceramic pieces—donated by the Palleys, Florence and Robert Werner, the Estate of Joan Baxt and the Martin E. Messinger Family, among other supporters—that force viewers to notice the angles and different hues infused in the glass, as well as to appreciate the arduous technical work that glassmaking commands.
A glass ladder and mixed media piece by Omaha-based artist Therman Statom infuses three-dimensional items into his pieces, such as vases and multicolored glass fragments, giving each piece a multilayered effect. A massive teardrop-shaped blown glass piece from Stephen Rolfe Powell showcases a rainbow of colors that fade into one another. And Cuban American artist José Chardiet blends colors within his glass sculptures to create striking tables and chairs with abstract shapes protruding from them, just to name a few.
But the pieces contained in the Palley Pavilion are only the start of the "Year of Glass." Two temporary exhibitions devoted to glass will open October 18—one that showcases the art of Giampaolo Seguso, one of Venice's leading glass maestros, and another with more than four dozen objects from the collection of the Werners, an Aventura couple who have been collectors for 25 years.
To date, the Werners have nearly 270 pieces of glass, mostly contained in their large apartment, Robert Werner said. However, the Werners enjoy sharing their prized possessions in museums and the Lowe's showcase will mark their third exhibition. Werner added that the crown jewel of their exhibit will be a six-foot tall woven glass sculpture called Summer Zenith Kimono, by Maryland artists Markow & Norris.
"With all three exhibits combined, (anyone who visits the Lowe) will be getting a really close look at contemporary developments in the glass art world from 1962 onward," said independent consultant and curator Davira S. Taragin, who is curating the Werner exhibition. "It really is like a lexicon of contemporary glass."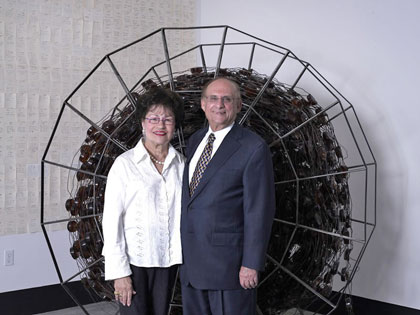 The Palley family began collecting glass pieces in the 1970s, just a few years after the movement really took off in the early 1960s in America, and they have promised much of their collection to the Lowe for UM students, faculty and staff, as well as the greater Miami community to enjoy. Myrna Palley said she hopes that by visiting the Lowe, visitors will be inspired to pursue glass art in college, or to merely support arts programs with donations, so that the genre will continue to flourish.
"The techniques have changed so much from just blown glass; the processes today are amazing, but that comes through a college education, which is so important to the artists," Palley said. "That's why I would like it to continue to grow."
To bolster glass education, as part of the Artlab@theLowe seminar and student-curated exhibition, UM students created their own installation to complement the glass exhibits. To create the exhibition, four students, along with full-time sculpture and glass lecturer Jenna Efrein, and Deupi spent their 2018 spring break on a five-day, five-state road trip to visit 11 of the artists whose work is on display in the Palley Pavilion. Students conducted video interviews with the artists, which are now displayed on iPads in the Lowe's Richard B. Bermont Family Gallery for visitors to watch. Many of the videos were shot in the artists' own studios where students asked the glass artists to explain people or works that inspired them.
"The idea was to get the viewer to realize that art is really an overarching influential house—you can't say that an artist who works in glass is only interested in glass," said Efrein, who knows many of the glass artists personally. "For example, Walt Whitman really influenced (glass artist) Paul Stankard, which is why we have a quote from one of his poems on the wall. And Sydney Cash was really inspired by Hafiz the poet."
Artlab@theLowe is an upper-level seminar class offered through the College of Arts and Sciences that allows students to plan and curate an exhibit, culling the works from the museum's permanent collection of 19,000 pieces spanning five millennia and six continents.
Also, as part of the "Year of Glass," artist Clifford Rainey will be speaking on Nov. 8 from 7 p.m. to 9 p.m. as part of the Myrna and Sheldon Palley Glass Artist Lecture Series. Rainey, a sculptor, is well-known for his glass casting technique, and has a studio in Napa, California.
Visit the Lowe Art Museum
Students can visit the Lowe two evenings this fall for a special Lowe After Hours event on Thursday, September 6 and Thursday, October 4 from 7 to 9 p.m. for $12.50. The event includes hors d'oeuvres and refreshments, and is free for Lowe members.
Students, faculty and staff, as well as children under 12 and U.S. Military personnel can visit the Lowe for free. The museum is open Tuesday through Saturday from 10 a.m. to 4 p.m. and on Sundays from 12 p.m. to 4 p.m. The museum is closed on Mondays and University holidays. General admission for adults and children over 12 years old is $12.50, and is $8 for Senior Citizens. Admission is free on Pay-What-You-Wish Day, the first Tuesday of every month, when a free, docent-guided tour of the permanent collection is also offered at 1 p.m.