Construction of Centennial Village back on track
News@TheU, 12-10-2021
After active site work for Centennial Village was paused because of the pandemic, the project ramps up this month to prepare for the demolition of Hecht Residential College in May 2022.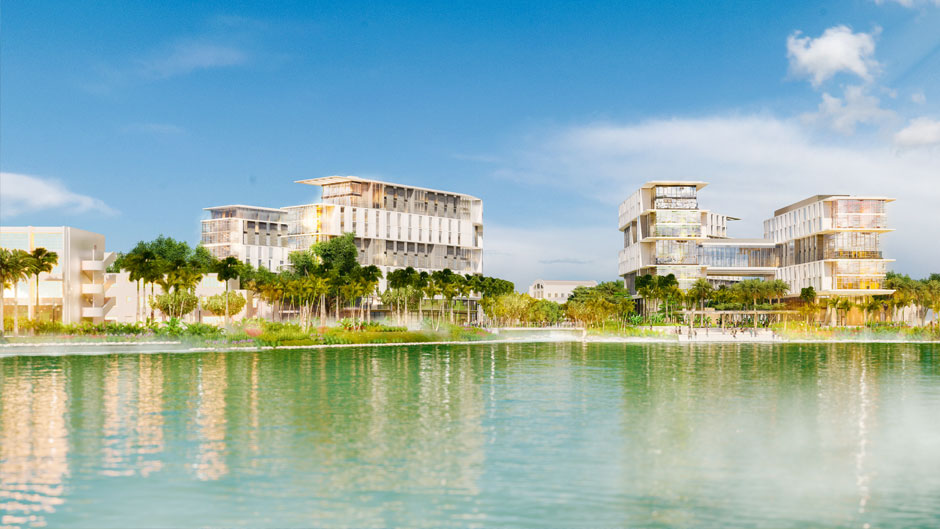 The University announced plans to build Centennial Village—a new on-campus housing village for first-year students—in January 2019, but active work on that project was paused because of the COVID-19 pandemic. Now, as the University looks toward a brighter future, preconstruction work will ramp up in the coming weeks and months to prepare for the new campus housing village. 
Although much of the on-site work stopped, University leaders continued to engage with the project's architects and contractors throughout the past 18 months to re-evaluate the overall approach to the project. 
"We are delighted to resume progress toward completion of our multiyear plan to modernize our housing on campus," said Jacqueline A. Travisano, executive vice president for business and finance and chief operating officer. "When the project was paused, our team used that time to re-evaluate our initial plan and make some enhancements to its scope and timeline."
Initially designed as a complex with four residential colleges offering housing for 1,700 first-year students, plans for the village now call for an added fifth residential college, bringing the total estimated occupancy to approximately 2,025 students. 
The project's two-phase construction sequence was also amended: Hecht Residential College will close in May 2022 followed by Stanford Residential College in May 2024. Centennial Village's first two residential colleges are slated to open in fall 2024 and will include a new dining hall. The village's final three residential colleges are expected to open in fall 2026 in further celebration of the University's centennial anniversary. 
Timeline Summary 
Summer 2022: Hecht Residential College closes.

Summer 2024: Stanford Residential College and Hecht-Stanford Dining Hall close.

Fall 2024: Residential colleges 1 and 2 open (including new dining hall).

Fall 2026: Residential colleges 3, 4, and 5 open.

 
"Reordering the phases of the project is beneficial for many reasons," said Jessica Brumley, vice president for facilities operations and planning. "For example, the revised sequence brings a new dining hall to resident students two years earlier than anticipated and creates a more compact construction site to limit the disruption on the surrounding campus area." 
Following Lakeside Village's successful opening in August 2020, Centennial Village is the second phase of the University's ambitious plan to reimagine campus housing for the next generation of students. Complete with modern living spaces, a variety of resident lounges, outdoor gathering areas, and much more, Centennial Village will contribute to students' successful transition to life on campus. 
With innovative systems and sustainable building materials, the village aims to achieve LEED Gold Certification. 
"Centennial Village will transform both our campus landscape and the student experience," Patricia A Whitely, senior vice president for student affairs, said. "By continuing to offer our successful first-year residential programming in facilities designed for the modern student experience, the new village will greatly enhance life on campus." 
During the first phase of construction, first-year resident students are expected to live in Stanford, Mahoney, and Pearson residential colleges; sophomores will primarily dwell in Eaton Residential College and Lakeside Village; and most juniors and seniors will reside in University Village. 
The University contracted with Virginia-based VMDO Architects and Zyscovich Architects from Coral Gables to design the project. Coastal Construction will manage the demolition and construction. The project is expected to cost $335 million. 
Visit miami.edu/newstudenthousing to get more information.