Inaugural UScale program connects scaleups, students, and the community
Cibeles Duran,
New accelerator program gives innovators from around the world the opportunity to tap into Miami's most dynamic markets.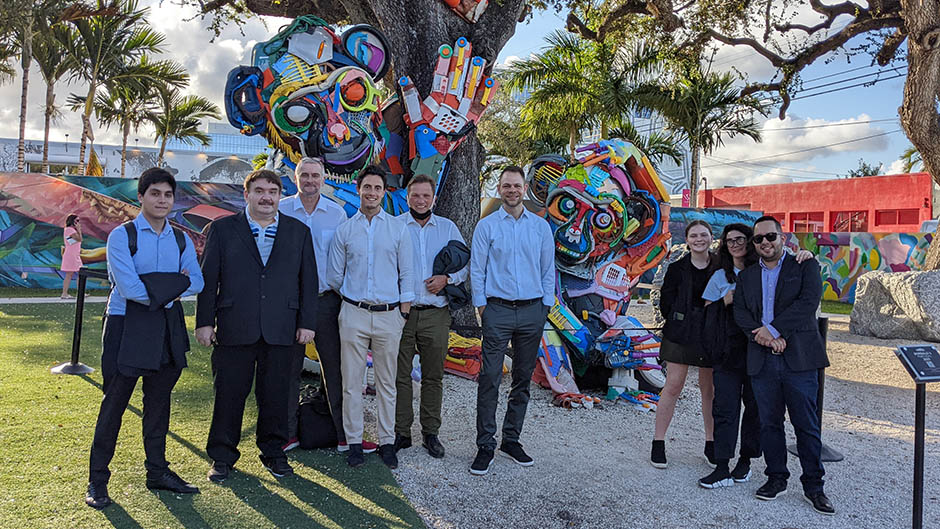 Founders of high-growth startups around the world with novel solutions now have an opportunity to enter markets in the United States and Latin America through Miami Herbert Business School's new UScale accelerator initiative. The inaugural program already fuels Miami's momentum towards innovation and emerging technologies by connecting innovators and industry players in a business community known for its international reach and entrepreneurial activity.
"We set out to find top innovators, talent, and job creators, and to bring them here to take advantage of all that the University of Miami and the Miami ecosystem have to offer," says Dr. Susan Amat, director of entrepreneurship initiatives and professor of professional practice.
For its opening cohort, Amat and her team identified some of the world's most innovative companies in the real estate and construction industries for a one-week residency with reach to students, alumni, faculty, and business leaders. The group consisted of ten founders – selected out of 190 applicants – whose companies offer transformative solutions and are ready for international exposure. For several weeks leading up to the University of Miami's 2022 Real Estate Impact Conference, which took place on Feb. 25, the group of innovators met virtually to collaborate, enhance their pitches, and receive guidance from faculty and industry mentors.
"It is not just a business opportunity; it is also a personal experience with wonderful people," says Michel de Ruiter, founder of Grafinco, a firm pioneering graphene-enhanced concrete.
"It was an awesome experience to learn from each other and put together a more cohesive pitch," says Ray Abel, CEO of Xogo, provider of a hardware device with software that connects all devices in a home.
"We all became close friends that helped each other move forward," says Olivia Ramos, founder of Deepblocks and a UM alumna, Master of Real Estate Development from the School of Architecture '10. Her company offers a software tool that digitally explores entire cities for an optimized process of site selection and feasibility analysis in real estate development.
The founders came together from Finland, Spain, the Netherlands, Chile, and the United States in late February for the week-long residency filled with noteworthy opportunities, such as presenting at the Real Estate Impact Conference, meeting with representatives at the Miami-Dade Beacon Council, delivering their pitches during a pitch night event in front of over 200 attendees, and visiting the headquarters of industry giant Related Group. Throughout the week, cohort members met with leading industry figures like JP Perez of the Related Group, Eduardo Defortuna of Fortune International Group, Sandeep Mathrani of WeWork, and investor Sheila Johnson, the first Black woman to become a self-made billionaire.
Ramos mentions that she had been trying to meet some of the leaders for years. "I finally got to meet them through the program. That was amazing," she states. The experience has already led to a follow-up meeting with Lynn Hackney, principal of development firm Community Three.
"If you are thinking of improving your startup in a scalable way and coming to a program that really supports you, this program is where you have to be," adds Alejandro Ruiz, founder of Check to Build, a web platform that provides construction and engineering managers with an automated inspection service for their supervisory needs.
Other cohort members included Markus Silfverberg, founder of Block Solutions, producer of environmentally-friendly block construction modules using a combination of plastic and locally sourced, recycled materials; Serge Znu, founder of Extreme Mobility Living, developer of 3D-printed sustainable skyscrapers through a patented 3D-print skyscraper technology; Rikesh Gurung, founder of The Green Road Project, a plastic recycling plant in Bhutan using waste plastics for blacktopping roads; Alvaro Chavez, co-founder of OpenCasa, provider of a platform that enables cross-border investments into the single-family home rental market; Remy Jacobson, founder of RealToken, offering a method to buy into the U.S. real estate market through tokenized ownership powered by blockchain; and Rowan Darabualaw, founder of Trase, provider of a labor productivity software for construction stockholders.
Every residency participant (Gurung, Jacobson, and Darabualaw were unable to attend) achieved sales or investment offerings, attesting to the value of their innovations for the industry and the community.
The accelerator program also signified a learning experience for students, who enjoyed access to technology trailblazers and developed an understanding of the process of scaling once a business is ready to expand globally. Connections between the founders and students additionally created openings for upcoming internships and potential job opportunities. 
"Students get to have some of the top innovators in the world in front of them," Amat says. "This effort is about making sure that the companies understand why Miami is a gateway to opportunity, giving them access to top thought leaders in our community, and then having our faculty and students engage with them and create value together."
Upcoming UScale editions will continue to leverage important University events. Already underway, the second installment will kick off its one-week residency on March 21, leading up to Miami Herbert's fifth annual Chief Sustainability Officer Summit & Symposium, to be held on March 24. Ten selected companies providing transformative innovations in sustainable business will travel to Miami from Bangladesh, Saudi Arabia, Bahrain, Lebanon, Chile, Colombia, Peru, Brazil, and Ecuador to present their solutions in the energy, biomaterials, nanotechnology, agriculture, and waste management sectors.
"They are the problem solvers. They are the ones who are creating new ways to change the face of what sustainability looks like," Amat emphasizes. "I'm hoping that all of our students who want to make a difference in the world will now view entrepreneurship as something that they can do."
In addition to the CSO Summit & Symposium, next week's programming will feature the following events:
March 21, 12:30 pm, UScale Sustainable Business Innovators Luncheon, Executive Dining Room on the 3rd floor of the Aresty Building.


March 22, 1:00 pm, Entrepreneurship in Growth Markets Roundtable, Executive Dining Room on the 3rd floor of the Aresty Building.


March 23, 5:00 pm, Pitch Night, Storer Auditorium. RSVP here.
UScale programs in the coming fall and spring semesters will focus on innovators in health care and blockchain. Leaders of scaleup companies in other industries will have similar opportunities in future cohorts. For more information, contact uscale@miami.edu.