Two years ago, University of Miami employee Maria Otero went to visit relatives in Nicaragua and came back with a mission.
When her aunt took her to a hospital one day, Otero was shaken by the scene that she encountered. In the labor and delivery area, mothers were standing in the hallway with contractions. Some were already in labor, visibly in pain, with no chairs to sit on or anywhere to go. There were not enough beds, and two days after having a child, women were whisked out the door with nothing but the child in their arms.
"It was such a rude awakening," said Otero, manager of events and building operations for the Miami Business School. "I left in tears after one visit because of the conditions of the hospital and the women."
Otero realized she had experienced a major luxury by having her two sons at South Miami Hospital. The nurses were extremely kind, and the hospital gave her a larger room because both children were born around her birthday, she said. They also sent her home with a bag of supplies to help comfort her newborn.
After her trip to Nicaragua, Otero decided she wanted new mothers in Nicaragua to feel some of the same warmth. A few months later, Otero decided to form the nonprofit With Love Miami so that she could give impoverished new mothers a similar bag of supplies as they leave the hospital.
"I realized these mothers were left with nothing, and that just crushed me," said Otero, who has worked at UM for five years and is also a Master's candidate in Public Health Administration. "So I wanted to show them some love."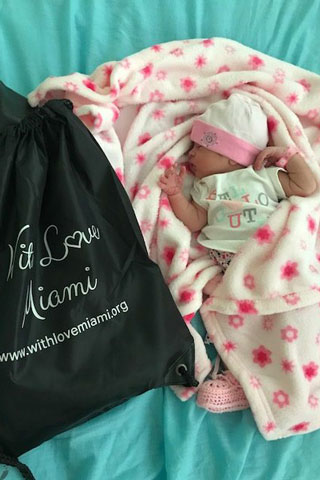 Utilizing insight from her Miami Business School colleagues, With Love Miami was formed in January 2018, and Otero made her first trip back to Nicaragua last May. With donations from local community members, Otero was able to distribute 100 bags to mothers at the same hospital in Chontales, Nicaragua. All of the bags contain cloth diapers, baby shampoo, pacifiers, bottles, washcloths, blankets and onesies. She also partnered with another nonprofit, Bolsitas de Amor, to send another 35 bags to disadvantaged mothers in Venezuela.
Otero credits her UM coworkers, such as With Love Miami's communications director, Chrystie Gonzalez del Valle; secretary, Jillian Garcia; and Eliot Alan Rodriguez, the nonprofit's web consultant, for helping her to spread the word about With Love Miami. She also says that her husband, Jayson Fernandez, has been an invaluable help while she has been working to start the organization.
"UM has been a huge platform for me, and my colleagues at the business school have been amazingly supportive," she said.
Although the charity's focus is raising money to pay for the bags, Otero also has about 20 loyal volunteers — from UM and beyond — who help her organize fundraising events, and to "spread the love" around Miami in different ways. For example, volunteers spend one Saturday a month serving meals at Chapman Partnership, a homeless shelter in downtown, and just last week, the group dropped off four boxes of toiletries they collected from a recent drive to help out residents. They also collected business attire for The Key Clubhouse, which helps people with mental illnesses find jobs.
This spring, Otero hopes to expand With Love Miami's reach, and bring her signature black bags to Haiti or the Dominican Republic.
"I wanted to target moms and newborn babies because it's a small gesture, but it goes a long way," she said.
To learn more about With Love Miami, or to make a donation, visit their website. 
---