As a student at the University of Miami, Luis Solis, B.S.B.A. '11, missed the kinds of juices he had grown accustomed to drinking in his native Dominican Republic—fresh, flavorful juices made daily from the island's wide variety of fruits.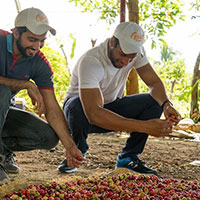 But it was during a trip back home, as he watched his mother make his favorite juice out of passion fruit, that the idea to produce and sell higher quality juice came to him. Solis saw an opportunity to bring a taste of his own culture to the U.S. while also giving back to his home country. 
What started as a small business using a refrigerated van to transfer his product has now grown into an international company with a team of about 40 people. Caribé sources fresh tropical fruits from small farmers in the D.R., who often struggle to sell their produce. Fresh juice is then bottled and cold-pressed without preservatives. 
Current flavors include a wide range of fruits popular in the Caribbean including passion fruit, tamarind, acerola berry (known as cereza in the D.R.), guava, and starfruit (or carambola). 
Solis, who studied at the Miami Herbert Business School and holds an M.B.A. from the University of Virginia, hopes that Caribé will serve as a model for other businesses on how to connect developing countries with larger markets. 
Caribé juices is available at select Whole Food and Walmart stores, as well as in stores throughout the Dominican Republic. For more information, please visit their website.
---