Student employees play a crucial role
UM News, 04-21-2021
The second week of April is recognized as National Student Employment Week. At the University and other higher education institutions across the United States, many workers are recognized for their dedication and leadership.
If you've ever taken an exercise class at the Herbert Wellness Center, dined at the Rathskeller, or gone for a dip in the Whitten University Center swimming pool, you may have noticed a common thread among the people employed there–– many of them are students.
National Student Employment Week, celebrated during the second week of April at colleges and universities across the country, recognizes these students for their dedication and leadership in their roles. At the University of Miami, approximately 5,500 student employees play a critical role in supporting day-to-day campus operations.
These dedicated student employees have played an important part in continuing campus operations, both on campus and remotely, during the COVID-19 pandemic, shared Patricia A. Whitely, senior vice president for student affairs.
"Especially throughout this past year, student employees across campus play a crucial role in helping University departments serve students, faculty, and staff," Whitely said. "From those who work in places like the Herbert Wellness Center, Student Center Complex, and our libraries to the resident and community assistants and student security staff in housing, our student employees are fantastic resources and role models for the 'Canes community."
Offices hire students to answer phones, residence halls employ resident and community assistants to support residents, and campus buildings entrust students to manage the facility. Students also work in several capacities as teaching, graduate, and research assistants to support the University's academic mission.  
In many ways, student employee positions span beyond office desks and facility management. Several of these students fill roles that supplement in-classroom learning and further their career goals.
"Student employment enhances in-classroom learning by helping students develop critical skills and competencies essential to career readiness," said Susie Picar, associate director for student employment. 
Read what some student employees shared about their experiences working and learning at the University.
---
Lani Sztapka, a sophomore studying health science, wears many hats at the Whitten University Center Pool—and not just the kind to keep the sun out of her eyes.
Sztapka works as a lifeguard and front desk attendant at the UC Pool, ensuring all the patrons' safety and well-being. "As a health science major, I was interested in the lifeguard role because I felt like it somewhat complemented what I was studying and want to do," she said.
Since starting at the UC Pool, Sztapka obtained her lifeguard certification and instructor certification through the American Red Cross and has since been promoted to a head lifeguard role. Additionally, Sztapka works in the Toppel Career Center as a front-desk attendant. She assists in the office's general operations by responding to emails, answering phone calls, and greeting guests and employers upon entry.
---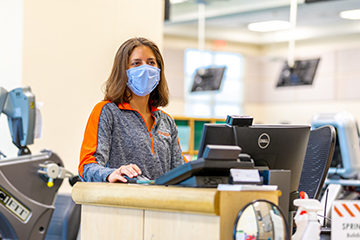 Isabella Ferrera, a senior studying health studies, works as a personal trainer at the Herbert Wellness Center. In her role, Ferrera creates specialized exercise routines for clients, performs fitness assessments, and focuses on monitoring and correcting gym-goers' forms. Since starting her job in 2018 as a gym floor assistant, Ferrera has been promoted to a fitness leader and even obtained a personal training certification from the National Academy of Sports Medicine. Her work as a student employee proved to be more than just a job, acting as a steppingstone for her career. 
"I always knew I was interested in health or fitness. But my job as a personal trainer as a student got me motivated to decide what I want to do with my life," she said. "I just got accepted to a physical therapy program. I will keep studying in June, after I graduate, to be a physical therapist."
---
For Daniel Hoppen, his job at the Rathskeller started as a simple way to get involved on campus. Little did he know, by the end of his time as a student, he'd be a Rathskeller manager. 
"I started back in the kitchen, helping them prep food and simple stuff," Hoppen recalled. "Through the years, I realized I liked working there. I eventually got promoted to manager, which I never really imagined when I started." 
Hoppen, a senior studying finance and business law, said working at the Rathskeller has taught him valuable life lessons while also providing him a great sense of community. As a manager, Hoppen works alongside other students and staff to manage the restaurant's daily operations and coordinate logistics for student programming or events. 
"I love coming to work every day with the rest of the Rat staff. It's an entertaining job to have since it allows me to interact so much with other people," he shared. "I would say my job here has shaped my college experience."
---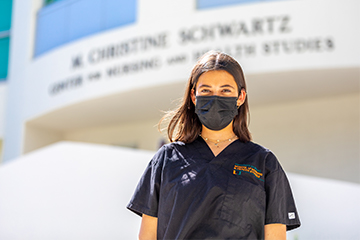 Daniella Montalvo, a sophomore studying biomedical engineering, works as a technology assistant at the School of Nursing and Health Studies Simulation Hospital for Advancing Research & Education. As a tech assistant, Montalvo facilitates medical equipment preparation for simulations alongside the clinical instructors. 
"Just through my job here alone, I feel like I could walk into an emergency room and know how to run a 'code blue' on the spot," Montalvo said, adding that the job is the perfect opportunity to gain work experience while continuing her studies. 
In addition to her role as a technology assistant, Montalvo is a Housing and Residential Life resident assistant (RA) on campus. 
"What I love most about my RA job is getting to connect with the students on my floor," said Montalvo, who oversees the eighth floor of Stanford Residential College. "I try to host programs to get to know them but also to help them get to know each other during their first year."
---
Sydney Stropes, a sophomore majoring in nursing and religion, works in the Office of Undergraduate Admission. As a student employee, she plays a vital role in the office scheduling roles for fellow student employees to ensure shifts are covered while also giving information sessions to campus guests to engage with prospective and admitted students. Stropes also works in the office as the special events coordinator for the President's 100 Student Ambassadors program, giving tours and assigning fellow tour guides for students interested in applying to, or attending, the University.
Outside of her role as a student employee, Stropes serves in the Student Government as a senator. She is currently co-authoring a bill to introduce a senate seat representing student employees. 
"The goal of creating a senate seat specific for student employees was to ensure that, for as long as we have the Student Government at the University of Miami, a student employee is seated in the senate making sure their voices are heard," Stropes said. 
Two additional senators co-author the bill: Zoe Fundora, a sophomore majoring in political science and history, and Louisa Khan, a sophomore majoring in music and political science.
---
Have a question about campus? If you're in the Student Center Complex, Rachel Schueller would likely be available to answer it for you. 
A fourth-year doctoral student in environmental science and policy, Schueller works as a student supervisor for the Student Center Complex. In her role, she supports staff members in coordinating events for student organizations, departments, and community members. 
"We manage events for everything from student organization events to events from outside of the community happening in our building," Schueller said. "With COVID, we've seen a lot fewer events come through here this year. So, I've spent a lot of my time helping out at the front desk with the other students but hope to see more events come back." 
Schueller also works as a graduate research assistant in the Department of Geography and Regional Studies, assisting faculty members with research projects and classwork.
---
Michael McCune, a facility manager for the Herbert Wellness Center, said his job has turned into more than just a place to work. "Working at the Wellness Center is like a big, huge family," he said. 
McCune, a master's-degree student in taxation, has worked at the Herbert Wellness Center since 2016, where he started as a pro-shop manager during his undergraduate studies. Now, he assists with and oversees much of the facility's day-to-day operations as a facility manager. He also serves as a liaison between fellow student employees and the professional staff and said he is grateful to have spent the past five years working there. 
"I feel like, in this role, I've had the opportunity to grow as a leader since I started here, which is cool," McCune said. "It's also such a useful skill and experience for anyone to have, regardless of what they do after they graduate."
---
Visit the Office of Financial Assistance and Student Employment's website for more information about student employment opportunities on campus.