Undergraduates take top honors at IBESCC
Margarita Sinko, 04-21-2022
Two student groups from the University of Miami took home first-place honors and runner-up honors at the International Business Ethics and Sustainability Case Competition.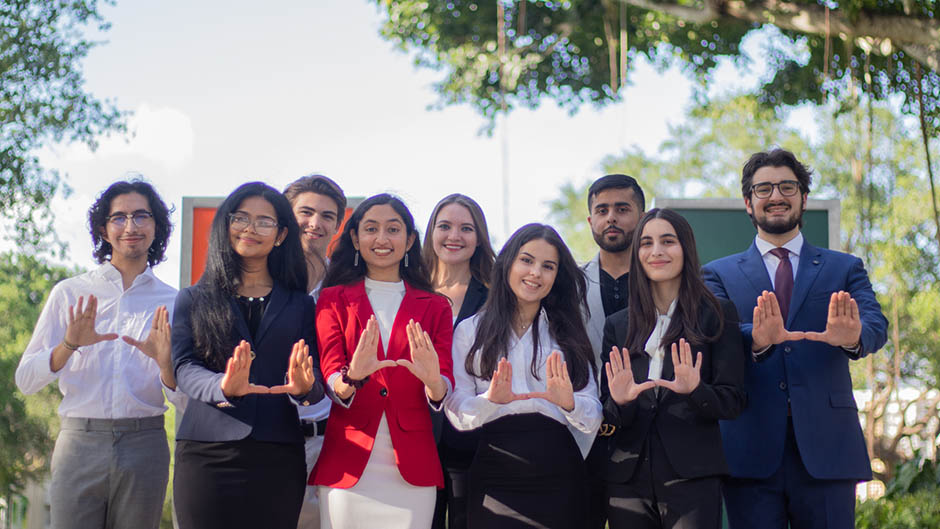 IBESCC is the nation's oldest and most prestigious event of its kind. Undergraduate and graduate students from around the world participate in the annual competition to identify problems and present solutions to some of the most pressing ethical issues in global business today. This year's competition, sponsored by Loyola Marymount University, was held virtually on April 6-8.
The Tethys Consulting team won first place in all three divisions: first place in the 25-minute, the 10-minute, and the 90-second presentations.
The second Miami Herbert undergraduate student team, Phoenix Group won first place in the 25-minute and second place in the 10-minute, and second place in the 90-second presentations respectively.
This was no overnight success, though. The teams worked with dedicated members of the Miami Herbert faculty for months to prepare their case presentations. 
In the 25-minute presentation, the Tethys Consulting team, named after the mythical Greek goddess of the sea Tethys, proposed a sustainable and economically viable plan for water sourcing to Nestlé's board of directors. Nestlé's water collection and usage pose urgent challenging ethical concerns, such as depriving communities of clean water. This development has inspired legal backlash from the territories in which Nestlé sources water. From a sustainability standpoint, and based upon current rates of water, there simply isn't enough water to harvest long term.
Adopting the motto, "One Drop at a Time," the team advocated for a new method of water collection and purification: the Infinity Hydropanel. This sustainability plan involves renewable water technology that utilizes solar energy and converts it to electricity. The electricity is then used for electrochemically mediated purification to desalinate ocean water. Tethys Consulting's goal is to promote a more sustainable industry-wide future, which includes increased agricultural productivity, the ethical distribution of water, and more affordable and lawful business practices.
The Tethys Consulting team, was represented by the following students: Rohan Tharaney, a senior, majoring in business technology and marketing; Danielle Ojeda, a junior, majoring in political science and economics; Jack Brixius, a freshman, majoring in international studies; and Lauren Colaco, a senior, majoring in biology and psychology.
Tharaney stated that IBESCC was his first sustainability and ethics competition and this was one of the most interesting competitions that he has been a part of.
"Never in a million years would I have thought that I would be presenting to Nestlé, the biggest food company in the world, on how to improve on water sustainability," he said. "The team and I worked together through countless practice sessions, and I couldn't be more proud of us for accomplishing top honors in such a prestigious competition, and with a company that is so well known. We gave it our all and managed to come out on top amongst 20 schools, winning first place across three divisions. It would not have been possible without the dedication of each individual on the team, and our mentors. Thank you all for such a rewarding experience! I wish this team endless success in the future."
The Phoenix Group presented a plan in the 25-minute presentation that was structured on the substantial financial and ethical benefits of waste disposal to Waste Management's Board of Directors. The group proposed waste gasification as the ideal method to deal with the waste that would otherwise end up in landfills. This innovative process addresses two problems: unsustainable waste management and energy consumption. Waste gasification involves treating waste with oxygen and steam at high temperatures which turns waste into syngas, a renewable fuel, and stone. Another sustainable feature of waste gasification transforms all sorts of waste, and produces high-value end products while requiring little space and maintenance relative to landfills.
In the 25-minute presentation, the Phoenix Group team, named after the Phoenix in Greek and Egyptian mythology that symbolizes rebirth and eternity, was led by Margarita Sinko, a senior, majoring in finance and philosophy, president of the Real Estate and Finance Association and Debate Chair of Ethics Society; Snigdha Reddy Sama, a junior, majoring in neuroscience and philosophy and also the Co-Debate Chair of Ethics Society; Joaquin Martinez, a freshman, majoring in philosophy; and Hannah Raveh, a junior, majoring in computer science.
The Phoenix Group, with their motto "The Power of Waste," argued that methane production comes at a significant cost. One ton of methane causes 84 times more warming than one ton of carbon dioxide, making methane, and the landfills that produce it, a powerful contributor to the climate crisis. The team underscored that the gasification process is an efficient, affordable, compliant (with accepted industry standards), and ethical choice for waste management companies to adopt.
"I was deeply honored to represent the University of Miami and the Miami Herbert Business School, in particular," said Sinko, who also participated in last year's competition. "The solid performance of the two teams representing the University of Miami is an excellent demonstration of the competitive quality of education that students receive here. The performance at the ethics competition also serves as indisputable evidence to support how students educated at the University of Miami can leverage their theoretical (classroom) education to achieve meaningful practical goals. I am also very proud of the members of  Phoenix Group and the members of the Tethys Consulting Group, and both teams' association with the University of Miami Ethics Society. The Ethics Society has a reputation for conducting intellectually stimulating and provocative conversations.  As members of the Ethics Society, we have had the honor of meeting some of the brightest and most intellectually committed students at the University of Miami."
Both teams expressed gratitude to the faculty and staff who mentored them along their journey—faculty advisor Professor Joan Martínez Evora; Alec Studnik, president of the UM Ethics Society; Associate Professor of Professional Practice Stuart Pardau, and Associate Dean EllenMarie McPhillip.
"Congratulations to both teams for this remarkable accomplishment and for your hard work and dedication," said Martínez Evora. "Congratulations also to our seniors graduating this year. You have paved the way so well for new members to join IBESCC and UM Ethics Society to continue the tradition. We are very proud of you all."