Renowned journalist supports students through endowed scholarship
Jenny Hudak, 03-08-2023
Jorge Ramos, an internationally acclaimed journalist and alumnus of the University of Miami, has created an endowed scholarship to support students in the School of Communication.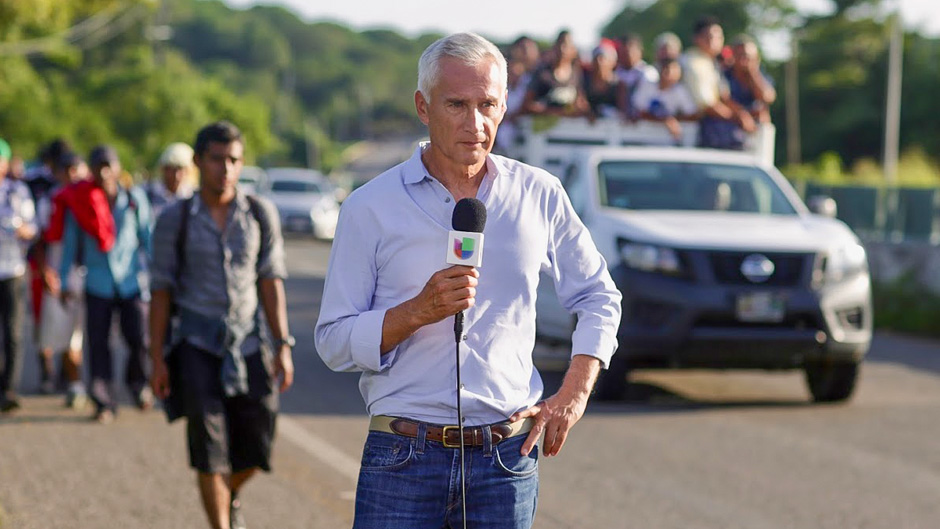 On Jan. 2, 1983, Jorge Ramos landed in Los Angeles with nothing but a guitar, a bag, and a passion for storytelling. Ramos, a renowned Mexican American journalist and anchor for the Univision Network, developed a passion for journalism at a young age. 
"I always wanted to be where history was being made. I wanted to talk to the people making history and tell their truth," he said. 
Ramos began his career as a reporter in Mexico City after completing his studies at Ibero-American University, before moving to Los Angeles to work for a Spanish-language television network. The budding journalist, seeking freedom from censorship in Mexico, relied heavily on others for support when starting anew in the United States. 
"It would have been impossible for me to succeed in this country without the help of other people," he pointed out. 
Soon after his time in Los Angeles, the journalist arrived in Miami in 1986 as a television anchor for Univison Network, where he has since become one of the most recognizable faces in journalism. 
To supplement his reporting on immigration and international affairs, the journalist pursued a master's degree in international studies at the University of Miami College of Arts and Sciences. 
"I was covering a lot of international conflicts and I realized that I needed more academic support for what I was doing," he said. "It was not enough to just report the news every day. I needed the background, I needed the history, I need the guidance so I could add depth to the work I was doing." 
Throughout his career, Ramos has covered a wide range of stories, from presidential elections to natural disasters to immigration issues. And he has conducted numerous interviews with world leaders. He also has been a vocal advocate for immigration reform and uses his platform to shed light on the plight of undocumented immigrants in the United States. 
Now, Ramos has returned to his alma mater to offer generous support in appreciation of the support he received decades ago that helped catapult his career in journalism.
With the newly established Jorge Ramos Endowed Scholarship in Communication through the School of Communication, the award-winning journalist hopes to support students on their journey to becoming storytellers and truth seekers. 
"It is important to support journalists like me," Ramos said. "Many, many people helped me when I came to this country and helped me thrive in this country. Among them, many teachers and students at the University of Miami. Now, it's my time to give back." 
The scholarship will support students on a journalism track. 
"Jorge's leadership inspires current and future news professionals to serve the needs of our society by asking the hard questions and standing firm in truth and honor," said University of Miami President Julio Frenk. "The establishment of the Jorge Ramos Endowed Scholarship in Communication is a testament to his passion for helping students at the University of Miami excel academically and reach new heights as global storytellers and journalists." 
Karin Wilkins, dean of the School of Communication, noted that Ramos' contribution will help propel and inspire students' academic success at the school. 
"Jorge Ramos' gift will help support the needs of our journalism students who are learning the importance of ethical and effective news investigation and production," said Wilkins. "His investment in the future of journalism ensures that the next generation of journalists will be ready to cover current events with critical questions, building on strong academic preparation and valuable learning experiences through the School of Communication."  
Ramos noted that now, more than ever, supporting journalism is crucial. 
"When you are checking your phone and you are reading all these tweets and watching TikToks or YouTube, it is hard to know who is telling the truth. Our real mission [as journalists] is to be truth tellers," he said.
In addition to his work as a journalist, Ramos is also an author. He has received numerous accolades for his work, including eight Emmy Awards and the Walter Cronkite Award for Excellence in Journalism. He has been named one of Time magazine's "100 Most Influential People" and has been inducted into the National Association of Broadcasters Hall of Fame. 
Despite his decades-long career and success, Ramos remains committed to his roots and efforts to empower the next generation of journalists by giving back to the community that once supported him. 
"I still believe that in the era of misinformation and disinformation, I feel the need to support other journalists," he said. "At the end, facts matter. Truth matters. I think all of us in the profession have to do as much as possible in order to maintain that reputation of credibility that is incredibly important in the world today."