On a mission to strengthen and establish new relations for the University of Miami School of Architecture, Dean el-Khoury embarked on a whirlwind journey throughout China and India. His ambitious tour is testament to the school's commitment to further collaboration on research and educational initiatives, establishing and strengthening international partnerships while forging new alliances.
Some highlights: the Dean gave a lecture on RAD-UM and Smart Cities at the Beijing Annual International Urban Design Forum, he was appointed on the advisory board of the Beijing University of Civil Engineering and Architecture (along with Jonathan Barnett and Dennis Frenchman) and renewed U-SoA's commitment to collaborate on research and educational initiatives. Plans were made for BUCEA students and faculty to come to U-SoA in Spring 2018, to participate in a workshop lead by Allan Shulman. The Dean also visited Peking University to discuss collaboration opportunities, beginning with their world-renown Landscape Architecture Program joining Tsinghua University's School of architecture in our Tecnoglass-sponsored studio in Latin America, starting spring 2018. The Dean then travelled to the Yunnan Province to give a lecture at Kunming University and initiate talks for a collaboration on research and education, and in Hong Kong, he met with Nelson Cheng, the director of the School of Architecture at Chinese University of Hong Kong (CUHK), discussing plans for an international joint studio and other collaborative projects.Once in India, he provided a lecture at Anant University in Ahmedabad and led a workshop on the Internet of Things with Christopher Chung in their Fellowship Program. An MOU was signed with Anant University, with the development of new and collaborative programs underway. You can see some images on their facebook page here.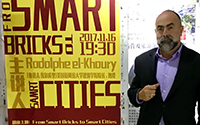 The students he met during his travels, were sorry to see him go.
 
The Dean, is still jet-lagged!!
---