By 9:20 a.m., nearly four hours before Tuesday's It's On Us Rally was set to begin at the Watsco Center Fieldhouse, Rachel Siegel, a UM sophomore majoring in political science and communication studies, was first in line for the event.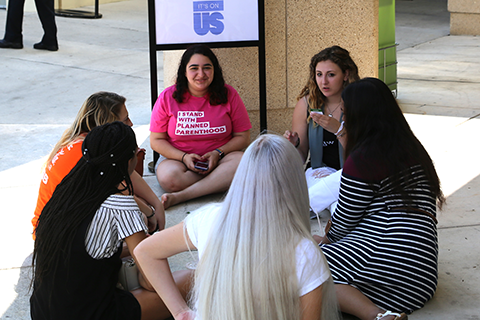 Siegel recognized that the chance to hear Joe Biden, the 47th vice president of the United States, speak does not happen very often.
"I wanted to make sure that I was as close as possible because he means so much to me," she added. "As a woman in college, the work that he has done and continues to do with It's On Us is so important."
The rally, presented by the University's President's Coalition on Sexual Violence Prevention and Education and Hurricane Productions, encouraged all students to recognize that gender-based violence can only end when all members of the community feel empowered to speak up for themselves and others and speak out against all forms of sexual abuse.
"It is important to include all students in this national conversation," says Maria Sevilla, Associate Director of Judicial Affairs and the University's Title IX Investigator for cases involving students. "We want to empower students to take action in their own community and know that we are here to help them help themselves."
Jack Camoratto, who emceed the rally along with fellow UM student Inngide Osirus, jumped at the opportunity to play an integral in Tuesday's event.
"Every student organization on campus thinks that 'this doesn't happen to us' but I want students to recognize that is does," Camoratto, a junior majoring in biomedical engineering and an It's On Us student ambassador, said before the rally. "I hope students learn today that if anyone is going to change the culture, it's us. It's not going to change if we don't change it ourselves."
Mackenzie Mayhew, a senior majoring in neuroscience, was initially drawn to the event because of the former vice president. But her role as a Resident Assistant on campus has also given her first-hand experience with supporting survivors of sexual violence.
"Every person's story is different," Mayhew says. "But being a bystander and getting angry about sexual violence isn't enough. It is important to raise awareness and empower ourselves to change the culture."
In addition to performances from the Frost Band of the Hour and BisCaydence, UM's co-ed acapella group, the rally included student speakers from all areas of campus as well as campus administrators who reminded students of the many resources and reporting tools available to them, including the University's annual Campus Climate Survey, which launched at Tuesday's event.
Carrie Bettinger-Lopez, who served as a senior advisor to Vice President Biden for two years and founded the Human Rights Clinic at the University of Miami School of Law, told the crowd of more than 950 students that organizations like It's On Us and movements like the #MeToo campaign on social media signify a watershed moment in this country.
"Your voice matters," she told students. "It's on you, it's on me and it's on us to create a culture of empowerment and end the worldwide problem of gender-based violence."
And students feel that they have the uspport from University administration. "I feel empowered by our campus administrators to put a stop to sexual assault at UM," Chris Daniels, a UM senior who represents Greek Life on the President's Coalition, said from the podium. 
Violet Sullivan, a junior at UM and a survivor of a sexual assault, shared her story with the audience because, as she says, "Speaking out allowed me to get help from others and might prevent this from happening to someone else."
Quoting Bob Marley, the Jamaican singer-songwriter, Violet ended her story by saying "You never know how strong you are until you're forced to be."
Renu Nargund, a sophomore who developed creative campus-wide marketing efforts about the importance of informed consent, introduced Biden to the crowd. "The only way to elicit change is by pushing boundaries," she said. "None of this would be possible without It's On Us and without Joe Biden."
Biden opened his speech by applauding the University of Miami for its early efforts as one of the first universities to employ a campus-wide climate survey.
"I am proud of the way you've stepped up to this issue," he said but also reminded students that there is still work to be done. "You have an obligation to inform yourselves of what help is available and the obligation to help others in need."
Biden, who co-authored the Violence Against Women Act (VAWA) in 1994, blamed the abuse of physical power as the root cause of gender-based violence in America. He shared with students to long road he and his colleagues took to build a coalition of support for the legislative action to protect women from violence and abuse.
"We need to change the standard of decency by which we measure ourselves," Biden proclaimed. "Victory is when not a single women in America who is abused asks herself, 'what did I do?'."
In his unapologetic call for students to take action on their own campuses, Biden specifically called on college men to hold each other accountable and for college women to look out for one another. He asked UM students in attendance to join the more than 440,000 other college students across the country to take the It's On Us Pledge to create a culture of consent, bystander intervention and survivorship support.
Biden concluded his remarks by thanking students for the work they have done both on campus and in their community, saying, "We are on the cusp of changing the culture in America. I am determined not to let up. You wouldn't be here if you already weren't committed. Don't let up."
Aaliyah Weathers, a junior majoring in journalism and motion pictures found Biden's words inspiring, saying after the rally, "There's an accountability on all of us to say something if we see something or even feel that something that isn't right."
---