After serving as the on-campus home for thousands of students throughout the last 51 years, Stanford Residential College will close at the end of the academic year. The iconic towers and accompanying commons building will be taken down to make way for Centennial Village, the second phase of the University's 10-year plan to modernize campus housing.
Centennial Village, which also includes the replacement of Hecht Residential College and the complete renovation of Eaton Residential College, aims to enhance the first-year experience with an increased offering of single rooms, semi-private bathrooms, individual and group study areas, classrooms, learning hubs, live-in faculty and professional and student staff for support. It will serve as a hallmark of the Coral Gables campus and support the University's efforts to competitively recruit top academic and athletic talent.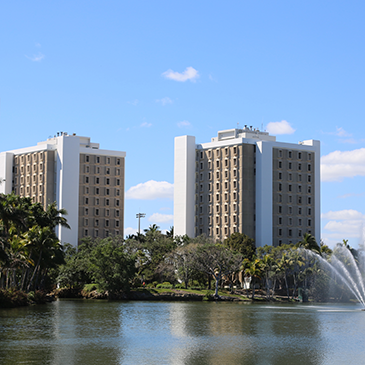 To mark Stanford Residential College's final year of operation, Housing and Residential Life will recognize the impact Stanford Residential College made on the student experience through Stanford Stories. Stanford Stories celebrates the rich legacies and accomplishments of all those who have lived, worked and studied in the building.
"Stanford Residential College has shaped the way students connect with their academics, peers and the University for 51 years," said Ivan Ceballos, director of residential life. "Living and learning spaces like Stanford create a comprehensive student experience and a community of passionate students who go on to become dedicated leaders in their fields."
Stanford Stories also honors the legacy of Henry King Stanford, the third president of the University, whom the space is named after. During his presidency, the University saw an emphasis on research with a 700 percent increase in federal funding and a 25 percent increase in faculty with doctoral degrees. President Stanford is also credited with shaping the future of athletics, pressing for minority athletes and making the University the first major college in the Deep South with a black football player on scholarship: Ray Bellamy.
Bellamy called the building home from 1968 to 1972 with close friend, Jim Rydell, when Stanford Residential College was still named the 960 Complex for the 960 students it housed. Despite their differences in life experiences, the pair respected each other's diligence and accomplished many of their goals together, including the campaign that led to Bellamy's win as first black student government president.
"I learned to accept and embrace these differences while living day-to-day with these students," Jim Rydell remarked. "It helped me make friends with people from all walks of life and cultures, thus enriching the rest of my life as a result."
Patricia A. Whitely, vice president for student affairs, also recounts her time as a residence coordinator at Stanford Residential College from 1982 to 1987, which commenced her service to and passion for the University and its students.
"Living in Stanford was a formative experience," she said. "My first home at UM was at Stanford. I am still in touch with many of the students that lived in Stanford over my 5 years and feel grateful I was able to begin my UM career as a member of the Stanford Residential College community."
A lecture series and campus-wide events are among the kinds of Stanford Stories celebrations students, faculty and staff are invited to attend. To reminisce on memories of the space and to acknowledge the value of communal living, the highlight of the campaign is a window dedication that decorates the Stanford lobby, featuring nostalgic quotes from past residents and faculty and commemorates the legacy of President Stanford.
---