From learning how new legislation can impact members of our society to understanding your role in our shrinking world, Tunnel of Oppression reminds the University of Miami community of the big picture: the time is now.
For the past twelve years, Tunnel of Oppression has encouraged honest conversation surrounding social issues on our campus and beyond. The 45-minute experience is designed to guide participants through a museum-style, multimedia exhibit that exposes various forms of oppression faced by many around the world today.
With each 'room' designed by a student organization, this year's Tunnel of Oppression covers relevant topics including education, racism, human trafficking, immigration, religion, the environment, and women's and LGBTQIA+ rights. By highlighting these topics in visually striking and immersive ways, participants have the opportunity to deeply connect with, understand, and advocate for their peers and others across the globe.
Dynesha Peterson first participated in Tunnel of Oppression her first year on campus as an auxiliary board member, helping to guide participants through the session. Her experience with the program, however, made Tunnel of Oppression become more than just another volunteer opportunity for her.
"All the work is put in by students, and people leave the Tunnel actually wanting to do more," Peterson said. "I keep coming back each year because I feel like this event is making a difference and educating many people on the issues right in front of them. Tunnel is breaking the silence and generating conversations."
Now a junior and Tunnel of Oppression 2020 chair, Peterson feels her biggest takeaway is coming to understand the power of inclusion and listening.
"Every person on this Earth has a story," she adds. "Tunnel helps tell the stories of people who can't tell their story themselves."
There is no better time to share, learn, and grow from stories like these than while in college. Like the impression Tunnel of Oppression made on Peterson in her first year, three first-year students reflect on their first time participating in the program and how they plan to carry what they've learned into their college experiences and beyond.
Brandon Sanchez, aerospace engineering
Tunnel of Oppression gave Sanchez a new perspective on issues he didn't know much about. The ableism room was the most memorable for him and presented ways that people can become more inclusive towards people with disabilities.
"Tunnel of Oppression is a culmination of a lot of experiences that we all go through, which I thought was more individual," Sanchez said. "It makes you want to be more patient and accepting of everyone because you never know what people have gone through and how it has affected them."
Madison Capote, neuroscience major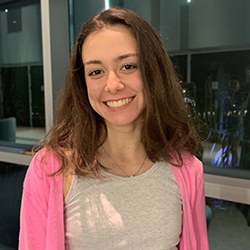 "There was such a wide variety of rooms that could apply to every single person," Capote said. Her biggest takeaway: you don't have to experience something first-hand to be able to empathize with others.
"People say things like 'the world is too sensitive,' but I think everything is just changing," she adds. "It's eye-opening to see how other people are affected by the issues in those rooms."
Lainee Winter, health science major
For Winter, Tunnel of Oppression was a wakeup call. The statistic that resonated with her the most was that by the time she had completed the Tunnel, at least 5 more people in our country would have become victims of sexual assault.
"We know these issues exist, but we forget about it," she says. "This is a good way to refocus on what's important. We live in a very diverse place in Miami, especially at the University, where we have people of all different backgrounds here. Programs like these help us to become more respectful and accountable for our actions."
---
Tunnel of Oppression takes place Jan. 27-29 from 4-9 p.m. in the Shalala Student Center ballrooms, headlining a full list of Social Justice Week events hosted in part by the Butler Center for Service and Leadership. For more information, visit serveandlead.studentaffairs.miami.edu.
---