Around the world, March 8 is celebrated as International Women's Day. It celebrates the social, cultural, political, and economic achievements of women—and is also meant to raise awareness about women's equality.
This year's theme is #ChooseToChallenge. And everyone is encouraged to commit to creating inclusivity by calling out inequality and bias.
Students at the University of Miami share which women they look up to and why the women are an inspiration.
---
Anna Coon, a sophomore studying political science and broadcast journalism from Sharon, Connecticut, is inspired by U.S. Representative Alexandria Ocasio-Cortez (D-NY)—better known by her initials, "AOC."
"She's really passionate, and I think she's a politician who is working for the people and brings real issues to light. She's honest about what she's doing and why she's doing it."
---
Apsara Anugole, a first-year student from Omaha, Nebraska, on the pre-med track, credits her mother as her biggest source of inspiration. 
"My mom is in the computer science field. I saw how hard she worked in her 9-5, but I knew that wasn't the lifestyle for me. So, that inspired me to go into the medical field and do something hands-on."
---
Gabrielle Sheridan, a sophomore media management major from Basking Ridge, New Jersey, looks up to actor, singer, and producer Zendaya.
"She's around my age but she's really motivated in everything that she does. And she really breaks down a lot of barriers in the field."
---
Taylor Murdock, a junior from Charlotte, North Carolina, studying creative advertising and art, draws her inspiration from Oprah Winfrey. 
"There's not a lot of Black women in the media industry. She's a powerful pioneer for a lot of women who want to break into the field. There weren't a lot of opportunities for Black women before her."
---
For Lauren Tarnoff, a first-year sports administration student from Huntington Beach, California, American poet and civil rights activist Maya Angelou immediately comes to mind.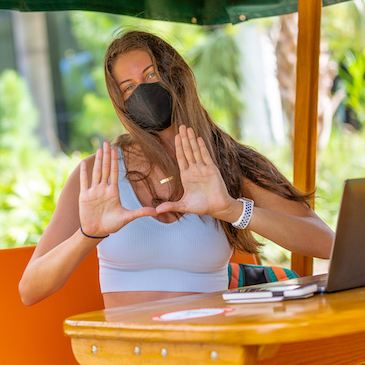 "She said that everything you do should be done with courage. Without it, nothing else would be able to get done." 
---
Ayanni Smith, a junior in the School of Nursing and Health Studies from West Palm Beach, Florida, celebrates the women closest to her: her mother and her aunt.
"They drive me to do better and thrive in school so I can give myself a better life and make them proud."
---