With the new school year fast approaching (classes start September 3, UOnline recommends newly admitted students take a proactive approach in completing their mandatory online Student Readiness Orientation (SRO). The SRO is due within four weeks of accepting UOnline's admissions offer and is required for students to be eligible to start class.
The SRO acts as a mini-course to help students transition into life as a student.  The SRO includes 4 modules for non-business program students (MSED in Sport Administration, MS in Health Informatics, Masters in Public Administration) and 5 modules for business program students (MS in Finance, Masters in Professional Accounting, and MBA). Each module requires between 10 – 20 hours to complete and the entire SRO requires an estimated 50 – 60 hours.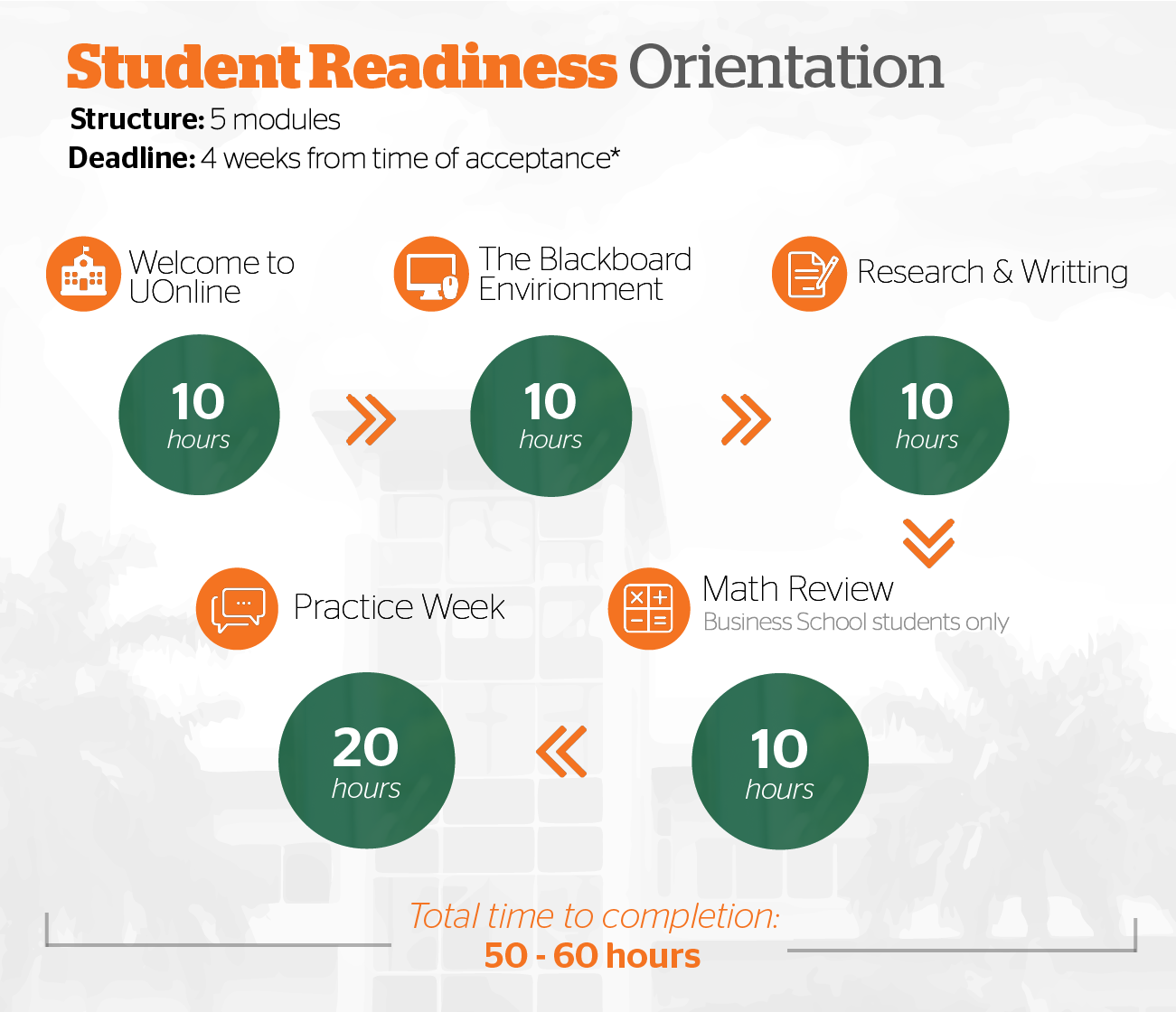 In addition to the SRO newly admitted students should also start thinking about:
Financial Aid Deadline: The application for financial aid is due August 13th which is also the final deadline for admissions. We recommend that students submit their FAFSA (school code: 001536) before or immediately after acceptance to UOnline in order to meet all required Financial Aid deadlines.
On-Campus Orientation: All newly accepted students are invited to attend an optional on-campus orientation. This is a great opportunity to meet faculty members, learn about UOnline's virtual learning environment, and network with fellow students and alumni. The next new student orientation takes place on August 25th on Miami's Coral Gables campus.  
Work/Life/School Balance: The SRO will provide students with guidance for managing their time. However, is also important to proactively start thinking about how much time you will need each week to dedicate to school as well as start looking for times during the day that you can dedicate to school work.
Finding Your Support Network: We recommend all UOnline students build a strong network of family, friends, and co-workers to help support them through graduate school. This network is important in keeping you on-track in achieving your academic goals.