In the spring semester of 1986, IBM released its first laptop computer, Top Gun hit theaters and became the highest grossing movie of the year, and the first official Sportsfest competition took place at the University of Miami campus. What started as a friendly challenge between Stanford and Hecht Residential College became a highly-anticipated, annual tradition for all undergraduate students.
"Sportsfest helps to engage the entire UM community and creates bonds through healthy competition and teamwork, bringing students together that otherwise would never interact," said Bria-Necole Diggs, second-year Stanford residential assistant. "It cultivates a sense of pride and love for not only the respective residential areas, but also for the university."
As plans for the building's decommissioning are on the horizon, Sportsfest 2020 is especially important to Stanford residents, faculty, and staff. The iconic towers and accompanying commons building will be taken down this summer to make way for Centennial Village, the second phase of the University's 10-year plan to modernize campus housing.
Sportsfest is organized by a number of committees across campus made up of students, faculty, and staff, including the nearly fifteen hundred participants who compete in fifteen events. Kickoff for the busy weekend took place the night of Feb. 6 with a torch run at Opening Ceremonies. Second-year resident assistant, Reese Pitts, carried the torch and led Stanford Residential College participants on the final leg of the run across Fate Bridge as they yelled their distinct chant with pride: "Who are we? SRC!"
"Becoming a Stanford RA has been more than simply accepting a position," said Pitts. "It is becoming a member of a family that challenges you to never settle for mediocrity. As a community, we've learned from each other and grown together to become more thoughtful and outspoken leaders."
Activities throughout the weekend, ranging from Mario Kart competitions and laser battles to Connect Four and flag football, invited students of all abilities to create a stronger bond with their University community and, of course, to take home the title of Sportsfest 2020 champion. This year's champion was Stanford Residential College, marking a bittersweet end to its participation in the event.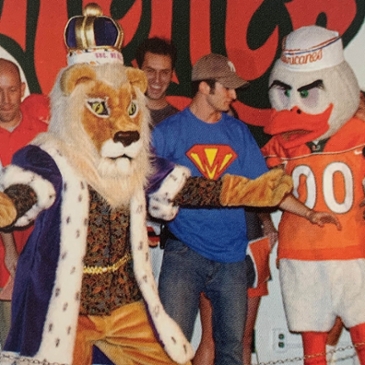 Sportfest 2020 Winners
First Place: Stanford Residential College
Second Place: Pearson Residential College
Third Place: Mahoney Residential College
Men's Team Winner: Mahoney Mandalorians
Women's Team Winner: Walsh Tower, Floor 9 (Stanford Residential College)
Spirit Award: Commuter Students
Norm Parsons Sportsmanship Award: Mahoney Residential College
Team Sportsmanship Awards: Eaton Avocados and McDonald Tower, Floor 5 (Hecht Residential College)
"We take pride in our building's name and history," said Krysta Bennîa, third-year resident assistant. "The impacts of Stanford's legacy will be far-reaching, felt not only within the UM community but also on a national level as SRC alumni continue to pursue opportunities outside the South Florida area."
"The diverse perspectives amongst our team have afforded us the unique opportunity to positively impact our community and develop lasting connections with our residents," added Abdul Kabir Khan, also a third-year Stanford residential assistant. "As a staff this year, we focused furthering the already abundant legacy of Stanford Residential College that will continue to live on long after the building is gone."
This year, prizes like engraved glass cups and University of Miami-branded gear were in black in honor of the residential college. A custom-made football jersey with the name "Stanford" and the year the towers were built was also presented to Housing and Residential Life to remember the residential college for years to come.
"As we go into a new era of housing with the Lakeside Village and Centennial Village, I think it's important to remember and embrace our traditions from the past," said Tom Soria, associate director for wellness & recreation and intramurals. "The Sportsfest committee tried to make it really special for Stanford this year."
As for the future of Sportsfest, Ivan Ceballos, executive director of residential life, says it will continue, noting: "Events like Sportsfest brings the community together from different floors, buildings, and interests to make memories. The buildings don't matter, the people do."
---