Your years of hard work, long nights of studying, hours spent bettering your community through service, sports practices, and games, and weekly club meetings are all finally coming together in what will be your awesome college application. If you have not mastered all parts of the application, no worries! Here is an outline of all the information you will need to get everything set before the deadline:
Application Options and Deadlines
You still have two application options to choose from here at the University of Miami. For the January 1 deadline, you can apply Early Decision II (EDII) or Regular Decision (RD). Both are great options; however, they differ in their binding nature. EDII is a binding application option, which means if you are admitted, you will need to withdraw your applications to other schools and commit to enroll at UM in the fall. RD is nonbinding and allows you to consider your options.
It is important to ensure that you submit all required materials by the deadline, including your financial aid application and paperwork. If applying for financial aid, you must have your FAFSA, CSS Profile, and any other required supporting documents submitted by January 1. Visit our financial assistance website for more information.
Application Materials
It is very important that all application materials are received by the January 1 deadline. For all domestic students and international students graduating from a high school in the United States, you are required to submit the following items:
Common App application and essay
Two letters of recommendation

One from your college counselor
One from a teacher

High school transcript(s)
School Report completed by your college counselor
ACT or SAT scores directly from the testing agency
For international students studying outside the United States, the requirements differ slightly. If this applies to you, are not required to submit ACT or SAT scores; however, you do need to submit TOEFL or IELTS scores. For more information, visit our admission page.
Special Programs
If you are applying to any of the programs below, please be mindful of the extra application components. Please click on your program of interest for more information:
Once you hit submit on your application, you will receive your CaneLink login information at the email address you provided. This is where you can check on the progress of your application. If we are still missing any of the materials noted above, you will see them listed on your To-Do list in the student center. For more information, be sure to visit our Check Your Application Status page. Also, don't forget to check out our FAQs for answers to common questions.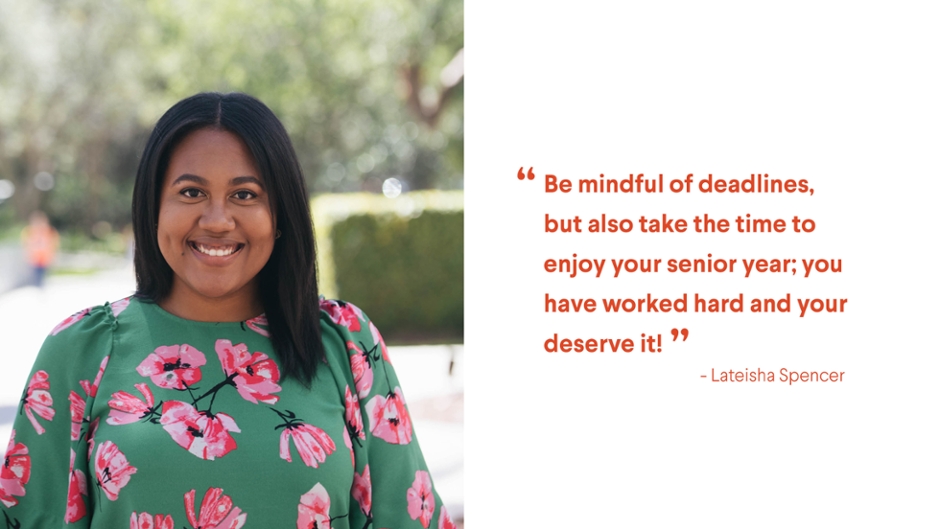 As January 1 nears, we want you to be mindful of deadlines, but also take the time to enjoy your senior year; you have worked hard and you deserve it! We are always here to help make this process as easy as possible. If you have any questions, you can always reach out to your personal admission officer.
Best of luck to all of the seniors.
Happy Holidays & Go 'Canes!
Lateishia Spencer is an Assistant Director of Undergraduate Admission. 
---