From the busy first floor of the Richter Library, all the way up to the silent stacks, there are plenty of places to study in UM's main library. But sometimes, your brain needs a change of scenery in order to focus on studying for that big exam. Check out some of our favorite study spots on the Coral Gables campus.  
Every semester, the University strings up hammocks behind the library for students to take their studies outdoors. While some BYOH (bring your own hammock), these are a hotspot for students so be sure to plan accordingly and time it right so you can score one of these sweet spots during finals week!
Lake Osceola is the heart of campus, with picture perfect sunsets that serve as the backdrop for on-campus events and get togethers. While the lakeside patio is beautiful, it is always bustling—not ideal for deep study. Instead, hunker down in the Shalala Student Center! Located right on the shores of the lake, we recommend heading up to the third floor and finding yourself a spot in front of a long reflective window with panoramic views. It is by far one of the most serene places to study.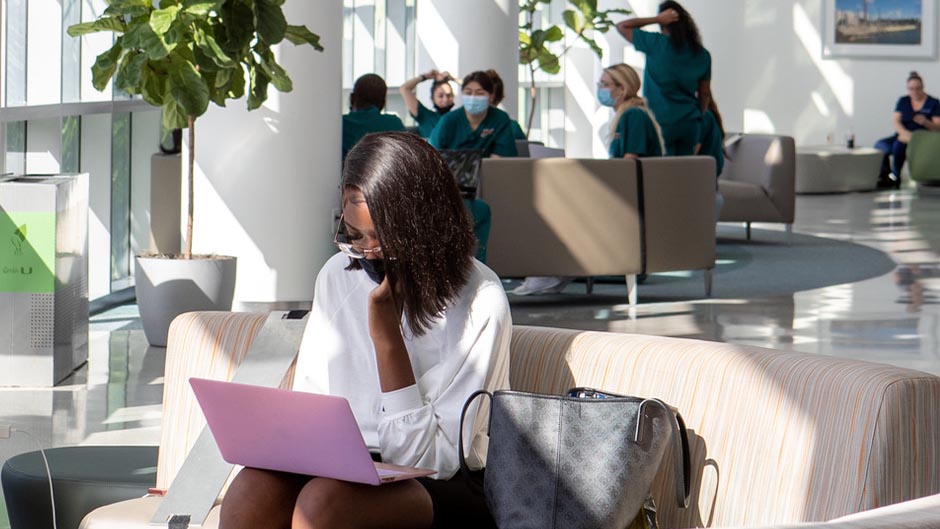 Looking for something that won't distract you with a view (I doubt it)? Head over to the School of Communication courtyard. Tucked away at the back of the university campus, sunlight pours between the buildings onto the orange umbrellas that shade several small tables. If it gets too warm, you can pop into the Interactive Media Center and use one of the work pods for some quiet, climate-controlled studying.
If studying alone in your room gets stale, call up a couple friends and hit up the shaded "gliders" that line the residential courtyards. You will be entranced in your studies as you gently sway back and forth while catching a breeze coming off the lake!
Have we got your attention? Take a look at some of the places we just mentioned on our virtual tour and picture yourself prepping for a big test on our picturesque Coral Gables campus!
---