Two prominent journalists with significant experience covering Venezuela offered their nuanced and sophisticated insights on the situation in the country to University of Miami (UM) students during a panel discussion on Thursday night. The event was moderated by Professor Ariel Armony, Director of the Center for Latin American Studies (CLAS) at UM's College of Arts & Sciences.
The two panelists were Carlos Chirinos, the BBC Correspondent for Caracas and Washington, DC (currently working from the BBC Miami Center); and Maye Primera, the Caracas correspondent for Spanish newspaper El Pais from 2008-2012, who is now covering Venezuelan politics while based in Miami.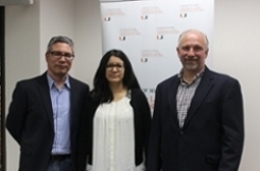 ‌Nationwide violent protests over social and economic issues in Venezuela have been escalating over the past several weeks, with three protesters killed on February 12. Venezuelan President Nicolas Maduro has blamed the unrest on the United States and other outside forces, whom he claims are trying to destabilize the government; he expelled U.S. diplomats from the country earlier this month.
Armony said the situation in Venezuela is changing day by day, and becoming ever more complicated. He praised the panelists for  providing a very sophisticated view of the issues. "This level of analysis is not easy to find. It is very unprecedented," he said, adding that "the fascinating nature of the beast in Miami" puts UM in a unique position. In order to facilitate nuanced discussion, both presenters spoke Spanish.
Venezuela is experiencing a "crisis of governability," Armony said, adding that a change in leadership would likely not end the tensions. "It has become an impossible game. It is extremely difficult to engage the government and the opposition in true dialogue, in the context of a serious economic crisis, in a highly divided country," Armony said.
He added that the international community has not intervened, and will be unlikely to do so unless the violence becomes extreme.
Rocio Budetta, a senior International Studies major, was instrumental in making the event happen. She noted growing concern among students about the situation in Venezuela over the past few weeks, and reached out to CLAS and the Venezuelan Students Association to help provide answers.
Budetta said that Chirinos and Primera helped her "see the problem, and also possible solutions." She added, "The two journalists offered a very high-quality perspective, and showed that it is possible to have dialogue in a very divided country."
For more information on the CLAS, please visit https://www.as.miami.edu/clas.
College of Arts and Sciences