From Africa, to Europe, to South America, seven University of Miami students will be teaching and learning across the globe as part of the Fulbright U.S. Student Program.
Arboleda
Students who receive Fulbright Scholarships travel to a foreign country to undertake an individually designed study/research or artistic project, or to serve as an English teaching assistant. During their time abroad, program participants meet, work and live with, and learn from the people of their host country. Each year, the program awards about 1,900 grants, which fund travel to 155 countries, to students in all fields of study.
Alejandro Arboleda, '14, biomedical engineering and psychology, College of Engineering, was awarded a Fulbright Study Grant to France, where he will collaborate with researchers from Paris who are working to combat corneal keratitis (an inflammation of the clear tissue that covers the eye pupil). Arboleda will work both in the lab and the operating room to gain two perspectives on the healthcare field in France. He has worked as a research assistant at the Ophthalmic Biophysics Center since spring 2011. Upon returning to the US, he plans to purse an M.D./Ph.D. with a focus on ophthalmology and optics.
Jenna Boller, '14, advertising and French, School of Communication, will participate in the Teaching Assistant Program in France, a program funded by the French government that sponsors more than 1,100 American citizens to teach English in France each year. Boller studied in Paris during the spring semester of 2013, and teaches English to preschool students at The French American School of Miami. She participated in a Teach for America summer program in the Mississippi Delta, and founded Students for Education Reform at UM.
Brown
Riana Brown, '14, psychology and international studies, College of Arts & Sciences, was awarded a Fulbright Study Grant to the Netherlands, where she will pursue a Master's degree in social psychology at the Vrije Universiteit Amsterdam; her research will focus on the evolutionary psychology of leadership. During her time in Amsterdam, Brown will also work with Amnesty International Netherlands. She has worked in the Butler Center for Volunteer Service and Leadership Development, and founded the Women's Leadership Symposium on campus. When she returns to the United States, she plans to complete a Ph.D. in social and evolutionary psychology.
Brigitte Frett, '16, Miller School of Medicine, was awarded a Fulbright-Fogarty Fellowship to conduct public health research in Zambia. She will partner with a nonprofit organization to design a media campaign aimed at promoting uptake of the human papillomavirus (HPV) vaccine in Zambia. Studies have linked cervical cancer to the HPV virus, and a vaccination drive was launched in Zambia in 2013. However, rampant fear and misconceptions about the vaccine prevented widespread adoption. Frett will work to debunk these myths, collaborating closely with a community-based, locally staffed organization. After graduating from the Miller School of Medicine, Frett plans to complete a residency in obstetrics and gynecology at an academic medical center that emphasizes community medicine and health disparities research. She earned an M.S.W. at the University of Chicago, and a B.A. from Middlebury College.
Sergio Giro, '14, Italian and Spanish, College of Arts & Sciences, was awarded a Fulbright English Teaching Assistant Grant to Brazil. Giro plans to pursue a career in foreign language education. He will work with non-governmental organizations in Brazil to empower youth, particularly LGBT adolescents. Giro has volunteered in the Miami-Dade County Public Schools, and as a reading tutor with America Reads.
Haynes
Elizabeth Haynes, '16, English and economics, College of Arts & Sciences; and Briana Scott, '16, accounting and visual journalism, School of Business Administration, will participate in Fulbright Summer Institutes in the United Kingdom. The Summer Institutes give undergraduate students the opportunity to study at top institutions in the UK.
Haynes will be studying at Durham University for a four-week cultural and academic program that centers on archaeology and includes hands-on participation at an excavation site of a Roman fort and town in Binchester. Coursework focuses on Medieval and early modern thought, design, architecture and culture.
Scott will travel to King's College London for a three-week cultural and educational program focused on "The British City." Scott was named the 2014 Sophomore of the Year in the School of Business Administration, and is active in campus organizations including the Alpha Lambda Delta Honor Society and the Women in Business group.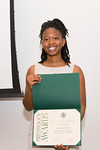 Scott
Alexa Fernandez, '14, German and psychology, College of Arts & Sciences,was selected as an alternate for the Fulbright English Teaching Assistant program in Germany.  
The flagship international educational exchange program of the U.S. Government, the Fulbright program was founded in 1946 by Senator J. William Fulbright to foster bilateral relationships between citizens of the U.S. and other countries.
The Fulbright program aims to facilitate cultural exchange through direct, individual interaction in classrooms, laboratories and homes. Both students and their hosts gain an appreciation of the others' viewpoints and beliefs in an environment of openness and intellectual freedom – promoting mutual understanding.
The 12-member Fulbright Foreign Scholarship Board – appointed by the president of the United States – works in cooperation with the Department of State's Bureau of Educational and Cultural Affairs, the bi-national Fulbright Commissions and Foundations, and the Public Affairs Sections of U.S. embassies abroad to administer the program.
The UM campus deadline for 2015-2016 U.S. student Fulbright applicants is August 18, 2014. Please click herefor details.
May 28, 2014
College of Arts and Sciences
---