With videos showing members of the Islamic State destroying antiquities and artwork widely circulating, it's no surprise issues of Islam and art have been in the news lately.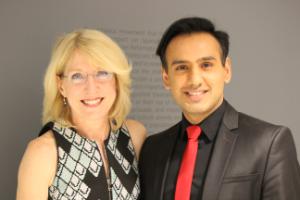 Research Assistant Professor of Art and Art History

 


Karen Mathews and Assistant Professor of Religious

 


Studies Amanullah De Sondy
Two professors in the UM College of Arts & Sciences discussed ways Muslim men and women use gendered and sexual expressions in the visual arts to address such issues as patriarchy, pluralism, race/ethnicity, censorship, and exile during an interdisciplinary colloquium held this week by Assistant Professor of Religious Studies Amanullah De Sondy joined Research Assistant Professor of Art and Art History Karen Mathews.
During the spirited discussion, Mathews said that Islam's central religious text, the Qur'an, "says very little about the visual arts," instead focusing on poetry as the highest art form. However, Islamic tradition generally prohibits visual representations of the Prophet Muhammad and other prophets.
De Sondy said, "These traditions bring Muslims to the notion of one God without an image."
Works by Iranian artist Shirin Neshat
He added that widespread "lack of understanding of Islam" breeds negativity and "strengthens the vision of 'Islam versus the West.'"
For example, he said, images of militants breaking objects in the Mosul Museum "show Muslims destroying their own cultural heritage, and reinforce stereotypes about the Muslim, Arabic world." De Sondy added that the media has not shown much of the "outrage over this behavior in the wider Muslim community."
Among other artists, Mathews shared the work of Shirin Neshat, an Iranian artist who creates works portraying "women of Allah," which are intended to "provoke, and manifest stereotypes in order to break them down."
She added that Neshat – who lives in New York – wanted to celebrate the role of women in the revolution that brought the theocracy to power in her home country.
De Sondy added that Neshat's work "allows a woman to challenge the Muslim culture, which is deeply patriarchal and male-oriented." He noted, however, that the religion itself has a distinct message regarding women's roles.
The event was cosponsored by various units in the College of Arts & Sciences: the Center for the Humanities, the Departments of Religious Studies and Art and Art History, the Women's and Gender Studies Program, and the Lowe Art Museum.
March 04, 2015
College of Arts and Sciences
---