This spring, the University of Miami hosted a symposium featuring some of the nation's leading scholars and artists to discuss and analyze how Miami intensely shaped their racial and ethnic identities and intellectual formations. Led by UM Associate Professor of English and Director of American Studies, Dr. Donette Francis, who delivered poignant opening remarks, the visiting scholars (all now living outside of Miami), spoke openly on how the city shaped their lives, what parts of Miami they took with them, and what parts they left behind. The full-day event was funded through a University of Miami Institute for Advanced Studies of the Americas' Interdisciplinary Research Group faculty grant. 

Here are some briefs thoughts from the symposium entitled, "Mapping Creole Miami: Black Intellectual and Artistic Trajectories": 


Donette Francis
"The story of Miami as place orients us in multiple directions simultaneously: everyday interactions remind us of the old world meeting the new, the north meeting the southern U.S. and the broader global souths. But perhaps the singular most transformative feature is that Black Miami prompts a more careful consideration of the implications and meanings of these various geographic and embodied proximities. Within Black Miami, difference is marked by neighborhoods so that West Coconut Grove signals Bahamian roots; Overtown, the migration to the city of the first generation of black settlers; Little Haiti registers the post-1980s large scale migration of Haitians into Miami; and while Liberty City marks the optimistic, yet, ultimately failed 1936 government experiment in public housing—the neighborhood has historically been perhaps one of the most diverse intra-racial black neighborhoods. In Black Miami, negotiating intra-group difference is an everyday way of life." 
—Donette Francis, Associate Professor of English and Director of American Studies at the University of Miami College of Arts & Sciences.


Nathan Connolly
"I love that Donette brought this group together, but I'm sad, too. Today feels too much like a special occasion. For a long time, I've worried that Miami's black intellectual diaspora remains mostly a scattered group. It feels cast about—a little here, a little there. Imagine if there was a Miami School, an intellectual collective that might consider and institutionalize the kind of questions that being black in Miami has historically raised. Right off the top, I see the experience here of being black as an affirmation of classical Miami paradox—that this place is both singular, exceptional, yet, given the people here just like some other place from which our forebears or maybe ourselves came. Miami's the special that ain't that special."
—Nathan Connolly, Herbert Baxter Adams Associate Professor of History at John Hopkins Krieger School of Arts & Sciences.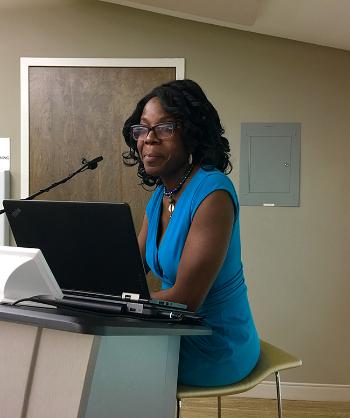 Edda L. Fields-Black
"What has animated my work from the very beginning is understanding more about Creole cultures and Creole languages and I got my first taste of that here in Miami, as well as in my own family…We grew up in Brownsville, on the edge of Liberty City, on the edge of Hialeah, on the edge of Miami Springs, we were very insolated…the interesting thing is that my sister and I never really fit in. We were bullied quite a bit for talking white, for talking proper, and blamed as well for not being black enough. So you don't fit in, but not fitting in is your fault because you're not trying hard enough, or not black enough and identifying with your white friends…sometimes these class differences keep us from seeing members of our community."
—Edda L. Fields-Black, Associate Professor of History at Carnegie Mellon University Dietrich College of Humanities and Social Sciences.


Tera Hunter
"'What was it like to grow up in Miami?' is often the question I am asked. Implicit in that question is that it's different, that Miami is other, not the norm or a place to grow up in. Part of what many people are curious about is where Miami fits along the spectrum of regional cities. People usual assert that it's not southern, but if you grew up black in Miami you know how southern Miami really is. Yet, it's also very Caribbean, so in that way it is very different from traditional southern cities, more polyglot, more than black vs. white. My childhood was based in two neighborhoods: Allapattah, a neighborhood that was part of Liberty City, and El Portal on the edge of Miami Shores. While I lived in two neighborhoods, I inhabited a lot of parts of the city because of various activities that I participated in and because of the different schools that I attended outside of my local district. Both of my parents migrated from the rural south, from small towns in Georgia. Eager to escape a small town for a better life, my parents were part of the late years of the great migration."
—Tera Hunter, Professor of History and African American Studies at Princeton University


Anthony Jack
"I grew up in Coconut Grove. The Miami Herald called my neighborhood, 'the community that time forgot.' As a kid, I was kicked out of libraries when I was younger—black kids were not always welcome at the library…other kids picked on me for being the chubby nerd who liked to watch cartoons more than playing football…When I think about the changing ways in which our neighborhoods are declining, I always think of home because for me home is a series of half-remembered dreams of ceramics classes with Ms. Gina and dives into the deep end of the pool…but those memories are punctuated with punches in the face on the way home from camp and taunts to fight back by a half-a-dozen boys surrounding me and ready to jump in—again for being a black, chubby nerd. But this is not to say that life was drab in the Grove. I played outside and we had fun…you see, streetlamps were our curfew, darkness and danger did not always go hand-in-hand."
—Anthony Jack, Assistant Professor at the Harvard Graduate School of Education.


Jemima Pierre
"We, the newly arrived black immigrants, were quickly caught up in the conversion of significant events during the turbulent Miami of the early 80s: The discovery of HIV/AIDS and the crisis that it generated, the large scale migrations of Haitian asylum seekers, labeled 'boat people,' to South Florida, the Mariel boatlift that brought 10,000 Cuban asylum seekers to Miami, the 1980 protest of the black community in Overtown and Liberty City after the acquittal of the four white officers who murdered 33-year-old Arthur McDuffie, among other things. These effects were significant for my emotional and cultural development. They were also traumatic."
—Jemima Pierre, Associate Professor in the Department of African American Studies at UCLA.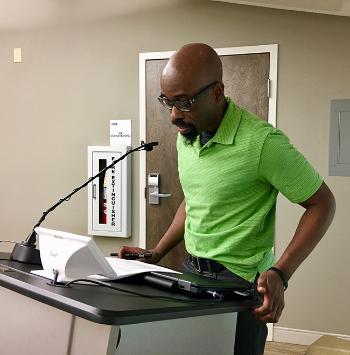 Kevin Quashie
"My grandmother was the love of my life, my one friend. She died when I was eight right before we left Saint Kitts. It always felt that leaving Saint Kitts had to do with her leaving the Earth. She was my commonwealth…I was quiet at home because home was a terribly and terrifically disciplined space. I always seemed to be wrong in my thoughts, in my gestures, always offending in some way, some person. So I learned how to disappear. Outwardly, I was dutiful, almost girl-like (and I use that term intentionally) in my will to please and my will to behave, and in my capacity to be most. In my head, I had a vibrant and even a vulgar interior motive. This discipline in my home was all done by my father, that giant of a man…who was born in Trinidad and raised in Grenada to an iconic family with roots traceable to God."
—Kevin Quashie, Professor of African Studies at Smith College

Juana Valdes
"After coming to Miami [from Cuba], we were faced with the housing issue. As a Cuban, yet, black, we didn't fit the norm of the standard Cubans who were coming to Miami at that time, so what happens is that we find it very hard to find a place to live. And we end up on the edge of society…so we end up in a compound of about six to seven shot-gun houses. In less than a year's time, me and my siblings learned how to speak English. I had a traditional school experience and went to Miami Senior High School. My brother went there, too, and played basketball. And so what happens is his friends come home to my mom's house who feeds them, and they take over the T.V. and they talk about sports. I grew up in this experience where you have this ethnicity of people, and I'm thinking that this is normal for Miami, so I'm not questioning how rare it is…to have all these different races and ethnicities together where everyone is mixing and interacting."
—Juana Valdes, Assistant Professor in the Department of Art at University of Massachusetts, Amherst
June 07, 2018
College of Arts and Sciences
---