On January 23, 2018, GRAMMY® Award-winning country music artist and Frost School of Music alumna Lari White (BM'88) lost her brief battle with cancer at only 52 years old.  A loving, friend, wife, mother, Nashville and Broadway music icon and actor, Lari left an indelible mark on everyone she met.

To honor her extraordinary contributions and achievements, Frost School Dean Shelton G. Berg announced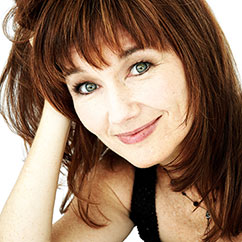 earlier this year, that Lari White would receive, posthumously, the Frost Distinguished Alumnus Award.  In commenting Dean Berg stated: "Lari was one of the most beautiful human beings I've ever known. Every fiber in her body was about beauty and love. She was a fabulous songwriter, singer, musician–everything that she came out in her music. There's no making sense of why someone so wonderful is taken so soon."
 
The award was presented to her husband, Chuck Cannon, Friday, April 19 during a concert by the award-winning Frost American Music Ensemble, at the Frost School's Clarke Recital Hall.  The program featured a video tribute which included testimonials from some of the music industry's top performing artists, songwriters and executives including: Frost faculty member Tim Smith, along with Frost alum Grand Funk Railroad's Tim Cashion, composer and guitarist John DeFaria, award-winning singer/songwriter producers Anna Wilson and Monty Powell, manager and friend Bill Carter, plus Music Publisher Donald Conrad, and singer/songwriters Mac Davis and Rodney Foster.  Accepting the award on behalf of his late wife Chuck Cannon stated: "She loved music more than anything, and she loved people. She was the first woman to produce a million selling record, she really was a trailblazer.  Thank you to the Frost School of Music for this honor for Lari."
 
Chuck spontaneously walked on stage, to join Frost School student Christina Martino as she sang, his and Lari's duet, "That's How You Know When You're In Love".  There was not a dry eye in the room.
 
Lari White's music earned three GRAMMY Awards for The Apostle Soundtrack and Amazing Grace 1 and 2: A Country Tribute. Her album Green Eyed Soul (2004), on her own label, Skinny White Girl Records, was hailed by the London Times as the best soul album of the year. After that, Lari spent thirteen years raising and homeschooling her three children with husband, songwriter Chuck Cannon, while also writing songs and producing projects in their home studio. She co-produced Toby Keith's million-selling album White Trash with Money (2006), making Lari one of the first and only women in country music to produce a major label act.

Lari had also appeared in several movies, playing Bettina Peterson in Cast Away (2000), as an original cast member of the Broadway musical Ring of Fire, and appearing alongside Gwyneth Paltrow and Tim McGraw in the 2010 film Country Song.
 
Lari released her last studio album Old Friends, New Loves in 2017. The intimate, acoustic and jazz-influenced album features luminary appearances by Delbert McClinton, Suzy Bogguss, and Lee Roy Parnell. Strickly Country Magazine wrote, "Lari White delivers the key ingredients of artistry, in an intoxicating and hypnotic mentality…heart and soul."
 
White is survived by her husband of more than 23 years, their three children M'Kenzy, Kyra Ciel and Jaxon, parents Larry and Yvonne White, sister Natasha, and brother Torne.
---