Standing on the edge of the stage, Valerie Coleman was awestruck the first time she heard the Philadelphia Orchestra rehearse "Umoja," the signature piece the flutist and composer wrote more than 20 years ago for her woodwind quintet and expanded for the orchestra's season-opening concert last month.
"I have to admit when the violins dug in on the first notes with that glorious, golden Philadelphia sound I got weak in the knees," said Coleman, the founder and creative force behind the acclaimed genre-bending Imani Winds ensemble. "It was beyond my wildest imagination that they chose to commission me to write this piece."
The commission was a particularly noteworthy honor for Coleman, who last year retired from performing with Imani Winds and joined the University of Miami Frost School of Music as assistant professor of performance, chamber music, and entrepreneurship. After all, the Philadelphia Orchestra invited Coleman to launch its year-long showcase of women composers, an initiative the orchestra is pursuing to "strengthen the role of women in classical music."
But her appearance on the opening-night stage in Philadelphia, and again Tuesday night when the orchestra takes "Umoja" to New York City's Carnegie Hall, is even more significant because she is an African-American woman composer who has spent her life becoming the kind of role model she rarely saw outside the historical West Louisville neighborhoods where she, and years earlier, Muhammad Ali grew up in Kentucky.
As the Philadelphia Inquirer's classical music critic Peter Dobrin noted in his glowing review of "Umoja," which means unity in Swahili, her orchestral composing debut marked the first time the 120-year-old orchestra had performed a classical work by a living African-American woman composer.
"What took them so long, and why does it matter?" Dobrin asked, quickly answering the latter question. "Coleman's identity is an important factor to many, but especially to children all over who may never have thought this world was open to them—as composers and listeners."
Opening the world of classical music to people of color was exactly what drove Coleman, who started flute lessons at age 11 and was writing symphonies by age 14, to form the Grammy-nominated Imani Winds in 1997 with three other African-American woodwind musicians and one Latina while in college.
"We really wanted to break down the barriers with audiences because, after all, classical music has long been considered such an exclusive thing, and for people of color you feel that doubly so," Coleman said. "When things become more inclusive on a musical level then the artistry has room to grow. I go back to this idea of path. One needs to expand the path for musicians to grow."
As a child in Louisville's hardscrabble west end neighborhood, Coleman had a clear path because, she says, she was surrounded by creativity. A noted muralist, Muhammad Ali's father, Cassius Clay Sr., painted signs in front of successful black businesses in their neighborhood, long before it became a war zone beset by drugs and violence. The youth orchestra she played in was filled with African-American children.
But by the time Coleman arrived at Boston University, where she earned bachelor's degrees in theory/composition and flute performance before her master's at New York's Mannes School of Music, hers was the only African-American face in the orchestra. "So," she told National Public Radio years later, "I wondered: What in the world happened here? It came to my mind that role models are needed."
Imani means "faith" in Swahili, and from the first time that Coleman and the original members of Imani Winds played together, she had faith that their music would connect with diverse audiences in a special way.
She was right. Weaving a tapestry of urban-classical roots with everything from Afro-Cuban jazz to Jewish klezmer, Imani Winds filled concert halls by challenging the stereotype of a woodwind ensemble. The group played scherzos about moonshine in the Mississippi Delta, motifs based on Morse Code, and tributes to Josephine Baker, Serena Williams, Michelle Obama, and other legendary African-Americans. Coleman's tribute to Ali is called "Shot Gun Houses," like the humble, narrow dwellings the world champion boxer and she grew up in.
Along the way, Imani Winds performed and garnered awards, accolades, and commissions across the U.S. and around the world, recently earning a permanent place in the classical music section of the Smithsonian Institution's National Museum of African American History and Culture in Washington, D.C.  
And "Umoja," the joyous two-minute tune that Coleman initially wrote for a woman's chorus while in college and later rearranged for a wedding gig, is listed as one of the "Top 101 Great American Ensemble Works" by Chamber Music America. It's also a staple in the woodwind canon.
But the 12-minute orchestral version Coleman expanded for the Philadelphia Orchestra underscored why The Washington Post named her one of the "Top 35 Female Composers in Classical Music" in 2017, and why she's always juggling multiple composing commissions from such varied organizations as the Collegiate Band Directors National Association and the Library of Congress.
As the Inquirer's Dorbin noted in his review of the Philadelphia Orchestra's "Umoja," "her new work is a powerhouse of emotional directness and bold orchestration," arcing from "serene peace to racing tension before emerging in sunlit joy."
Although Coleman no longer tours with Imani Winds, she still travels widely, presenting clinics, solo flute recitals, masterclasses and other mentorship opportunities—after Carnegie Hall, she's heading to Yale University this week.
But as she turns her energies to composing, she is by no means turning her back on the small-group chamber music ensembles where she carved her own path to success. The Imani Winds Chamber Music Festival she founded in New York City nine years ago draws hundreds of advanced students and post-graduates from around the world. And, as she notes, she was attracted to the Frost School in large part by the opportunity to develop the school's chamber music course across the school's departments, a goal that aligns with Dean Shelton Berg's mission to nurture musicians who can forge their own careers.
"Because of its portability, chamber music is a gateway to a musician's success, especially in classical music," Coleman said. "Too often, conservatory-trained classical musicians hit a dead end when they go out into the world because they aren't taught how to do for themselves. Chamber music not only teaches collaboration and how to commission new works, it teaches you how to make a living in any kind of setting—whether it be a major concert hall, an education outreach concert, or a club."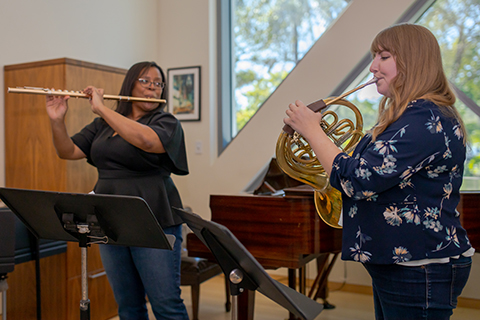 Horn player Caiti Beth McKinney, a third-year doctoral candidate in performance, said she and the four other female students Coleman recently inspired to start their own woodwind quintet, KHAOS, are learning all those lessons and so much more from the composer and flutist.
"I've never had such intense coaching as a group and never as much coaching on how to stay a group," said McKinney, who played with Coleman and other faculty at the Frost School's recent benefit concert for Bahamians recovering from Hurricane Dorian. "There's so much more to music than reading notes on a page, and she knows and shares it all—through music coaching, career coaching, and life coaching."
Yet, on Tuesday night, as the Philadelphia Orchestra performs the orchestral version of "Umoja" in Carnegie Hall, where Imani Winds first performed in 2001, Coleman is still likely to feel a little weak in the knees when 86 musicians, including 30 violinists, dig into her signature piece for quintet.
Coleman's next Frost School performance will take place during a concert dedicated to women composers on Tuesday, October 29, at UM's Gusman Concert Hall, where she and faculty members Margaret Donaghue, Scott Flavin, Ross Harbaugh, and Naoko Takao—the Frost Chamber Players—will perform her "Freedmen of the Five Civilized Tribes," about emancipated African-Americans who were adopted into Native American tribes.
---