University of Miami Research Assistant Professor Dr. Yanerys Leon was recently selected as the 2021 recipient of the B.F. Skinner Foundation New Applied Researcher Award, which honors innovative and important research in behavior analysis conducted within the first 10 years of receiving a doctorate degree.
Nominated by colleagues and receiving support from her mentors, Leon says it was an honor to receive this recognition in a field of study that she holds a deep passion for.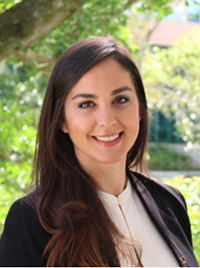 Born and raised in Miami, Leon earned her master's degree in Applied Behavior Analysis (ABA) at University of Maryland, Baltimore County (UMBC) while working at the Neurobehavioral Unit of the Kennedy Krieger Institute. Later, she earned her doctorate in Behavior Analysis from the Florida Institute of Technology. She is a Board-Certified Behavior Analyst with experience in the assessment and treatment of severe behavior disorders.

"It is such an honor to be nominated by colleagues and my mentors," said Leon. "The award illustrates that I'm on the right track with my career and my passion in this field of research."

As a faculty member in the ABA master's program at UM, Leon teaches graduate courses in ABA and supervises graduate students who are completing their clinical training at the Intensive Behavior Intervention Services (IBIS) Clinic. Her research interests include functional analysis and treatment of problem behavior, extensions and refinement of reinforcer assessment, and conditioned and token reinforcement.

Prior to joining the University of Miami, Leon took a visiting faculty position at Florida International University teaching behavior analysis courses to undergrads. She also taught ABA courses in a hybrid online and in-person professional ABA program at Florida Institute of Technology.

When the ABA program began at the University of Miami, Leon was asked to join by colleague and UM Research Associate Professor Dr. Anibal Gutierrez.

"When Anibal received approval to start the program at UM, I jumped at the opportunity to join him. For me, it was a dream come true to work at UM as a researcher in the new ABA program," recalls Leon.

UM's ABA program provides students with classroom instruction and specialized practicum experience working in the University's on-site clinic alongside faculty. The program is designed to provide graduate students with the knowledge of behavior analytic concepts and clinical competency while also acquiring the skills to uphold and maintain ethical and responsible conduct. Students who complete the program are eligible to take the exam to become a Board-Certified Behavior Analyst (BCBA).

Along with her scholarship in the ABA program, Leon is a member of a U-Link team of researchers exploring the ways augmented reality may transform interventions for people with autism who have difficulty learning everyday life, safety, or employment skills.

The team of researchers are working together to explore how virtual or augmented reality systems can enhance the delivery of applied behavior analytic services. The U-Link team includes Mohamad Hammam Alsafrjalani and Mohamad Abdel-Mottaleb from the College of Engineering; Kim Grinfeder from the School of Communication; and Anibal Gutierrez, Yanerys Leon, and Vanessa Rodriguez from the College of Arts and Sciences.
College of Arts and Sciences
---