Ellery Lennon will never forget the day she spotted a juvenile lemon shark swimming within the shadows of the mangrove trees along Biscayne Bay. Claiming herself to be a "big shark nerd," Lennon says the surprise sighting was an important discovery that directly correlates to her dissertation work and the research she's conducting this summer.
"Spotting the juvenile sharks was a truly important find," says Lennon, a University of Miami Ph.D. candidate in the Department of Biology, who earned her undergraduate double major in Marine Science and Biology from the College of Arts & Sciences and the Rosenstiel School of Marine and Atmospheric Science in 2016. "Not only does it show that the fish and invertebrates populations living in the mangroves can sustain a predator species like a shark, but the sighting also illustrates how healthy mangroves provide important nursery habitat for juvenile fish."
For the next two months, Lennon and her undergraduate research assistant, Alexis Carrasquillo, will use an underwater video camera to capture footage of fish along different shorelines in Biscayne Bay with hopes to determine how coastal armoring (man-made structures like seawalls, for example) affect nearshore fish assemblages.
Although used to mitigate the effects of climate change, the construction of seawalls can contribute to pollution and loss of habitat for fish and corals. Using the underwater cameras along the mangrove shorelines, seawalls, and in areas where both seawalls and mangroves exist, Lennon hopes to show how important mangroves are to the ecosystem of Biscayne Bay by the number of fish captured on video with the underwater cameras.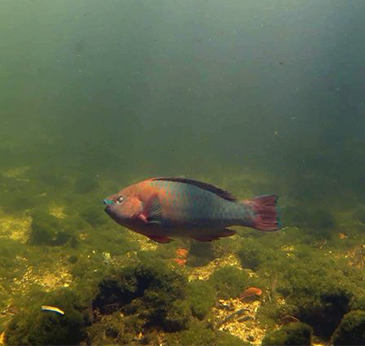 "I am very interested in studying fish populations and want to learn how different shoreline types can support fish assemblages," says Lennon. "A diverse fish population is a big indicator of a healthy ecosystem and can increase the ability of the ecosystem to function and provide beneficial services. Not only do mangrove ecosystems support other fish and predators, like the lemon sharks I spotted, but also bird populations, nutrient cycling, and recreational activities, like snorkeling."
Guiding them through the research is Biology Professor Kathleen Sealey whose life's work is devoted to coastal restoration ecology, particularly the coastal system management in South Florida. Sealey has worked on similar projects with University colleagues and students in the Bahamas and the Caribbean, and has participated in a local initiative with Monroe County and the Florida Department of Environmental Protection to survey the water in and around 13 different canal sites throughout the Florida Keys.
"Our research is designed to better understand ecological responses to coastal management," says Sealey. "Applied ecological research can help us make the most of environmental management spending to improve the function of our coastal ecosystems."
Before Lennon can truly dive into her research, she must determine if the underwater cameras are an appropriate method to characterize fish in front of mangrove shorelines. "We also must figure out how many hours of video is enough to characterize the fish from each site. This is what Alexis is going to be helping me with this summer," says Lennon.
To do this, they are deploying cameras at two sites that National Oceanic and Atmospheric Administration (NOAA) has been surveying for years. NOAA surveys fish by snorkeling along transects in front of mangrove habitats. Carrasquillo will help Lennon's research by comparing their video fish data to NOAA's snorkeling fish data to see if they are finding similar species and abundances.
"I'm so excited to get started," says Carrasquillo, who is majoring in Marine Biology and Ecology. "Ellery was my teacher's assistant when I started my second semester as a freshman, so I was interested in the project when she discussed it with the class. I love being outdoors and regularly go kayaking or fishing with my dad and my brother, so now that I'm conducting research that ties into my personal interests, it's an amazing experience that I'm happy to have found."
Lennon's research for her dissertation correlates with a collaborative U-LINK project with Professor Sealey and other UM faculty members from disciplines such as civil engineering, sculpture, architecture, economics, and marine ecosystems. The U-LINK Next Generation of Coastal Structures team combined their expertise to develop the next generation of coastal design structures that are sustainable, multifunctional, and offer an aesthetic value to a regions culture.
"The U-LINK team came up with many ideas on how to improve the ecological function of coastal structures, but now we need the ecological metrics to actually see if these ideas produce the results we expect," adds Sealey. "The underwater video system might be the rapid assessment method we need to compare different types of nature-based coastal structure."
College of Arts and Sciences
---