The break offers an antidote to our up-tempo, filled-to-the-brim day-to-day schedules, and a chance to shift from Chronos—chronological clock time as the Greeks defined it—to Kairos, a more expansive breathe-in-the-beauty-of-the-moment version of time that follows its own rhythm.
We talked with a few faculty to learn what they're doing during Spring Break.
Logan Connors, associate professor, director of Undergraduate Studies in French, faculty director UParis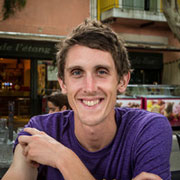 Connors is back this week in Paris where he's lived on two separate previous occasions. Yes, he's "working"—yet touring with UM students to visit nearby chateaus and teaching on social conflict in Paris over the ages is far from "ennuyeux." "This is our laboratory and I can accomplish so much with the students—all the teaching resources are here," Connors said. "It's tremendously rewarding because I'm able to show them—not just tell them." He met his French wife when he studied in France years ago, and her mother lives in Paris so he's eager to catch up with family and former classmates. He's staying again in the 13th arrondissement, a very artistic and working-class neighborhood. "It's a treat to recognize some of the shop owners and café workers from when I've been here before."
Arriving on the overseas flight at 7:15 a.m. at Charles de Gaulle Airport, Connors followed his now established routine: He bustled over to the Café de France "for my jet-lag buster lunch."
Steve Guerra, director of the Frost Studio Jazz Band, managing director of the Henry Mancini Institute, and lecturer of Studio Music and Jazz at Frost
Guerra's excited for a week of uninterrupted creative time—some waiting for the muse as he arranges music for his own second Big Band album (his first, "Namesake," debuted to acclaim in 2009), but also some focused music writing for the National Symphony Orchestra. "With my teaching schedule I can get an hour here and there, but the break gives me a chance to focus and be creative," he said. Guerra has written for the orchestra before and is jazzed to work with a Broadway star to create some new arrangements. "They may say 'go crazy and break the orchestra' or maybe just ask me to recreate a classic—that's easier, but having the wide-open freedom is exciting," he said.   
But before he tackles his own creative projects, he traveled with students from the Frost Jazz Band to the Sarasota Jazz Festival this past weekend where the troupe played a feature set as part of the week-long festival. "This festival really gives them a taste of the professional world—they're given the music just days before and have to show up and play. I've been performing since I was 14 and have done this lots of times, yet preparing with a new set of students is a wonderful challenge—like taking a new baseball team out each time for the game."
Clarissa Moorhead, lecturer with the Intensive English Program (IEP)
Moorhead is off to Atlanta with four IEP colleagues to the 2019 International Convention and English Language Expo where she'll offer a presentation to Teaching English to Speakers of Other Languages (TESOL) colleagues. "It's either fortunate or unfortunate that the conference falls on spring break, but I'm so glad our department helps us to attend—there are so many other sessions going on, and it's a great way to figure out if you're doing the right thing and how to better serve your students."
The UM contingent has a dinner evening planned, and Moorhead is excited to get out and about in Atlanta to see some sights. After the three-day conference, she's eager for some home alone cuddle time with her 13-month-old daughter. "I'm so grateful for my husband who's been taking care of things and, honestly, just to get some things done that I don't normally have time for—like going to the dentist."
Carmen Guerrero, associate professor and director of School of Architecture's Rome Program
Guerrero enjoyed a one-day stop in Rome on her way to Basel, Switzerland, where she'll join colleague Jaime Correa, also a SoA associate professor, to guide a group of UM students in an intensive elective course on Swiss structures. "There's an incredibly high level of construction craft and such a network of talented architects here," she said. "It's a great place to see examples of public buildings—schools, hospitals—that are impeccably designed." One of the tours will take her to one of her favorite places in the world: the thermal springs spa in Vals. "Designed by Peter Zumthor and inspired by the old Roman baths, the spa is built into a hill with this fantastic view of the Swiss Alps—it's just magnificent," Guerrero said.
While in Basel—the birthplace of Art Basel, she's looking forward to spending evenings catching up with a colleague from grad school who has a firm there. "There's a wonderful network of architects here, and the Swiss are very careful, meticulous, and skilled in their design—so there's a lot to learn." 
---