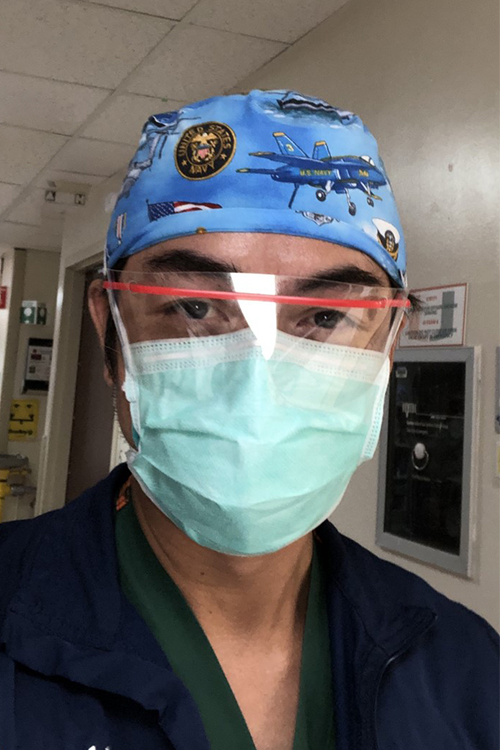 When COVID-19 patients started arriving at UHealth—the University of Miami Health System— and the mandate to stop performing elective surgeries was made in early March,  waiting areas and operating rooms became quiet as people followed the stay-at-home orders. Now, a little more than two months later, as UHealth welcomes routine patients back, what does preeminent patient care look like?
Since the onset of COVID-19, Frederick Soriano, director of nursing in the Division of Gastroenterology, and his team have been preparing for how they would continue to care for the inpatient cases they were still seeing while also treating new patients that would arrive as restrictions began to lift. "The safety of our patients is the first priority, but so is the care of our employees and keeping our team safe," expressed Soriano. "We revised our environment to accommodate this change but our team has learned so much in six weeks, especially in patient care." 
The care teams have adopted new protective guidelines that make many simple tasks more tedious, requiring extra time and care. Workdays have been lengthened to accommodate restrictions, such as physical distancing and greeters are present to help escort patients from place to place.
Soriano explained that retrospectively thinking, his team members had no idea when they would be able to get back to business safely, but they've made it work. In fact, the additional time they have had with each patient has brought Soriano back to his roots. "This experience has allowed more time for bedside care, and it has been rewarding to be able to spend more time with my patients," he pointed out.
With elective services now operational across the health system, physicians have also been able to spend more time seeing patients. Daniel Sussman, medical director for digestive health and associate professor of clinical medicine, believes all of this is because of the work of the unsung heroes who make sure that the division keeps churning. "I have been so impressed with the health system's and our center's emphasis on safety," he stated proudly. "I feel very safe due to the systems that have been put in place for PPE and pre-procedure screening and lab testing," he added. "The rapid pace at which UHealth was prepared to respond to this ever-changing situation is a testament to the hard work of its employees."
However, creating a safe environment for patients was only half the battle for Soriano and his team. Keeping staff members safe, both physically and mentally, was just as important. According to Soriano, he understood that his responsibility to his staff was to be transparent and provide up-to-date information to alleviate their stress. "It was tough the month that we could not perform elective cases. The anxiety was so much to handle, and I felt paralyzed," he explained. "But as we manage the situation as well as our anxiety, this isn't anything that we can't tackle. We just have to think about it and work through it."
Looking back on the past two months, Soriano said he felt proud of what he and his team have accomplished and learned. "We will manage and adapt and change," he noted. "I want our community to know that going to the hospital is safe and delaying care is not a good decision. We have seasoned nurses and staff. And they will be excellent."
Learn more about UHealth's phased approach to resume select clinical services, including elective procedures.