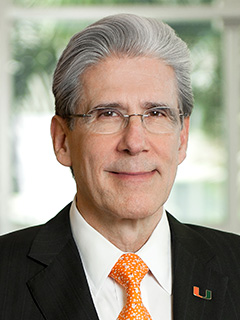 Editor's note: This article first appeared as an op-ed piece in the Miami Herald on Tuesday, October 18, 2016.
As the University of Miami prepared for Hurricane Matthew a few weeks ago, I was reminded of how indelibly our institution and city have been shaped by forces of nature. While Matthew did not make a direct hit on South Florida, we all know our neighbors in the Southeast and the Caribbean were less fortunate. I want to thank everyone in our community who is reaching out to the hardest hit areas of the U.S. and Haiti, and I am proud to see UM students, alumni, and medical professionals join relief efforts.
It is hard to imagine that Miami, a world-class city that sits at the heart of the Americas, faced an uncertain future on September 18, 1926, when the Great Miami Hurricane devastated this young frontier city best known as a seasonal retreat on the fringes of the Everglades. It was the perfect storm: extensive destruction of property; significant loss of life and thousands injured; a devastating blow to a local economy that was already reeling from collapsing real estate values and growing loan defaults. Recovery was far from certain.
But Miami came back. It was a community of great tenacity. Ninety years ago today, a mere 30 days after the storm, the University of Miami welcomed its first class of 646 full-time students. Miami's leaders knew that establishing a university, as an anchor for intellectual, professional, and cultural advancement, was essential to a thriving metropolis. For our University founders, it was an assertion of their optimism, their commitment to being a Pan American center for knowledge, and recognition of the urgent need to begin.
Success was far from assured. Months earlier, thousands had celebrated the groundbreaking for an administration building named in honor of Coral Gables founder George E. Merrick's father, Solomon. Little did the excited crowds know that it would be another 23 years before the building was completed. Yet the close quarters of the Cardboard College, as the "temporary" campus was affectionately called, nurtured the spirit of unity and innovation that remain hallmarks of the University of Miami. As the deprivations of the global Great Depression took their toll, our young university met challenge with determination.
Nine decades later, UM and Miami can be proud of a shared legacy of accomplishment. UM ranks among the top national research universities. We attract and retain people who stand out in the classroom, in the research lab, at the hospital bedside, and on the playing field. Our faculty are briefing the Pentagon on how ISIS communicates, helping Google learn about leadership, using the arts to express the human condition, and relentlessly addressing the threat of Zika. And over the last 90 years we have become internationally known for work to not only predict the type of extreme weather events that threatened the founding of our institution, but to equip society to adapt and thrive despite changes to our climate.
Our mascot is the American white ibis, which is said to be the last wildlife to take shelter before a storm and the first to return after it passes. The ibis is an enduring symbol of our institution's resilience and our deep connection to the dynamic, beautiful ecosystem of South Florida. You can see our capacity for resilience and renewal in our students as learners, as researchers, as athletes, as volunteers, and as they move into the world in leadership roles throughout Florida and the world.
Today it is impossible to separate this vibrant city from the U. The creative and entrepreneurial spirit of the region feeds our campuses and helps draw international talent to live, work, and learn here. In the past year, UM has embarked on the Roadmap to Our New Century which will guide us as we aspire to new horizons by 2025. This work is the collective effort of this community: our students, faculty, staff, patients, alumni, benefactors, and all those whose lives we touch. The University of Miami would not have opened its doors 90 years ago without the fortitude and resilience of our home town. From Cardboard College to 'Canes Country, together we have weathered literal, economic, and cultural winds of change. Together we will not just face the future, we will create it. 
---