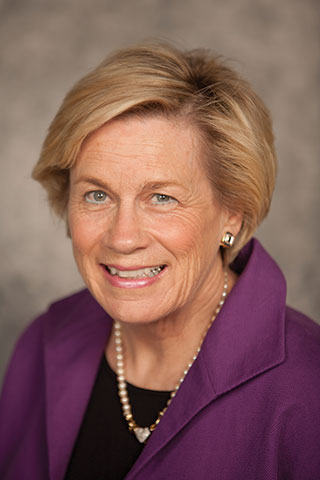 Susan T. Jones
Susan Tamny Jones, whose career as a transformational fundraiser left an indelible mark on the University of Miami and its community, passed away peacefully at her Coral Gables home Christmas day. She was 72.
Jones embodied a comforting style and grace during her 20-plus years at the University, where she was a beloved leader in the Division of University Advancement. She was instrumental in the success of the University's two major capital campaigns – Momentum 1 and Momentum 2 – which raised more than $3 billion and transformed the University's campuses with state-of-the-art research centers and classrooms, contributed to student success through numerous scholarships and awards, and attracted talented faculty wanting to work at a first-class university.
"Susan's ever-present personal touch was the touchstone by which many University of Miami donors became lifelong Hurricanes," said University of Miami President Julio Frenk. "She loved bringing people together for a common cause, and the University is stronger and more responsive for it. Felicia and I send our heartfelt condolences to Edgar, her children, family, friends and her extended U family."
Donna E. Shalala, former UM president who presided over the two capital campaigns, said Jones was "a critical leader in building the U into a first-tier university. I treasured her guidance and friendship over the years."
Jones's University leadership was recognized during her induction into the Iron Arrow Society, the highest honor bestowed at the University.
A cherished member of the Miami community, Jones's leadership and involvement spanned across many clubs, organizations and charities. She served on the boards of the Ransom Everglades School, the Beaux Arts, Riviera Country Club and the Junior League of Miami, one of the oldest and most influential women's volunteer organizations, to name just a few. In 2006, Jones received the Sarah Hopkins Woodruff Award at the American Red Cross's Spectrum Awards for Women.
"Susan was beloved by all who had the honor to work with her," said Barbara Hecht Havenick, friend, fellow community leader and member of the UM Board of Trustees. "The behind-the-scenes impact Susan had on so many lives is impossible to measure. She was one of a kind."
Jones, associate vice president for University Advancement, was born June 26, 1945 in Annapolis, Maryland. The daughter of Cdr. Lewis D. Tamny, a career U.S. Navy officer and Ann Tamny, she grew up traveling to her father's various duty assignments, including posts in Florida – Pensacola, Opa-locka and Sanford – Corpus Christi, Texas; New Jersey; and Rhode Island.  She graduated from the University of Florida.
She is survived by her husband, Edgar Jones; sons Patterson and Cooper (Karen); her grandchildren, Olivia and Ava; a niece Mariele and her son, Graham; and her brothers Michael (Cynthia), of Colorado, who have two children, Elizabeth and Gilmore; Pete (Nancy) of California, who have two children, Kimberly and John (Kendall), whose daughter Claire is grandneice; Tom (Donna) of California; and her sister Laiky of Harrisonburg, Virginia.
A funeral service will be held at 11 a.m. Thursday, December 28, at St. Philip's Episcopal Church, 1121 Andalusia Avenue, Coral Gables. In lieu of flowers, the family has asked that contributions be made in Susan's memory to the Sylvester Comprehensive Cancer Center at the University of Miami Health System.
---