Picture a story, without words, strong enough to bridge rural communities with local universities, or a study that explains the impacts of urbanization on groundwater levels. Sanjeev Chatterjee, professor at the School of Communication, and Shouraseni Sen Roy, associate professor at the College of Arts and Sciences, have been selected by the Fulbright Scholar Program to pursue these topics during the 2018-19 academic year. They join a notable group of scholars who've come before them, including Stephen Halsey, Hugh Thomas, and Michael Touchton, professors in the College of Arts and Sciences, whose topics took them to China, the UK, and Brazil, respectively.
The Fulbright Scholar Program provides opportunities for students, scholars, and professionals to study, conduct research, and teach at schools around the world. The program, established in 1946 under legislation introduced by then-U.S. Senator J. William Fulbright, of Arkansas, seeks to increase mutual understanding between the people of the U.S. and other countries.
"Our faculty are doing incredible things," said Jeffrey Duerk, executive vice president for academic affairs and provost. "The array of international problems being addressed as well as the multifaceted nature of them truly reflects on our faculty's interdisciplinary character and our global leadership. The experience our scholars are gaining from their time abroad and the value they are providing will ultimately benefit our students in the classroom and beyond."
Below are profiles of these five Fulbright faculty scholars.
---
Sanjeev Chatterjee
Set amid the fields of golden mustard greens and small villages of Haryana, India, Ashoka University's modern architecture and new-age ideologies seem out of place.
The university, while providing opportunities for students to become global thinkers and change leaders, has inadvertently created a divide between the people on campus and those living in the surrounding villages.
Sanjeev Chatterjee, a UM School of Communication faculty member since 1994, and faculty of the Young India Fellowship (YIF) since 2011, hopes to change this dynamic with the Fulbright-Nehru Academic and Professional Excellence Award he received to teach a Visual Communication class at the YIF at Ashoka University during the 2018-19 academic year.
"The buildings, facilities and culture of the liberal arts university stand in stark contrast to the villages and small towns that surround it," explained Chatterjee. "My idea is to try and build a bridge between the campus community and the surrounding rural/semi-urban communities through visual storytelling."
YIF, a one-year, multidisciplinary post-graduate program focused on liberal arts, is delivered in partnership with several colleges and universities around the globe, including University of California Berkeley, Trinity College Dublin, and Yale University. In 2014, Ashoka University was established on a brand new campus in rural Haryana, and named YIF as its flagship program.
Through the class, Chatterjee plans to use what he dubs "the common language of visuals" to build community engagement. "Students from the Young India Fellowship will undertake a journey of discovery by making short documentaries about life, culture, and change in the communities they are assigned," Chatterjee said. "Similarly, youth from the communities will be trained in mobile filmmaking and invited to make films about the Ashoka University campus community. The films will be screened publicly in different locations."
To measure success and how the communities were impacted, Chatterjee will conduct surveys before and after the project. Going forward, the Fulbright award will help establish criteria to understand project outcomes. "If the results are encouraging, this kind of work could be applied in other settings where new institutions are being established all over India," explained Chatterjee. "Additionally, I intend to continue teaching at the Young India Fellowship for the foreseeable future and continue developing the work further."
Asked about the source of his passion for this type of research, Chatterjee doesn't hesitate: "For me, exploring every opportunity for dialogue in a polarized world is important."
---
Stephen Halsey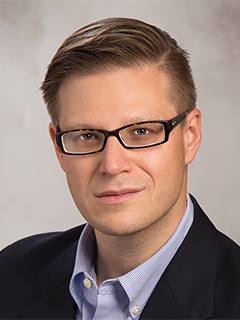 Conducting much of his research in a military administrative district in Nanjing, China, Stephen Halsey often has to pass through both a civilian and military gate, secured by guards holding automatic rifles. But the tension of passing through the civilian gate eased soon after he began his research in September 2017, when the guard, obviously a basketball fan, learned that Halsey is from the Miami Heat's home, and knows Chinese basketball legend Yao Ming's American translator.
A visiting scholar at the Institute of Historical Studies at Nanjing University in Nanjing, China, Halsey, who received a Fulbright Senior Scholar Grant to China through July 2018, seeks to understand why the Chinese government's 20th century strategies so disastrously impacted the environment. Halsey also aims to help policymakers fix, or at least improve, the problem.
"Any solution to global environmental problems ranging from deforestation to climate change must include China in order to succeed," explained Halsey. "The country now releases as much carbon dioxide into the atmosphere as the U.S., India, Russia, Japan, and Germany combined, and its air pollution, at times, reached the west coast of the U.S. China's problems are now everyone else's problems too."
In what Halsey calls "modernist developmentalism," China's exploitation of fossil fuels, obsession with mega-projects, and need for state control over key economic sectors during the 20th century have all had a hand in diminishing the country's environmental status. While the Chinese government has established protection agencies and new policies to reverse the impact on the environment, reform measures have not been widely adopted.
"The devolution of many fiscal and administrative responsibilities to local and provincial governments ensures that Beijing's directives are often ignored in practice," Halsey said. "For instance, a coal-fired power plant might comply with an official order to install sulfur-dioxide scrubbers, but then never turn them on to reduce energy use and enhance profit margins."
Once his grant ends, Halsey will miss his weekend walks through Nanjing's historic neighborhoods where he marvels in the beauty of the Ming dynasty's defensive walls, presidential palace, and European villas. He also hopes to continue making an impact by using his in-country research to publish Lost Harmonies?: Environmental Crisis and the Legacy of the Chinese Past. The historical work will include a unique conclusion outlining practical reform measures designed to improve China's environmental governance. "It represents a kind of methodological experiment based on the idea that history can speak to policy," explained Halsey.
---
Shouraseni Sen Roy
After working at the University for nearly 13 years, Shouraseni Sen Roy is a 'Cane through and through. She is also a native of India, and finds herself drawn to the trends threatening the groundwater supply in her homeland. The topic of Roy's research,Impacts of Urbanization on Groundwater Status: A Study of two Mega Cities in India, will take her to Delhi and Mumbai for four months in early 2019 under the Fulbright Award to India.
"Delhi has conducted multiple studies on groundwater levels and how they're going down, which is nothing new, but I'm studying how urbanization impacts these levels," explained Roy.
India relies on agriculture to provide food for its people. Much of the water needed to sustain this way of life has taken a toll on the groundwater tables. The urbanization of the country also has added to the gravity of the problem.
"We keep building these concrete jungles," said Roy, "and in these large urban sprawls, there is no water percolation to help replenish the aquifers."
While growing up in India, Roy recalls how her family would collect water during the few morning and evening hours that they were provided with tap water from the City. "You would fill every container you could find to get you through the next few days," said Roy. "What they do now is build borewells to extract water."
Borewells are vertically drilled wells bored into an underground aquifer to extract water for various purposes. Their widespread use, Roy said, is exacerbating the depletion rate of groundwater levels.
With groundwater tables facing historical lows, Roy's work is more relevant than ever. Especially as this essential resource continues to disappear across the globe in places like Cape Town, South Africa, and closer to home in the Great Plains of the U.S.
"So the question is not whether climate change is happening," said Roy, "It's what we are doing to address the impacts of climate change."
With some time and hard work, this is exactly what Roy plans to find out.
---
Hugh Thomas
"I'm going to live in London for five months," thought Hugh Thomas when he first learned he'd received a Fulbright U.S. Scholar Grant to King's College London, allowing him to serve as a visiting professor during the 2017-18 fall term.
His research took him across the pond to delve into the social and cultural history of the court of King John of England (1199-1216), the subject of his next book. Thomas explained that there are a lot of published works on the political, financial, and administrative history of King John's reign, but he was interested in the aspects of court life that have been neglected. "So I'm writing about hunting, feasting, material culture, ceremonies, and other social and cultural aspects of court life," he said.
Thomas is passionate about the social influences that were established in such a different time but remain in what we call modern life today. "Much of American law comes from the English Common Law, which had its roots in the 12th century," explained Thomas. "Perhaps even more pertinent is that the modern university is a medieval invention, and that the earliest European universities, such as Bologna and Oxford, were founded in the Middle Ages."
While Thomas' book will focus on the social and cultural constructs of the Middle Ages, his research will explore the connections that still exist today, making his literature on the past not so ancient history.
---
Michael Touchton
Acarajé, feijoada, and moqueca are only some of the delicious Brazilian dishes Michael Touchton misses after returning from his semester abroad. These dishes, popular in the northern part of the country, boast fresh seafood, black beans mixed with pork and beef, and incredible seasonings.
Reveling in gastronomy was only a small bonus to Touchton's time in Brazil. He arrived in South America in August 2017 on a Fulbright Foundation Core Research Award for Brazil where he spent a semester at the State University of Campinas (UNICAMP) and in five field sites around the country. His research was focused on the impact of participatory institutions and social programs on human development.
"There I interviewed public officials and members of civil society organizations to investigate connections between local democratic performance and outcomes for poverty, health, women's empowerment, and education," said Touchton. "This work complemented quantitative analysis of national data on these subjects and rounded out a book manuscript that is currently under review at Cambridge University Press."
The grant allowed Touchton to take his project from theory to practice. During his time in country, he discovered that local democratic performance is directly correlated to the outcomes of well-being. But, he retorted, that participation has to move beyond voting in a democratic election every few years. "Instead,incorporating the public into local decision-making processes and providing social programs that guarantee citizens a dignified life improve governance on a daily basis through input, oversight, and accountability," said Touchton. 
While his grant may have ended, Touchton is far from finished. "A book manuscript from this project is under review and I hope it will help to spread the results of my work broadly once it is in print," he said. "I will continue to work in human development in Brazil, Latin America, and around the world to apply the lessons from my research over the next few years. This includes direct work with government officials as well as presentations at the World Bank and several academic conferences."
---
Recent Fulbright scholars interested in being profiled are invited to send an email to InsideUM@miami.edu to set up an interview.
---