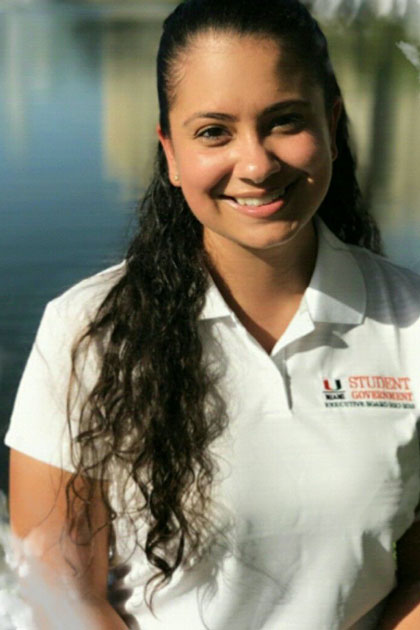 When most leaders describe their time at the University of Miami, the very first obstacle they discuss is rarely a physical description of getting to campus. Brianna Hernandez, however, is not a typical student leader.
She started her University of Miami career precisely how she is ending it: with an approximately two-hour commute to and from campus daily. Now in her senior year, Hernandez has experienced other obstacles, like figuring out where her next step will take her. Her time at UM was dedicated to making an impact on the entire UM community – from leading voting drives and registering more than 1,200 students, faculty, staff and community members, to being a voice for women within the campus community through events like Shattering the Glass Ceiling and serving as an executive board member for the Whitely Women's Leadership Symposium.
Hernandez is a voice in the University community who will always find a way – whether that's convincing a family member or friend to pick her up after a late night meeting for Orange Festival, or getting on a significantly earlier train from Broward County to arrive in Miami on time. She is not only active on campus, but has also represented UM with the Campus Election Engagement Project where she works with peers to develop ways to better engage college students in democracy. Hernandez also actively tutors peers at the Camner Academic Resource Center and always steps in for a person in need, regardless of the personal challenges that may impact her life.
Hernandez exemplifies completely what it means to be a Miami Hurricane – a person who cares deeply about every member of the university community and will constantly go out of their way to support and mentor others, as 'Canes Care For 'Canes.
Hernandez will graduate with a bachelor's in political science and history, with minors in sociology and philosophy. An active member of the UM Mock Trial team during her undergraduate career, she plans to attend law school and later join the Foreign Service.
---