For many immigrants fleeing Cuba in the 1960s, starting a life in a new country was extremely challenging. It was no different for singer Gloria Estefan. 
"When I moved to Miami my mom and I were on our own because my dad was a political prisoner in Cuba," said the Grammy Award winner and former lead singer of the Miami Sound Machine. "My first experience of womanhood was watching women in my household doing it all. I learned from example."
Women empowerment was one of the many topics Estefan spoke about Thursday evening while speaking at the Women Leaders of the Americas forum hosted by the Institute for Advanced Study of the Americas and its director, Dr. Felicia Marie Knaul. 
"I decided to create this series because I know that our region is facing huge challenges," said Knaul, who led the discussion with Estefan. "I have the certainty that many challenges we face can be healed by the creativity of women."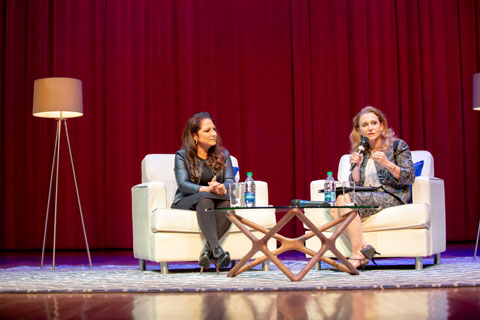 The institute's mission is to promote and address challenges faced by the Americas in the 21st century. One of the questions raised at the forum is how Estefan thinks the Me Too Movement can grow and make an impact in Latin America. 
"Women have suffered a lot for many years," she said. "I think the strength in numbers and the sisterhood is important in the movement. We should all feel free to express and speak the truth without feeling afraid of repercussion." 
UM President Julio Frenk introduced Knaul and Estefan, telling the crowd that the University's "Roadmap to Our New Century seeks to achieve excellence across all our core missions and this really requires the perspective of the unique talents of women leaders."
Over the span of her inspiring career, Estefan has sold an estimated 115 million records worldwide, won three Grammy Awards, and became the first Cuban-American to receive the Kennedy Center Honors in 2017 for her contributions to music. She and her husband, Emilio Estefan, run the multimedia entertainment company Estefan Enterprises, among other business and philanthropic endeavors. Estefan, a UM alumna and a UM trustee emeritus, believes the key to success is doing what you love. 
"Find something that you're passionate about," she told the audience in the auditorium at the Maurice Gusman Concert Hall. "Success is not something that is easy. It really takes a lot of hard work. You have to believe in yourself and forget about negativity."
Estefan urged those who have been faced with defeat to use it as motivation for the future. 
"The word 'no' is the most empowering word. Anger is very motivating. You have to take that energy and turn it around and put it into what you aspire," she said. 
Grace Azank, a sophomore studying finance and business technology, was thrilled that Estefan was on campus and was inspired by her words of advice.
"She's such a huge artist and a wonderful human being in general," Azank said. "I really liked how she talked about her daughter and how she nurtures a freedom of creativity in her as well as anyone, and how she encouraged people to go after their dreams and face challenges." 
Estefan encouraged current UM students to keep striving to achieve their goals. 
"Try to get the best grades possible," she said. "This is a unique time in your life when you can dedicate yourself to being the best person you can be. Make the most of it."
---