With Oscars weekend upon us, News@TheU is as curious as you are about who will take home the coveted statues Sunday night. We asked a couple of experts connected to the University of Miami their opinions. 
The Critic: Rene Rodriguez teaches a course, Aspects of Contemporary Cinema, in the School of Communication. A reporter at the Miami Herald, he served as the film critic for the newspaper for more than 20 years.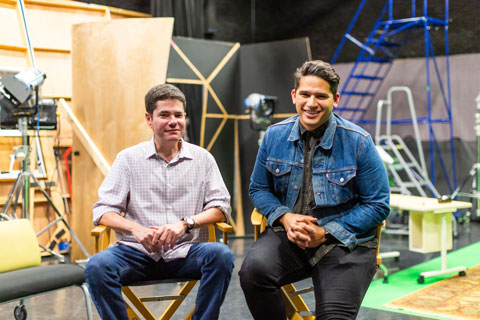 The Director: Diego Meza-Valdes, a UM alumnus, is a videographer in the office of University Communications. A short film directed by him and his brother, Andres, premiered at the Sundance Film Festival in 2016, and the brothers are currently developing their first, full-length feature film, "Casa," with Orion Pictures. The Meza Brothers also directed for Starz's "Ash vs. Evil Dead."
Two of their picks:
BEST PICTURE
The Critic: "Green Book" 
The Director: "The Favourite"
BEST DIRECTOR
The Critic: Alfonso Cuaron, "Roma"
The Director: Spike Lee, "BlacKkKlansmen"
The 91st Academy Awards airs Sunday, Feb. 24 at 8 p.m. View the full list of nominees here.
MORE INSIGHTS FROM…
THE CRITIC, Rene Rodriguez
Most years, the buzz leading up to the annual Academy Awards is about predicting the winners. This year, though, most of the Oscar talk has been about one thing: What will this cursed show look like?
In an attempt to boost sagging ratings and keep the telecast's usual 18-hour duration to a more manageable length, the Academy of Motion Pictures Arts and Sciences has made one bone-headed move after another – all of them backfiring in spectacular fashion. 
First came the introduction of a new category, Best Popular Film, intended to appease fans of box-office blockbusters that are normally left out of the Best Picture race. But critics pointed out that a Best Popular Film Oscar would come off as a consolation prize – a condescending pat on the head to a movie that wasn't good enough for Best Picture honors. After much uproar, the category was deleted. 
Then came the announcement of Kevin Hart as host – an appointment that lasted all of 48 hours before the comedian stepped away from the gig, brought down by anti-gay tweets and stand-up jokes from earlier in his career. This year, the telecast will have no host. 
Most recently, the Academy announced that the awards for four categories would be handed out during commercial breaks, including prizes such as Best Editing and Best Cinematography – you know, trivial categories that just happen to be part of the building blocks of the basic language of motion pictures. Eventually, after everyone from Steven Spielberg to Christopher Nolan complained, the Academy walked back its decision with a sheepish "Never mind!" 
All the attempts to boost the show's ratings have largely overshadowed the nominees, which is a shame, because this year's Oscars are poised to make history in various ways.  
Will "Roma" director Alfonso Cuaron become the fifth Mexican filmmaker in six years to take home the Best Director prize? He won in 2014 for "Gravity." Guillermo Del Toro won in 2018 for "The Shape of Water," and Alejandro Gonzalez won back-to-back Oscars for directing "Birdman" in 2015 and "The Revenant" in 2016.  
Will Spike Lee win his first Oscar for "BlacKkKlansman," which earned him nominations for Best Director, Best Adapted Screenplay and Best Picture? 
Will perennial nominee Glenn Close win her first Best Actress trophy for "The Wife"? 
Will the beloved "A Star is Born" get shut out in every category other than "Best Original Song," which is the closest thing to a lock in this year's nominees?
Will Phil Lord, who was born and raised in Miami, give a shout-out to the 305 while accepting the Best Animated Feature for "Spider-Man: Into the Spider-Verse," which feels destined to win?
A few other fearless predictions: Everyone is expecting "Roma," with a whopping 10 nominations, to take home Best Picture, but watch out for "Green Book" to swoop in and steal the title.  
Mahershala Ali is the favorite to win his second Best Supporting Actor Oscar (after 2017's "Moonlight") for his performance as the classical pianist in "Green Book," but Sam Elliott, who is nominated in the same category for "A Star is Born," has never won an Oscar, which makes him the sentimental favorite. 
Finally, despite all of the Academy's efforts, this year's show will still run over three hours, the ratings will continue to dip, and you'll still be able to watch the best moments of the night via YouTube the following morning. Everything about the movie industry has been revolutionized by the advent of digital technology. Only the Oscar telecast insists on staying focused on the past, wishing things could be the way they used to be.
---
THE DIRECTOR, Diego Meza-Valdes
As a kid, I was always fascinated by the magic of movies. I would make little short films in the backyard with my brother and a Chucky doll. I know, it sounds weird – and it was. But by then the power of film had already grabbed us. We were hooked.
You can imagine that for us, the Oscars has always been our Super Bowl.
Every year around this time can feel like an unofficial holiday. We gather around our televisions with our friends and family (predictions in hand), marveling at the glitz and glamour of Hollywood as we celebrate a year's worth of great films that have spoken to us in ways only movies can. They reflect back at us like a mirror as we see ourselves in the stories and characters we love, spanning different cultures, times and even worlds.
This year's Academy Awards has been dominated by controversy as several key changes to the usual show format were announced early on. An Outstanding Achievement in Popular Film category was proposed so big box office films would have a chance to walk the red carpet and simultaneously boost the Oscars declining ratings. Public outcry later propelled the Academy to change their minds.
With a back-and-forth host controversy that spilled into the headlines to more recently a decision to announce several category winners during commercial breaks, the Academy was fumbling the ball in the eyes of Oscar viewers. But the dust has settled. There will be no host, and they've listened to the viewers and will air all the categories live.
Now we can just get on with the movies!
BEST PICTURE: "The Favourite"
An unusual and unfamiliar take on the typical "period piece," "The Favourite" surprised many with it's deliberately disorienting and moody visual style and tone, etching itself in a league of it's own amongst its counterparts. With three equally strong female lead performances anchoring a twisted tale of tragedy and deceit, at the surface it plays on a lot of the familiar elements you would find in a typical period drama. But director Yorgos Lanthimos is at the top of his game and has created such a distinct storytelling and visual style that it certainly feels like something you have never seen before.
BEST ACTOR: Bradley Cooper, "A Star is Born"
Kudos to Christian Bale for disappearing into the role of Dick Cheney in "VICE," but I would be hard pressed not to acknowledge Bradley Cooper's emotionally dynamic performance in "A Star is Born" – while also juggling directing (his first time), producing and co-writing duties. Oh yeah, and he can sing pretty good too.
BEST ACTRESS: Olivia Coleman, "The Favourite"
At the heart of "The Favourite" is Queen Anne, a terribly broken woman lost in her obsession with bunnies since the death of her child. She suffers from gout and is also in the midst of a risky affair with her adviser Sarah (Rachel Weisz). To make matters worse, Abigail (Emma Stone) arrives and it becomes a three-way power struggle between the women that ultimately reaches a tragic crescendo. In the middle of all this is Olivia Coleman, who brings a nuanced and human performance amidst the chaos with effortless precision.
BEST DIRECTOR: Spike Lee, "BlacKkKlansmen"
Every once in a while, it is debated that the Academy will award someone the Oscar not so much based on their specific work on the movie of that year, but the totality of their career as a whole. They tend to do this even more often when the nominee has been noticeably shut out for consistently good work (see Leonardo DiCaprio).
This year should be Spike Lee's year for that same reason. "BlacKkKlansmen" is a great film, but let's be honest, Spike Lee deserved this a long time ago.
BEST CINEMATOGRAPHY: Robby Ryan, "The Favourite"
It's obvious by now this was my favo(u)rite movie of the bunch and the cinematography is no different. Disorienting wide angle lenses and whip pans make you feel like this is wrong, but it is exactly why it is so special. We are so accustomed to watching period piece films in straight forward shots with very little visual flare. Here, Robby Ryan chose to shoot the entirety of the movie in wide-angle lenses (even sometimes opting for the lens-warping fish eye) and floating gimbal shots to present this world in a surreal and mystifying way.
BEST FOREIGN LANGUAGE FILM: "Roma," Alfonso Cuaron
My runner-up for best picture, this should be the walk-away favorite for Best Foreign Language Film. An unapologetically personal tale from Alfonso Cuaron that resonates long after the movie is over.
BEST VISUAL EFFECTS: "Avengers: Infinity War"
*SNAP* This wins.
BEST MAKEUP: "Border"
This is mentioned solely because "Border" was one of the more haunting films of 2018, and I'm so happy to see it recognized on the world's stage!
---