It was rush week at the University of Miami in 1965 when Susan Shelley and Robert Shelley crossed paths. Little did the two know it would be the start of a love story and a continuation of an everlasting UM Legacy.
"As a pledge for Kappa Kappa Gamma I was tasked with photographing myself, along with others, on top of a fraternity house. I climbed up the Phi Delta Theta fraternity house and yelled for someone to snap a photo through my Polaroid camera sitting on the hood of my car. That's when Robert came in and snapped the picture of us," said Susan Shelley.
Robert Shelley said the rest was history. The couple got married shortly after they both graduated, and they have been happily married for 51 years and counting.
"I've been doing everything she has ever wanted me to do ever since that first encounter," said Robert Shelley.
He did not have to look too far to comprehend what a match made at UM looked like. His mother and father met while attending the University of Miami in the 1930s. It was a love story very similar to their own—his mother, Rebekah Partlam '41 was also involved in the sorority Kappa Kappa Gamma, and his father served in the military.
"I grew up as a UM football fan," Robert Shelly said. "My first remembrance of UM was attending the football games way back in the early 1950s when I was about 4 or 5 years old. The U was ingrained in my DNA."
Robert Shelley was not the only one who followed in his parent's footsteps. Both of his siblings also attended UM. Later on in life the Shelley's daughter, Jennifer Robinson, became a third generation Cane who met her spouse at the U just like her parents and grandparents.
The Shelley legacy is still going strong. A fourth generation Cane is currently enrolled at UM. Madelyn Robinson, the daughter of Jennifer Robinson and Michael Robinson, is currently a freshman studying health sciences at the School of Nursing and Health Studies. She hopes to one day become a dentist like her father.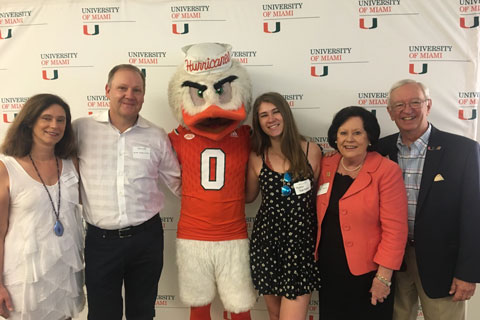 "It means a lot that I'm able to carry on the legacy," Madelyn Robinson said. "My family is very excited that I'm going to be able to share similar experiences with them. It's always nice to know I always have my family to go to if I ever need advice, as well."
UM has been more than just a school for the Shelley family. It has shaped every part of their lives. Their unforgettable experience at UM has inspired them to give back to both the University and community that helped them grow into the people they are today. Among the many philanthropic causes they contribute to, Robert and Susan Shelley are proud donors to the Golden Cane Society, which helps young student-athletes receive the opportunity to earn their degrees at UM.
"We've been giving back for over 20 years and we love it," said Robert Shelly. "We find philanthropy a way to be more connected with the community. It gives us a great feeling to be able to contribute to a special place. It's a very rewarding experience."
They both said they have enjoyed watching the University grow and flourish.
"It's incredible how UM is expanding and evolving. When I started studying at the business school there were hardly any women in the program," said Susan Shelley. "That has since changed significantly. The level of education has gone up exponentially."
Miami and UM will always be their hub and a place the family calls home. Throughout the years the family has donated several bricks around campus to show their appreciation of UM.
"The bricks represent the love and dedication we have for the University of Miami and to each other," said Susan Shelley.
---