Until last year, Teddy Lhoutellier was a one-man band for the Office of Sustainability, or Green U, as the office dedicated to increasing sustainability and inspiring the University of Miami community to be good environmental stewards is known.
But Monday, when faculty, staff, and students celebrated Earth Day by circling Lake Osceola in a symbolic hug for the 14th straight year, they also celebrated Lhoutellier for promoting waste reduction practices, helping install solar systems on campus, and a myriad of other initiatives that earned him the Roberta "Bosey" Fulbright Foote Prize.
"One of his most significant achievements this past year has been the implementation of the UM Sustainability Action Plan," UM President Julio Frenk said in presenting Lhoutellier the award named for UM's former first lady who spearheaded the Coral Gables campus' beautification. "Thanks to his efforts, UM is on track to meet our current emission reduction goal. This is a key part of our Roadmap to Our New Century—our strategic plan for the centennial of the University."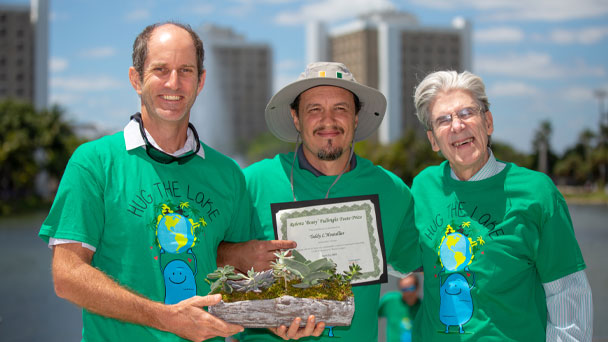 Sponsored by the Butler Center for Service and Leadership in partnership with Green U and Student Government's Energy and Conservation Organization Agency, Hug the Lake drew hundreds of students, faculty, staff, and community members to Lake Osceola, where they joined hands and sang the alma mater.
"It's a tradition and it's really to make sure that at least once a year we show recognition for the Earth," said Lhoutellier, a big supporter of distributed photo-voltaic systems and smart grids. "It's a way to have the whole UM community gather and connect around one simple thing. The lake is a symbol of nature and this is a way to show that connection."
Lhoutellier was nominated for the award by Adam Roberti, who recently joined Green U as outreach coordinator, and Jessica Brumley, vice president for Facilities, Operations and Planning. The award was established in 2016 by the children of UM's fourth president, Edward T. "Tad" Foote, and his wife, Bosey, to honor their mother for greening the Coral Gables campus. Attending Monday's ceremony was Thad Foote, one of the Footes' sons.
Coinciding with Hug the Lake, a "green fair" took place on the Lakeside Patio from 11 a.m. to 2 p.m., with various student and community organizations showcasing their green initiatives and programs. Among them was UThrift, a mobile thrift store where students can donate their old clothing in exchange for someone else's donation. The club's mission is to reduce waste in the fast-fashion industry.
"Instead of buying something that's completely new, we started this organization to give students an opportunity to upcycle their used clothing or other tradable items like shoes, books, or office supplies," said the club's logistics director, Jessica Nussbaum, a junior majoring in mathematics.
To get involved with the Office of Sustainably through co-curricular activities visit their website for more information.
---