Saturday, Aug. 24 at 11:30 p.m.: Beaten but not defeated
CAMPING WORLD STADIUM, ORLANDO, Fla. – This one was a thriller, another memorable Miami Hurricanes-Florida Gators game.
Multiple lead changes. Great defense. A real nail biter.
Miami could have folded after losing the lead in the first quarter, but they didn't, storming back to make a game of it and proving they've got what it takes to remain calm under pressure.
So while we're a bit dejected after the loss, we know there's still plenty to play for—a winning record, an ACC Coastal Division title, a berth in the conference championship game, and perhaps a New Year's Six bowl game.
And to the Florida Gators, we'll see you 2024.
---------------------------------------------------------------------------------------------------------------------------
Saturday, Aug. 24 at 6:30 p.m.: The bandwidth for a friendly competition
CAMPING WORLD STADIUM, ORLANDO, Fla. – It started with handshakes, and then the competition was on—not of tackles and touchdowns but drum cadences and the clash of cymbals.
Before the Hurricane and Gator football teams met on the gridiron, UM's Frost Band of the Hour and the Florida Gators' Pride of the Sunshine State staged a friendly competition of a different sort, when they met in the bowels of Camping World Stadium, showcasing the talents of their drumlines.
Jay Rees, UM professor of music and director of the Frost Band of the Hour, talks about what's ahead this season for his talented students.
This is the earliest start date for UM football. How did early start of the season affect the band's preparation for their first performance of the season?
This has been an exciting and yet challenging experience to prepare for a game this early. The students are only able to come to campus and move into their dorms at certain times, so we were not able to start our "Pre-Season Band Camp" any earlier than normal. We have just had to be super intense in our preparations and the students have been amazing in their work ethic to get ready for this event.
This game will be in the national spotlight. How excited are you to showcase the UM Band of the Hour?
The 2019 Frost Band of the Hour (affectionately referred to as the FBOTH) has the potential to be one of the best bands this university has ever had. I can't wait for the state of Florida and the nation to see and hear what we are all about this season.
Can you tell us about what you have planned for your halftime performance?
We have an incredibly funky and exciting halftime show planned featuring the classic tune by the legendary Stevie Wonder "I Wish" – people should watch out for some cool dance moves and an amazing drumline feature.
Where did you have to move your practices since the IM fields aren't completed yet?
The construction on the IM Field has been a huge challenge for our program, and the athletic department has stepped up in a big way and are working closely with us so we can schedule many of our practices in the new,  beautiful Indoor Practice Facility. A big shout-out to Coach Manny Diaz, Athletic Director Blake James and his staff for making this happen.
---------------------------------------------------------------------------------------------------------------------------
Saturday, Aug. 24 at 5:15 p.m.: In the 'Canes spirit
CAMPING WORLD STADIUM, ORLANDO, Fla. – Spirits ran high at the University of Miami's Official 'Canes Spirit Zone, a UM Development and Alumni Relations event held on the Camping World Stadium grounds.
Some 1,300 alumni, parents and friends registered for the event, which included a meet and greet with former Hurricanes football players.
---------------------------------------------------------------------------------------------------------------------------
Saturday, Aug. 24 at 3:45 p.m.: Tailgating at Camping World 
CAMPING WORLD STADIUM, ORLANDO, Fla. – Fifty-year-old Alphonso Carter drives massive semi-trailer trucks five days a week for Southeastern Freight Lines. But during his weekends off, he's a diehard Miami Hurricane fan, spending as much as 20 hours preparing food and rounding up family and friends for tailgate gatherings at home and away UM football games.
"We smoke, fry, bake—everything you can think of," Carter, a Hurricanes fan since the sixth grade, said Saturday in one of the tailgating lots outside Camping World Stadium, where Miami and the Gators are set to battle on the gridiron for the first time since 2013.
It's always been UM's swagger that attracted Carter to the team. "I've seen all the greats—Michael Irvin, Reggie Wayne, Ray Lewis," he said, his wife Brea sitting next to him under an orange-and-green UM canopy. "It's the greatest feeling in the world representing the greatest university in the world—UM."
Carter was among dozens of UM fans who tailgated Saturday. On the southwest corner of Camping World Stadium, Dan Hitchcock relaxed in a folding chair, some 21 relatives surrounding him.
He's been a UM season ticket holder since 1969, and his company, Palmetto Hardware, is a UM corporate sponsor. Carter's nephew, Joey, is a 2006 graduate of the University.
Said Joey, "There's nothing like being a Miami Hurricane."
---------------------------------------------------------------------------------------------------------------------------
Saturday, Aug. 24 at 12:30 p.m.: Sunsations and cheerleaders team up for the big game
WALT DISNEY WORLD MAGIC KINGDOM — The earliest season start date in the history of the storied Miami Hurricanes football program didn't alarm Stephanie Mas, spirit coordinator and head coach of cheerleading at the University of Miami.
Normally, she has a comfortable window of time to prepare the UM Spirit Squads that perform at athletic events and special occasions throughout the academic year.
But when the Miami-Florida game, the season opener for both schools, was moved up to Aug. 24 to commemorate the 150th year of college football, Mas knew that window would be slightly closed.
No problem.
"We kept our normal reporting time but extended our practices," Mas said Saturday inside Walt Disney World's Magic Kingdom, where both the UM cheerleading squad and Sunsations dance team performed at ESPN's College GameDay.
"A lot of 12-hour days, actually," she said.
UM brought a combined squad of the most experienced Sunsations and cheerleaders to Orlando for the game, said Daniel Chapman, head coach of coed.
Cheer on, 'Canes!
---------------------------------------------------------------------------------------------------------------------------
Saturday, Aug. 24 at 11 a.m.: 'Canes at GameDay
Miami has a winning record when ESPN's College GameDay broadcasts from the site of their games.
That's what SB Nation State of the U is reporting on its website in the story "Looking at the Hurricanes' Past With College Gameday In Attendance," which is chock-full of interesting facts about Miami's presence on the show.
Check it out. Then scroll through the gallery of images taken at today's College GameDay: 
-----------------------------------------------------------------------------------------------------------------
Saturday, Aug. 24 at 9:30 a.m.: A house divided
WALT DISNEY WORLD, Main Street U.S.A. — Adam Z and his wife Anna live in a house divided, he a dedicated Miami Hurricane and she a Florida Gator.
"But I'm really the bigger fan," Adam, a 2001 graduate of UM's College of Arts and Sciences, said Saturday as he and Anna stood on Walt Disney World's Main Street U.S.A. watching and listening to the sights and sounds of ESPN's College GameDay, which is broadcasting from the Magic Kingdom as part of the network's coverage of the Miami-Florida game.
"I usually dictate the way our game-watching activities are planned, and she's just invited," he joked.
The couple met online, before Anna enrolled at the University of Florida. But despite the divided school loyalties that emerged, they remained committed to each other, marrying in 2012.
Now, whenever their respective schools face each other on the gridiron, which is rare, the husband and wife get dressed in the colors their home institution and make the trip to wherever the game is played.
So who'll win today's matchup at Camping World Stadium? "The 'Canes, of course," said Adam.
As for Anna, "I'll be happy either way," she said.
-----------------------------------------------------------------------------------------------------------------
Saturday, Aug. 24 at 7:30 a.m.: Fueling up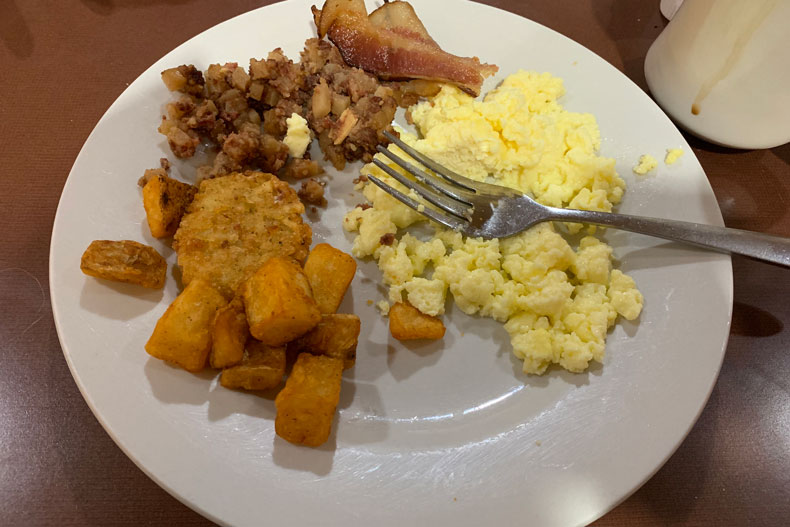 ROSEN INN, ORLANDO, Fla. — It's game day, and it promises to be a long one as my colleague and I have several items on our itinery to cover. So we're fueling up with a hearty breakfast at our "basecamp," aka the Rosen Inn, before heading out.
TJ has opted for a healthy meal of fruit, while I've succumbed to a fat-loaded, cholesteral-enticing plate of bacon, has browns, and scrambled eggs. He's a millenial and is conscious about his health; I'm some 30-plus years his senior and have given up on all hope of feeling robust and youthful again. 
We're headed to Disney's Magic Kingdom for ESPN's College GameDay, then it's on to Camping World Stadium for the big game. Look for our updates on pregame tailgates, the excitement at the 'Canes Spirit Zone, and a friendly battle of the bands waged between UM's Band of the Hour and the Florida Gators' Pride of the Sunshine State Band.
-----------------------------------------------------------------------------------------------------------------
Friday, Aug, 23 at 11 p.m.: The 'playmaker' brings it
DOWNTOWN ORLANDO, Fla. – A blast of white smoke from the ceiling of the Celine Orlando, and Michael Irvin, the Fort Lauderdale-born wide receiver who starred at the University of Miami during the mid-1980s, made his grand entrance.
"It's always going to be all about the U," Irvin said to the hundreds of fans and former UM players who packed the downtown nightclub Friday night as part of a pep rally-style party in advance of the Miami Hurricanes-Florida Gators game on Saturday. 
His appearance at the club was a bit delayed, so UM mascot Sebastian the Ibis took to the stage, leading the audience in the ever-popular C-A-N-E-S spell-out. 
But it was really the "playmaker" everyone wanted to see. Just past 8 o'clock, he finally showed. And like his exploits on the gridiron during his college and professional playing days, Irvin didn't disappoint.
With fellow 'Cane great Reggie Wayne standing close by, Irvin touted the familial nature of the UM football program, which has five national titles in its trophy case. "It takes a family to win a championship," Irvin shouted, drawing cheers from fans young and old, many of whom donned jerseys bearing the number Irvin made famous while playing at UM: 47.
The excitement didn't end after Irvin left the stage. Miami rapper SoLo D kept the excitement alive, performing his Turnover Chain song that became a viral hit two seasons ago. 
Now, all attention turns to Saturday as kickoff draws ever closer.
-----------------------------------------------------------------------------------------------------------------------
Friday, Aug. 23 at 9 p.m.: Signs of the times
ORLANDO, Fla. — Banners heralding the upcoming Miami Hurricanes-Florida Gators game on Saturday at Camping World Stadium now adorn dozens of light posts on roadways all over downtown Orlando, including a pair on Orange Avenue just off of East Central Boulevard.

Just a stone's throw down the street from there, hundreds of Hurricanes fans and former University of Miami players packed the night club Celine Orlando for a lively gathering organized by the M Club, an organization of past letter winners, and allCanes sports shop in Coral Gables.

Sebastian the Ibis showed up, leading the crowd in the famous 'Canes spell-out cheer. But the best is still to come, as Miami great and national champion Michael Irvin is scheduled to make an appearance. Stay tuned, 'Canes fans.
-----------------------------------------------------------------------------------------------------------
Friday, Aug. 23 at 2 p.m.: 'Canes Camaraderie on Florida's Turnpike
FORT DRUM SERVICE PLAZA, Florida's Turnpike – With a replica of UM's famous Turnover Chain around his neck, Freddy Alvarez proudly recalled the grade-school field trip that turned him into a diehard Hurricanes fan.
He was a student at Miami's Kelsey Pharr Elementary School, and he and his classmates were treated to a day at Little Havana's Orange Bowl, where he learned about the rich tradition of UM players who donned orange and green on Saturdays during the fall, steamrolling over opponents who visited the venerable stadium to face the 'Canes.
"I grew up admiring them all," recalls Alvarez. "Michael Irvin, [coach] Jimmy Johnson. They were the best."
Alvarez's enthusiasm for the 'Canes couldn't have been more evident on Friday when he and his wife, Jenna, pulled into the Fort Drum Service Plaza on Florida's Turnpike for a brief rest while on the long drive from Miami to Orlando to see UM play the Florida Gators at Camping World Stadium. 
"It's the tradition, the unity, the give back that makes the Hurricanes so great," he said. "I like to say it's a Miami thing." 
And Jenna is just as loyal a 'Canes fan as her husband. How much so? Sebastian the Ibis attended their wedding in 2018.
She recalled going to UM games at the Orange Bowl as a little girl. Her father was a caterer whose job responsibilities required him to provide food service at UM games.
"We would always sit in the west end zone," said Jenna.
The couple were among several UM fans who stopped briefly at the service plaza during the noon lunch hour on Friday to stretch their legs, refuel, or just to get a quick snack.
Dressed in Hurricane colors, Zach Nathan and Anthony Salandra from Delray Beach, Florida, said they have a full day's itinerary planned for their stay in Orlando. But the game on Saturday will be the best part of their trip.
Said Nathan, who is thrilled about the way head coach Manny Diaz has reinvigorated the UM fan base, "The swagger is back." 
---------------------------------------------------------------------------------------------------------------------
Friday, Aug. 23 at 9 a.m.: Orlando Bound
CORAL GABLES, Fla. — Only a bit of fine-tuning left. Major preparations, from grueling practices to extensive game planning, have pretty much been completed. Now, it's on to Orlando, the Central Florida city made famous by theme parks.
This three-and-a-half-hour road trip up Florida's Turnpike, however, isn't about a meeting with Mickey, but the Miami Hurricanes' showdown in O-Town against the eighth-ranked Florida Gators.
The game, moved up to Aug. 24 to kick off a months-long celebration of the 150th year of college football, is the season-opener for both programs and will mark the earliest start date for any major college football season since 2003.
University Communications photographer TJ Lievonen and I are making the trek to Orlando to capture—in words and pictures—many of the pregame activities surrounding the marquee matchup.
From guest appearances by Hurricane greats like Michael "The Playmaker" Irvin to the exuberant atmosphere at the Official 'Canes Spirit Zone to the camaraderie of UM students to the excitement at ESPN's College GameDay, we will document the best of the pregame events as Hurricanes fans everywhere count down to kickoff.
And what a game it promises to be. The two squads last met in 2013, with Miami prevailing 21-16 at Hard Rock Stadium in Miami Gardens.
Saturday's contest will be the only game played in what is being called Week 0 of the Football Bowl Subdivision season. But whatever name it's being given, it's the hottest ticket in town, as the secondary ticket agency SeatGeek is reporting that the game is the most in-demand ticket in the history of Camping World Stadium, site of the matchup.
The Hurricanes head into the game with first-year head coach Manny Diaz at the helm. The Miami-born-and-bred son has reignited a passion in a loyal fan base unlike any in the nation, introducing the Turnover Chain when he served as the program's defensive coordinator and using the transfer portal to bring in talented players who have bolstered the Miami roster.
So check back often to read our special pregame coverage. We'll be providing behind-the-scenes reporting and introducing you to some of the Hurricane faithful at the event.
Now, it's on to Orlando. Go 'Canes!
---