Cold brew, anyone? At the University of Miami, coffee is as diverse as the campus. When 3 p.m. rolls around, and you're looking for your caffeine fix to muster through the day, you may have noticed some new options on campus. Starting this fall, three new brews have been introduced on campus, while the existing classic brews and roasts continue to thrive. 
In the Hecht-Stanford dining hall, cold brew coffee arrived with new 'Canes in August. Due to a slower, low temperature brewing process, cold brew coffee options pack a slightly higher concentration of caffeine compared to regularly brewed coffee.    
Meagan Clements, director of marketing and guest experience for Chartwells Higher Education Dining Services at UM, shared that students had been asking for new coffee options in the dining hall. Chartwells worked with UM Dining and Auxiliary Services and hosted a blind taste test for students to vote on the new cold brew coffee options. After the taste test this past spring semester, Farmer Brothers coffee was a unanimous decision. In addition to the taste, Farmer Brothers is a certified fair-trade vendor, meaning the company promotes sustainable development by offering better trading conditions. 
"All of the coffee that [Farmer Brothers] brews is traceable, so they know exactly where it's coming from, which is extremely important. That way they can monitor that the Farmer Brothers are paying their workers livable wages and they have good working conditions," Clements said.
In addition to the cold brew in the dining halls, Starbucks has introduced its spin on the cold brew trend. Nitro cold brew is now available at the Starbucks location in the Shalala Student Center. The nitro cold brew is cold-brewed coffee, infused with nitrogen. The process leaves the brew with a smooth, crisp, somewhat sweet taste, according to Michael Ross, Chartwells resident district manager for Dining and Auxiliary Services. "Those people who put cream and sugar don't necessarily need it with the nitro brew, and it has a kind of nice, thick feel to it," Ross said.
You might think Starbucks' nitro brew is all the buzz, but another coffee venture worth your attention rolled onto campus this fall--literally. BrewBike Coffee, a student-run coffee brewery, on yes, a bike, parked itself on the Coral Gables campus and offers students yet another two flavored cold brews. Located just outside the Merrick Building, BrewBike is an innovative opportunity that not only provides a caffeine fix but supports entrepreneurship at its best.
Ally Bush, a junior majoring in marketing and management, is chief executive officer and founding barista at BrewBike Miami.
"I think we've shown that good coffee isn't something you should have to waste your time waiting in line for. We get people fueled and on their way so they can get the most out of every day," Bush said.
BrewBike originated in 2015 when two students at Northwestern University decided it was too difficult to find coffee on their campus. BrewBike is now stationed in four universities across the country with plans to continue expanding.
Cold brew coffee seems to be a trend sweeping the nation, but what about the classics?
Einstein's still offers the unmatched price-points and quality when it comes to regular and decaf coffee. Starbucks' two locations on the Coral Gables campus make it an easily accessible option for anyone seeking their daily espressos, blonde roasts, and frappuccinos. However, unlike other universities across the country, the University of Miami's coffee culture opens a tiny window into the greater Miami coffee culture through one brew: the Cuban cafecito.
Equal parts espresso and sugar, Vicky Bakery's cafecito packs a whole different meaning to your 3 p.m. caffeine rush—or as some celebrate, the 3:05 p.m. rush. For some, sharing an afternoon cafecito is seen as a way to indulge in Miami's rich Cuban traditions.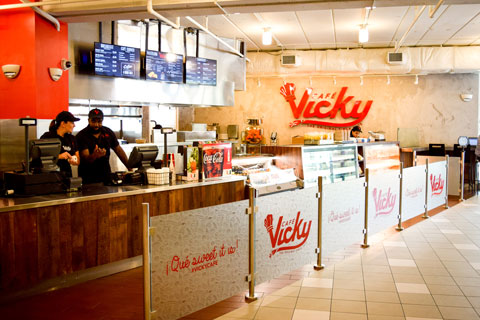 Ana Alvarez, UM's executive director of Auxiliary Services, shared that a cafecito is often misunderstood by most, and loves the opportunity to continue sharing and introducing new students and faculty to it.
"If I don't keep it alive with my children, or the students and don't pass it down to them, who's going to know what about this?" Alvarez added.
Alvarez also highlighted that for people who prefer their iced coffee, Vicky Bakery in the Hurricane Food Court also sells an iced cafe con leche—a Cuban iced coffee.
Coffee culture across the world is tied together by one thing: the shared experiences it creates. Whether it's a latte with a friend, or a cafecito with your co-workers, how will you be celebrating National Coffee Day this year?
---