When Sade Prithwie stepped onto the University of Miami's campus for the first time as a freshman, she felt an instant comfort she never thought she would experience at any university.
"I didn't have a dream school. But through my experiences and the people I have met along the way, the University of Miami is definitely a dream come true," said Prithwie.
Prithwie first came to UM in search of a place to learn Spanish—but throughout her time at the U, it has become more than that. It started when she met Michelle Maldonado, professor of religious studies and residential faculty member.
"I connected with her immediately. So much so, that I interviewed her for an English paper I wrote," Prithwie said. "I took advantage of every opportunity I had to get to know her better because I could see from the start how knowledgeable and caring she was."
That experience was so transformative, it inspired her to apply and become a resident assistant in hopes of leaving a positive impact on other first year students.
Prithwie was one of three speakers at the State of the University Town Hall event Thursday at the Shalala Student Center who presented before the keynote address by UM President Julio Frenk. She was joined on stage by Dr. Stephen D. Nimer, director of the Sylvester Comprehensive Cancer Center, part of the University's Miller School of Medicine, and Andrew Baker, associate professor of marine biology and fisheries at the Rosenstiel School of Marine and Atmospheric Science.
Nimer highlighted how Sylvester, which in July received the prestigious NCI designation from the National Cancer Institute, is working tirelessly to advance the understanding of cancer and find new and more effective treatments.
The new NCI designation will provide patients access to novel cancer treatments, access to additional federal research funding—ultimately accelerating efforts to discover lifesaving cancer breakthroughs.
"We are humbled by our success and inspired by the possibilities ahead," said Nimer. "We also feel a great sense of responsibility to continue to care for our community, attract the very best talent, conduct the most cutting-edge research, and continue our quest to develop new cancer cures."
Baker's research, exemplifying the work the University is involved with in finding solutions to the impacts of climate change, is examining ways to develop resiliant corals that can survive warmer waters and a changing climate.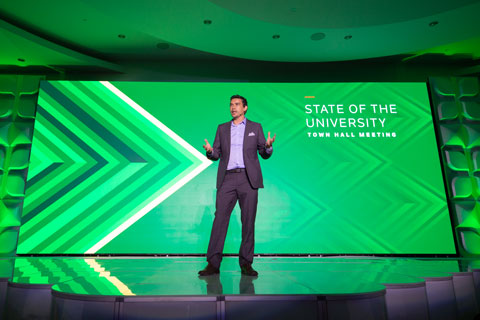 "We are racing against the clock to find ways to help these dying ecosystems survive continued climate change," he said. "We are now seeing almost yearly episodes of mass coral bleaching around the world, which in just the last four years has killed around 50 percent of the corals on Australia's Great Barrier Reef. In Florida, these reefs have also been devastated by disease outbreaks that make the situation even more dire for the continued survival of these biodiverse ecosystems."
Baker is part of the National Academy of Sciences committee reviewing all potential research directions and has made recommendations as to how best to develop and test these new strategies as part of an overall management plan to preserve and sustain coral reefs.
"The University of Miami is taking our rightful place in helping lead efforts to develop, test, and deploy these scientific interventions," Baker said, noting that facilities and laboratories need to be close to reefs where techniques can be developed and tested quickly.
"Which is of course exactly what we have here in Miami," he said.
As for Prithwie, she is looking forward to graduating in May with a double major in human and social development and Spanish. Her opportunities to pursue research and her connections with impactful faculty including Gina Astorini, Blaine Fowers, and Samantha Lang, have all helped define her.
Prithwie is currently working on her own honors thesis, which is on Instagram, attachment theory and romantic dating relationships. She hopes this will be the basis of her future doctoral studies.
During her talk, she shared that her personal experience in dealing with her parent's divorce has spurred her interest in pursuing a Ph.D. in counseling psychology, with the goal of becoming a couples therapist.
"Growing up, I was always curious about the nature of their relationship and why it ended," she said.  "That curiosity, along with my ability to connect with people, especially those struggling with navigating their relationships, will allow me to create a positive and lasting impact on those in need."
Prithwie knows exactly where she wants to continue her studies. She will be coming back home to the U.
---