From road trips to visit family and friends, to preparing tasty traditional dishes, to staying on campus with new friends and classmates, 'Canes from all over the world are planning to celebrate Thanksgiving in their own special way.
While a homemade meal is on minds of many, University of Miami students also are looking forward to relaxing this holiday recess, which officially begins on Nov. 23 and ends Dec. 1, leading into finals week and the fall commencement on Dec. 12.
Here's what a few students shared about their excitement for the holiday break.
Maansi Patel, first year student, Mathematics major, Cleveland, Ohio
"My family isn't that large but we are close," Patel said. "Every year, we plan to spend the day before Thanksgiving, the day of, and Black Friday together. My favorite Thanksgiving dish is my aunt's garlic mashed potatoes. They are just so creamy and garlic-y. I can't wait."
Gabriella Hernandez, first year student, Political Science major, Cuba
"My family is Hispanic so we don't really have American food," Hernandez said. "Typically, our family usually comes over to my house. We usually have un peurco asado, congri, ensalada--like all of the Hispanic foods. My favorite dish is mi abuela's yucca. She makes it so with mojo and puts this sauce on it. Sometimes, I help her prepare the yucca by cutting it and then boiling it and chopping the garlic. It takes a while to prepare."
---
Lisset Chavez, senior, Biochemistry and English major, South Miami
"This will be my first year spending Thanksgiving at work," said Chavez, a student employee at the Hecht Residential College. "I am thankful that Renae Bollibon, the assistant area director, is planning to serve Thanksgiving dinner for everyone here. I like almost everything about Thanksgiving. My favorite two things are mashed potatoes and the turkey."
---
Hannah Hays, second-year law student, Kentucky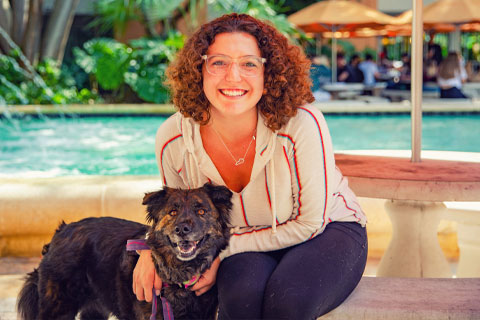 "Recently, my family tradition has become enjoying sweet potato pie while reflecting on the historical meaning of this holiday. It's a difficult balance but going home and having those days off while recognizing who died to give us this day is something I am doing more of."
---
Savannah Linares, first year student, Health Science major, West Palm Beach
"I don't have a huge family but I do have two sisters who I share Thanksgiving traditions with," Linares said. "Our favorite thing to do would probably be waking up early to watch the Macy's Thanksgiving Day Parade. I love all the performances and helping my mom cook while watching. My favorite food is definitely stuffing, but mashes potatoes is a close second."
Tai Williams, first year student, Exercise Physiology major, Boca Raton
"My favorite Thanksgiving tradition is spending the day cooking the turkey with my grandpa," she said. "I'm planning on going to the beach, seeing my friends that went out of state, and studying for the upcoming finals."
Jessica Gomez, first year student, Health Science major, Miami
"My favorite Thanksgiving tradition is getting up really early in the morning and cooking all day with my siblings," Gomez said. "We start every Thanksgiving dinner with throwing a Hawaiian roll at the fan."
Gomez plans to spend her break with those who matter most.
"I haven't seen my siblings and parents in some months," she said. "I'm also planning to study for finals."
Abderrahmane Abeidna, sophomore, Economics major, Morocco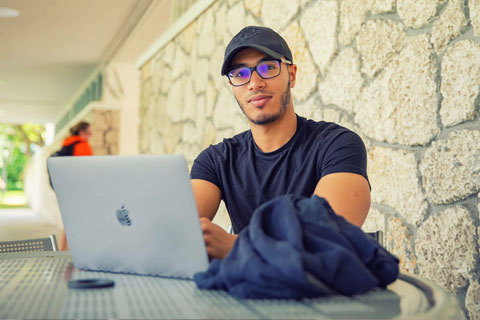 "I won't be going back to Morocco this break but I am looking forward to having time off from classes," he said. "This will be my second Thanksgiving here. I tasted turkey for the first time last year and it was good."
---
Raphael Vulcain, sophomore, Finance major, Miami
"My family is dispersed all throughout the United States and I really look forward to everyone coming together," Vulcain said. "My favorite food used to be ham, but I've been cutting down on pork so now I'm  looking forward to macaroni and cheese."
"It's a tradition for someone on my mom's side of the family to host and we're hosting this year," said Rice, who admitted to not being well-versed in the kitchen and leaves the cooking to others. "I have a big family. I have 14 cousins so we're always kind of crazy. It's a loud Thanksgiving that's for sure."
Brianna Rice, junior, Creative Advertising major, Miami
Rice said her family opts for lechόn, a pork dish, rather than the traditional turkey. She also shares her humorous family tradition.
"Every year we plan to go Black Friday shopping," she said. "But every year, we stand in line and end up leaving everything behind because of the lines."
---
Lakia Rolle, junior, Athletic Training major, The Bahamas
A native of The Bahamas, Lakia Rolle will be spending her Thanksgiving break in Miami this year. But she won't be alone.
"This is my second year as a resident assistant and you have to decide which break out of spring break or Thanksgiving break, you'd like to work and I chose Thanksgiving," Rolle said. "Thankfully, my family from The Bahamas will be coming to visit me."
Rolle said if she had a choice, her Thanksgiving dinner would include food from one of her favorite fast-food restaurants.
"My favorite American dish is cornbread but if Chick-fil-A was open, that would be amazing," she said. "I love Chick-fil-A!"
---