At the first Team Science Workshop three years ago, Angela Clark felt uneasy. The librarian at the Rosenstiel School of Marine and Atmospheric Science didn't know what she could add to the inaugural University of Miami Laboratory for Integrative Knowledge, or U-LINK, team she had been assigned to support.
After all, it was no secret that librarians were embedded in the initial five U-LINK teams after the teams were awarded the first $40,000 Phase I grants designed to help them develop the cohesion and a common language needed to tackle complex problems.
"In the beginning I felt very uncomfortable about speaking up," Clark recalled. "It was a huge learning curve. You have to do the research, read all the articles, participate in all the meetings, to get your base knowledge."
Yet, last Friday, at U-LINK's third Team Science Workshop, Clark, who so far has served on four U-LINK teams, discussed how librarians can help move projects from Phase I to Phase II like the seasoned and valued collaborator she has become—a unique role that the workshop highlighted as a critical element of U-LINK's early successes. Although the ongoing Phase II grants of $150,000 a year for up to two years were designed to advance the most promising proposals to the stage where they would attract external funding, five U-LINK projects already have received a total of more than $6 million in external support.
"How quickly those teams have moved to secure external funding and the depth of the relationships they are developing with stakeholders are the most exciting and gratifying things about U-LINK," said Susan Morgan, associate provost for research development and strategy, who co-directs U-LINK with Vice Provost for Research John Bixby. "But that didn't happen by magic."
Morgan attributes the initial success in large part to U-LINK's mechanisms for meaningfully integrating multidisciplinary teams and for incorporating the proven scientific principles behind effective collaborations, which the Team Science Workshop held at the Watsco Center last Friday explored in depth.
"Most universities don't operationalize these principles," Morgan said. "What usually happens is one or two people form this core and ask, 'OK, what do we need to look good to external funders who are looking for multidisciplinary collaboration?' Then they tack on others who have valuable expertise, but funders can see they were just tacked on."
As keynote speaker Daniel Stokols, the co-leader of the University of California, Irvine's Team Scholarship Acceleration Lab, noted, collaboration is hard work and successful transdisciplinary teams must share a fearless commitment to pursuing their ideas for the long haul.
"And that's brave because sometimes you can't predict that these things are going to be fruitful and pan out,'' said Stokols, who studies the factors that influence successful transdisciplinary research. "Many collaborations don't and that's why the science of team science grew up—to try to study the science of collaboration."
The first librarians assigned to U-LINK teams exhibited their own courage, Morgan said, after she and Kelly Miller, associate dean for learning and research services, dreamed up the idea of library embeds during a casual conversation just weeks before the inaugural Team Science Workshop. 
"They really were pioneers," Morgan said. "They had to take a leap of faith because we didn't really know what we expected the librarians to do, except to have a front-row seat on the generation of interdisciplinary knowledge to address a grand societal challenge. So they had to be OK with being uncomfortable because there was no script for them to follow."

Calling Morgan and Miller's conversation serendipitous, Bixby confessed that he didn't expect the librarians, who are now enlisted by the teams before they submit their applications, to become such important U-LINK partners. But, he said, "each of them has added content expertise to the team in which he or she is embedded and, pretty much without exception, our teams have reported that the librarians have become a critical aspect of their team."
Bixby also acknowledged that working in partnership with others to solve problems, rather than to "just find stuff out" was once difficult for him. "When I first started it was actually anathema to suppose that the work we were doing was directed toward actually solving some problem," he said. "It was to find out knowledge that no one else knew."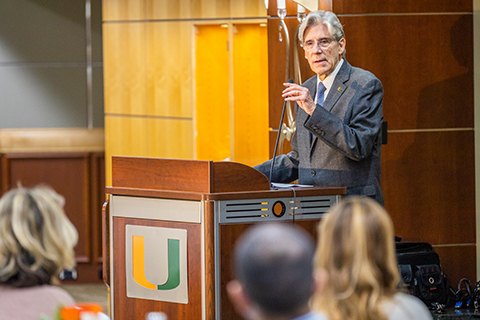 But now he's a fervent believer in the vision that President Julio Frenk told the workshop participants he has long embraced for institutions of higher learning, a vision inscribed in the University's Roadmap to Our Next Century.
"I belong to a camp that strongly believes that our role as institutions does not end with the creation of knowledge through research, knowledge, and artistic creation," Frenk said during his welcome remarks. "We also have an obligation to society to translate the knowledge that we produce so that it can then be utilized in actually tackling those problems."
It is an obligation that Dean of Libraries Charles Eckman, and all the U-LINK embeds, including U-LINK veteran Clark and James Sobczak, who is serving on his second U-LINK team, are eager to help fulfill.
"There's a running joke in librarianship that at the end of every job posting, the last bullet always says 'other duties as assigned' and that is something I really embrace," said Sobczak, who joined the library as its STEM liaison after earning his second master's, this one in library science, in 2018.
"I didn't envision my role when I came here," Sobczak continued, "but I knew it wouldn't be what it was 20 years ago—putting books in stacks, sitting behind a desk, and shushing people. Now it's more about how to get involved in the research before it's published, to be more impactful, to help researchers manage data, communicate their ideas, and work with new digital tools and processes."
---