During this coronavirus pandemic, we have been told to protect ourselves and others  by practicing social distancing. This means not going out into crowds—no concerts sporting events, and gyms, and stores and restaurants are closing or have limited capacity.
For the most part, we will be at home. After we have cleaned the house, organized closets and drawers, and watched hours of television and video streaming, how about reading a good book? One of the many benefits of reading is that you enter different worlds, meet different people, and leave the worries and cares of your present world behind.
We asked some of our best book lovers, University of Miami librarians, to recommend some of their favorites. In wake of COVID-19, University libraries will be closed but are open online. If you wish to check out items, you can do so digitally. This also includes downloading the Overdrive app on your mobile device.
Roxane Pickens, director of Libraries Learning Commons, described her list of suggested books: "These are amazing U.S. writers who show me more of myself and connect me more with the world around me—both real and imagined," she said. "Given that the contours of U.S. experience are profoundly complex, I am always appreciative of a writer's ability to capture this and move me to laughter, tears, or deep contemplation."
"Here for It: Or, How to Save Your Soul in America'' (memoir/essays) by R. Eric Thomas: This is a memoir in essays about growing up and seeing the world differently and often asking oneself if it is worth it since so much seems to be going wrong. 
"Emergent Strategy: Shaping Change, Changing Worlds'' (essays) by Adrienne Maree Brown: A radical self-help and planet-help book, it is designed to shape the futures we want to live in.
"The Night Watchman'' (novel) by Louise Erdrich: Based on the life of the author's grandfather, she tells the story of his work as a night watchman who fought against the dispossession of land from the Native Americans from rural North Dakota to Washington, D. C.
"Monument: Poems New and Selected'' (poetry) by Natasha Trethewey: A collection of poems from this talented poet deals with family history and trauma.
"The Measure of Our Lives: A Gathering of Wisdom'' (quotations) by Toni Morrison, foreword by Zadie Smith: A book that juxtaposes segments from Nobel winner Toni Morrison's body of work, it shapes a story of the writer's vision of the world.
---
Cristina Favretto, head of the Libraries' Special Collections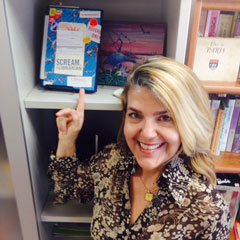 "Up in The Old Hotel,'' Joseph Mitchell: "I love books about New York City,'' acknowledged Favretto, "and Mitchell, who wrote for the New Yorker in the 30s and 40s, is one of its best and most eloquent raconteurs." The stories may be about a specific place, but they are also about the universal experiences of learning to live in proximity with a wide diversity of people and personalities.
"La Storia'' (History: a Novel) by Elsa Morante: Beautiful and profoundly moving, this is an epic novel about the effects of war through the eyes of an intelligent, wry, and observant child. Although the topic is tragic, the story is filled with luminous and often humorous moments.
"Please Kill Me: the Uncensored Oral History of Punk'' by Legs McNeil: Not just for aficionados of punk, this is a fascinating look at the political and cultural upheavals of the late 1970s through the lens of a group of wildly creative and surprisingly smart misfits.
"The Great Gatsby'' by F. Scott Fitzgerald.: "I reread this on a regular basis, and it always reveals wonderful new layers,'' said Favretto. "It's not considered a masterpiece for nothing, folks. If you only read it in high school please, please give it another try.''
---
Martin Tsang, librarian for the Cuban Heritage Collection and curator of Latin American Collections
"Sugar, Cigars, and Revolution: The Making of Cuban New York'' by Lisandro Perez: "I was lucky enough to be taught a graduate seminar class by Professor Pérez, which featured some of the early material I am reading in the book and he makes transnational Cuban history come alive in the pages," said Tsang. 
"Archives of Conjure'' by Solimar Otero, makes us rethink what constitutes an archive by and for LGBTQ+ and Afro-Latinx practitioners of Atlantic religions and Spiritist traditions. Otero's book explores and expounds on the notion of an archive—how we can include material objects, rituals, and practices such as sewing and beading that create repositories of meaning.
"A Confederacy of Dunces'' by John Kennedy Toole: "I like to reread this book when times get weird," admitted Tsang. The matching of an iconoclast protagonist and its setting in New Orleans is brilliant and the determination to have the novel published posthumously by the author's mother is incredibly poignant.
"Ottolenghi Simple: A Cookbook'': "I am having a lot of fun reading and testing the recipes from this book," Tsang said. 
---
Kelly Miller, associate dean, Learning and Research Services
"My area of scholarly expertise is Russian literature, so my first two recommendations are Russian novels in translation," said Miller. 
"Oblomov'' by Ivan Goncharov, is a study of a man who is trying to decide what to do with his one precious life.
"Master and Margarita" by Mikhail Bulgakov, is a novel written "for the drawer" in the Soviet era that addresses the role of the artist as a spiritual pathfinder and a seeker of truth in a time when the world has turned upside down and lies have become the norm.
"Persepolis'' by Marjane Satrapi, a graphic novel about a young girl growing up in Iran during the Islamic Revolution, and Trevor Noah's "Born a Crime: Stories from a South African Childhood" are both good. (Note: Persepolis is also a remarkable film, and Noah's book is available in a wonderful audio book.)
"Full Catastrophe Living: Using the Wisdom of Your Body and Mind to Face Stress, Pain, and Illness'' by Jon Kabat-Zinn: "This book has helped me learn strategies for maintaining balance,'' points out Miller. The book describes the program for the 8-week Mindfulness-Based Stress Reduction course, which is offered regularly at the University of Miami, and which Miller has taken.
---