The arts help people cope during difficult times, and artists across the University of Miami are continually turning to creative ways to share their talents with the community. Although their audiences are isolating at home, leaders of the arts at the University offer the following messages of hope to those who are struggling during this global pandemic. 
Shelton G. Berg, dean of the Frost School of Music
Music connects soul to soul and is a healing elixir in troubled times. In this period of unprecedented challenge, music has held us together and lifted spirits when we needed it most. If there is a silver lining, it is that many musical artists have learned and improved upon skills that will enhance their careers when more normal times resume—and I am certain they will resume. Music's value has been brought into sharp relief during our isolation. When beautiful things are scarce, they become more precious, so the value of "live" musical performances will be elevated when our audiences have the opportunity to return to the venues. I have great hope and optimism for the future of music. 
---
Jill Deupi, director of the University of Miami's Lowe Art Museum
During a crisis, one is consumed by functional, transactional thoughts and activities. Trying to understand and process what is happening around us while preserving the health, safety, and well-being of ourselves, our loved ones, our friends, colleagues, and neighbors becomes all-consuming. Couple these stressors with the realities particular to our current global health emergency (including a mounting sense of isolation and helplessness) and it is easy to understand why we all crave, and even need, a path back to center. This is where ART comes in. Though not a panacea or a cure-all, human creativity provides comfort, solace, and peace while connecting us to something greater than ourselves. This is true when both actively creating as well as engaging with art made by others. In either instance, we are transported to a place that taps into something primordial: engaging with one another through the communal sharing of thoughts, ideas, emotions, and—when we are really lucky—beauty. The result is an enhanced sense of peace and at least a temporary escape from the struggles and challenges of daily life. These are the drivers behind cultural organizations such as the Lowe, which is committed to providing our audiences with paths that lead away from day-to-day anxieties and pressures, toward a place of mental and emotional release, relief, comfort, and well-being. 
---
Meghan Homer, assistant director at the Center for the Humanities
Those of us at the Center for the Humanities have always sought to engage the University and South Florida community in intellectually stimulating conversations. Now, more than ever, we and our colleagues in the humanities recognize that we provide more than fertile ground for discussion; we provide a venue for processing human experience. We seek to better understand the world around us, and there has never been a better time to seek such understanding than now. Despite the challenges of this pandemic, I am inspired not only by those who attempt to better understand the nature of an illness but by those who seek to better understand the nature of one another. It is through the inquiries and labors of humanists, that we see the human condition illuminated by other conditions, that we find strength and resilience exploding through creativity. As much as I look to our scientists and professional colleagues for guidance, I look to our friends in the humanities for a reminder of humanity's strength, complexity, and capacity for love, even in the midst of sorrow and outrage and pain. Despite the challenges we face, we at the center pledge to continue providing a venue for these discussions alongside our partners across the university and the globe. 
---
Michael Bush, assistant professor of practice in the University of Miami's Department of Theatre Arts
Ever since human beings shared their stories around a campfire there has been theatre. It reflects who we are and bonds us together. It has survived all civilizations, wars, plagues, and natural disasters because it has the power to heal. And as Diane Paulus, the head of the ART Theatre at Harvard recently wrote, we need that healing power now more than ever.  
---
Cristina Favretto, head of special collections at Richter Library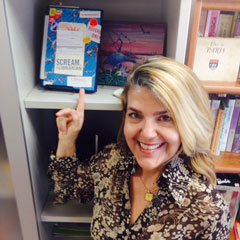 The great poet Jorge Luis Borges famously said, "I have always imagined that paradise will be a kind of library."  I agree with Borges. My sister Mariarosa—21 years older than me, and therefore a kind of mother—brought me to get my very first library card at age 2 ½. I have great affection for the librarians at our small neighborhood branch library who indulged both of us, and remember how proud I was of the small laminated portal into heaven the card represented (apparently I also declared very loudly: I'm going to read every book in here!). 
Libraries have never lost their power to enchant and encourage me. They are portals to new worlds, to old worlds, and to worlds we don't even know we want to explore. The ideal library is a welcoming place, one that says, "Come in, browse, lose yourself, help yourself, expand your horizons." Far from being repositories of "dusty books" they are ever evolving, ever ready to respond to the needs of our users. In these frustrating, confusing, and sometimes frightening times, it is so good to know that libraries and their staffs are here to assist with research, answer thorny questions, and also help us to escape and connect (and reconnect) with people from all over the world, from different times, and with different world views from ours. They are indeed a kind of paradise, and I am lucky to work in one of the very best of them.
---
Trae DeLellis, director of the Bill Cosford Cinema
I'm hopeful about the way film can bring people together, even remotely. From organizing film clubs with my friends where we view a film and then discuss over Zoom as a way to think beyond our current circumstances, I'm excited to be opening a virtual cinema program at the Bill Cosford Cinema. Starting May 7, this will allow the community to view the latest in art house and independent cinema while supporting the continuation of programming at the Cosford during particularly difficult times for the cinema's operation. I'm also excited to be teaching a summer course on the history of international cinema in the Department of Cinema and Interactive Media and that I get to share and discuss film history with students, especially during such a significant period that will have a lasting impact on our history and the arts.
The following is a list of resources to help you stay connected to the arts at the University of Miami
Center for the Humanities
The University of Miami Center for the Humanities is pleased to partner with the University of Colorado Boulder's Center for Humanities and the Arts in presenting a virtual book club, as part of the "Humanities at Home" initiative. For April and May, the group will be discussing Ross Gay's essay collection, "The Book of Delights" (Algonquin Books 2019). Please complete this form to sign up. This virtual book club is open to anyone.
The Center for Humanities is also offering links to videos of talks given by University of Miami faculty members. Although all videos feature strong humanistic content, some videos are newly developed in response to the COVID-19 pandemic. Visit https://humanities.as.miami.edu/public-programs/humanities-at-home/index.html for more information.
Wynwood Art Gallery 
To feature student art, the University of Miami Gallery in Wynwood is continually posting student work on their Instagram page. Visit umartgalleries for more content.
Frost School of Music 
Concerts for the remainder of the season had to be cancelled; but during this time of uncertainty, music is necessary to soothe the soul, inspire, and bring joy to the heart. Music brings us together, even when we need to be far apart. In that spirit, Frost has selected some of their favorite concerts from this past year to share with everyone. 
Join Frost every Friday at 7:30 p.m. 
May 1
Frost Opera Theater "L'enfant et les sortilèges"
Originally performed November 20, 2019 
May 8
Starry Night
Originally performed on September 13, 2019.
May 15
Frost Jazz Local Ensembles with guest Sheila Jordan
Originally performed on November 12, 2019.
May 22
Frost Symphony plays Brahms No. 2
Originally performed on September 14, 2019.
May 29
50th Anniversary of "Bitches Brew" featuring the Frost Concert Jazz Band 
Originally performed on January 15, 2020.
The Frost School of Music at the University of Miami has also partnered with the City of Coral Cables for a live, virtual six-week concert series, direct from the living room of faculty members, students, and alumni. Live at City Beautiful premiered April 1 and continues every Monday and Wednesday evening from 6:00–6:15 p.m. on the live feature of the City's Instagram channel, @cityofcoralgables.
Upcoming Schedule:
May 4—"Songwriting star of tomorrow" performed by Nanseera Wolff
May 6—"Contemporary Piano Classics" performed by Jacob Mason
May 11—Award-winning jazz pianist and musicologist, David Ake
May 13—Jennifer Grim, associate professor of flute
May 18—Melissa Martinez, Frost student
May 20—Alexandra Skye Brandenburg, Frost student
You can also visit Facebook or Instagram and search #FrostiesPerformForU to experience some performances from students at home. In addition,  visit their YouTube playlist—FrostiesPerformforU—on the Frost channel to see other student performances.
Lowe Art Museum
The Lowe Art Museum team launched #LoweOnTheGo, a new digital resource that delivers a single work of art from the permanent collection directly to a newsletter subscriber's inbox. The curated selection can also be found on their social media platforms.  
The Lowe Art Museum is also connecting with audiences by inviting them to: 
Explore the Lowe's remarkable permanent collection, which spans 5,000 years of human creativity on every inhabited continent. 
Browse, read, and download Lowe publications.
Learn about the museum's digital engagement resources, such as virtual tours and 3D printed objects from the collection. 
Recharge with weekly Mindfulness sessions led by the Lowe Art Museum Education staff, Alice Lash, founder of Mindfultime, and UM Professor Scott Rogers, founder of UM's Mindfulness in Law Program.
Cosford Cinema 
Although the Cosford Cinema is closed, Trae DeLellis, director, is continually posting weekly recommendations for movies and shows on streaming services. You can keep up with the recommendations through Instagram.
Below are his recommendations for six different streaming sites.
The U Creates is a platform dedicated to showcasing the arts and humanities at the University of Miami. For more information, visit arts.miami.edu
---