Shortly after Joe Biden and Kamala Harris were sworn in as president and vice president of the United States at the U.S. Capitol, students at the University of Miami discussed the historic inauguration, which saw the first woman and person of Black and South Asian descent become second in command. 
The students shared their perceptions and hopes.
Makelsey Page of Trenton, New Jersey, a senior who is double majoring in Marine Science and Biology: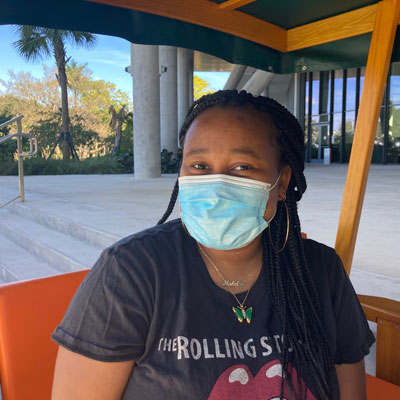 Today was definitely a big day—particularly when it comes to Kamala Harris, because she is the first African American and Asian American woman vice president. She was also a HBCU-grad, so she really is a role model for Black people, particularly in America. It was amazing to see. She looked amazing. Joe Biden looked great, too. It was also nice to see the Obamas and Bushes, as well. I'm hoping to see this administration follow through on the promises they made . . . in regard to canceling student loan debt and improving stimulus packages. I just want to see them follow through. It's nice to paint a pretty picture to get people interested, but the whole purpose of us electing them is for them to follow through on these promises. That's all I'm asking for in this moment.
---
Sofia Bond of Miami, a sophomore majoring in Marine Science: 
Honestly, I feel super proud. Just seeing the number of women on the inaugural stage was really inspirational for me. I haven't seen that before. I feel like this outcome is the best that I could imagine. I'm really proud that I voted for the first woman vice president. One thing that I'm really excited about that I know [Biden] is going to follow through with is the Paris Agreement. I'm really passionate about the environment—so for him to prioritize that means a lot to me.
---
Toni Omotayo of Bowie, Maryland, a first-year student majoring in engineering:
I hope this administration keeps their word on ending inequality. And I don't just mean race wise, I mean socioeconomics, gender, everything needs to be revisited. As a Black man in America, I think it's good. I think it's even better for women to see a woman represent them. It says that they can do anything. If she can do it, so can they.
---
Francesca Cagnana of Florida, a first-year student majoring in Journalism and Broadcasting: 
I thought it was great to see our new administration inaugurated today. I voted for Joe Biden because I did not agree with Trump's beliefs. It's been really nice to see everyone around here be so happy about it—everyone is really diverse—so it felt great seeing everyone celebrate today. I hope the Biden administration follows through with climate change efforts.
---
Izzy Bong of Denver, Colorado, a first-year student majoring in Ecosystem Science and Policy:
The big thing I want to see from this administration is for it to follow through on climate change. Especially going into my major, I think that is really important. Today was just so incredible and moving. It really sent a message that you can do whatever you want.
---