White sand beaches, year-round warm weather, and a plethora of vibrant cultures—what's not to love about living in "the 3-0-5?" On March 5th, the City of Miami celebrates 305 Day, an unofficial homage to the Magic City. 
On this 305 Day, University of Miami students share a few of their favorite things, places, and reasons for living in Miami. 
---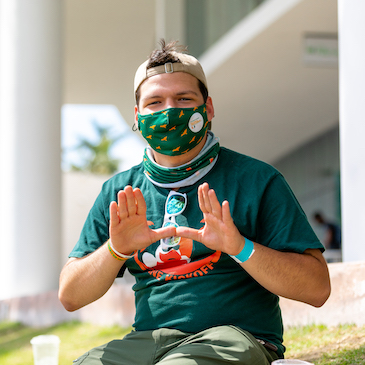 Marcel Van Henert, a first-year student studying international relations and geography, is a Miami native. 
"What I love most about Miami is the weather. I love the way the sun shines and the wind blows. It's just all very relaxing and soothing to me. The people are also great here; I love how cultured our city is. We have people from all over the world who come to Miami to live, work, and play. I think that's such a beautiful thing that we have in our city. Part of me will always love Miami. It's all I've known for 18 years; so, to say I love it might be a gross understatement." 
---
Rachel Norcraft, a Ph.D. student in the department of English, is originally from New Hampshire. She says Miami's vibrant culture and art scene drew her to the city. 
"I'm a dancer, so there's a lot of Afro-Cuban dance here. What brought me here is my favorite thing about Miami—all of the music, the art, and the dance that comes from the Caribbean. Miami is the city where it all comes together. It's been amazing to see that people are still making it all happen despite COVID." 
---
Anabella Zambrano, a senior studying broadcast journalism, was born and raised in Pembroke Pines. Zambrano recalls coming to Miami frequently while growing up to check out Miami's food scene. 
"My favorite thing about Miami is all the different restaurants of every culture. I'm from Venezuela, so I love that I can find good Venezuelan restaurants anywhere here. I also love that I can find tons of restaurants of other cultures anywhere in the city. I'm a foodie, so I love being somewhere that has such a variety of flavors." 
---
Martina Lasen Harsch, a first-year student studying biology, was born and raised in Santiago, Chile. For her, living in Miami was the perfect coalescence of weather, big-city life, and coastal escapes.
"I love having the warm weather all year. I also just really love the vibe of living in a big city like Miami. And, of course, having South Beach so close. That's why I came here to study."
---
Mike Amuela, a first-year student studying broadcast journalism, grew up in Pembroke Pines. 

"Everything and everyone in this city is so open; it's like a giant community. I grew up coming to Miami. So, living here now is great because it still feels so close to home. If someone were visiting Miami, I'd probably send them straight to South Beach—to see why I love it here—or maybe to a Heat basketball game." 
---
Cannon McClure, a junior studying vocal performance at the Frost School of Music, is originally from Dallas. She said finding a school with an excellent academic program, tropical weather, and—a local favorite—Publix made her decision to move to Miami an easy one. 
"Most of the other music schools I looked at are in really cold places. In Miami, I love the weather. I also really just love Publix. I think it's the best grocery store in the world," she said. "Being so close to a big city, when there's not COVID, is also great. There's always something new to do, places to go, or restaurants to try." 
Students who want to celebrate 305 DAY on campus can attend Category 5's event from 2 to 4 p.m. on the Lakeside Patio.
---