The U Creates continues a series focused on highlighting members of the University's creative community.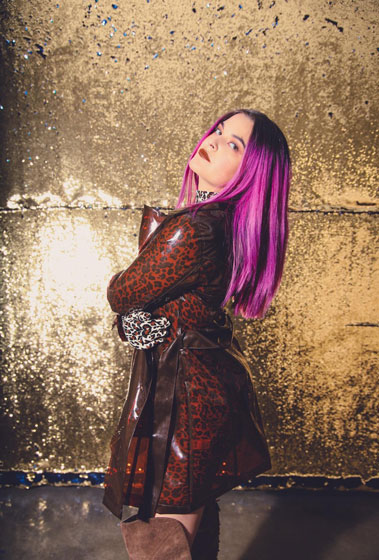 In this "Spotlight" feature, meet Jasmine Ortiz, a junior majoring in musicianship, artistry development, and entrepreneurship with minors in political science, music business, and songwriting.
Tell me about yourself
My time here at the U has been filled with a wide array of student orgs, incredible friendships, and even business endeavors. I am also a member of the Miami Model United Nations team's executive board as outreach chair, and the remote student senator for Student Government. I was really drawn to start my college career here, because of the incredible school spirit and sense of community that I witnessed as a senior in high school, visiting for the first time on my audition day.
I am a Latina of Puerto Rican, Salvadoran, and Spanish heritage, so being in a city like Miami only helped me connect more with my cultural identities as well. As a member of the senior class of 2022, our ride hasn't been the easiest with the scare of Hurricane Dorian and a pandemic cutting our sophomore year short. But I am truly grateful to have been able to persevere with other members of my class and the classes above us to make our college experience truly unforgettable.
I am passionate about songwriting, music production, performance, and recording in addition to public policy development, environmental sustainability, and the nonprofit sector. I hope to one day allow my career aspirations to overlap and use my platform as an artist to advocate for social causes I care deeply about.
What inspired you to pursue music?
I have always had an interest in music from a very young age. At 2, my parents tell me I was singing little melodies I made up. And at 3, I started taking piano lessons after begging my mom for months to let me. I picked up the guitar when I was 9, and pretty much got all the basics of my musicality during childhood. Since then, I solidified my career aspirations by going to a performing arts high school for jazz guitar and classical piano, and now I am pursuing a higher education in popular music.
What drives your creative spirit?
I would say that the main things to drive my creativity are having fun or intense life experiences. When I'm at my highest or lowest points, I create. If I'm anywhere in between, I find myself trying to use past experiences as inspiration. However, I could tell that I was growing as a writer this past year, because I finally felt that I no longer needed a recent firsthand experience or emotionally charged moment to write an emotionally impactful song. I find that the more and more I focus my energy on learning what makes a song good, the less energy I have to spend on searching for subject material—it'll just come to me.
How do you stay inspired during the pandemic? What is something you are working on this year that you would like to share?
I would say that the first four to five months were the hardest, after such an abrupt and jarring stop to normal life and my sophomore year of college, it felt impossible to ground myself. Once we collectively got more used to the situation and learned ways to live with it and carry on with our lives safely, it became more manageable to cope with. At that point, after taking a decent break from creating, I was able to pour my heart into the new music I made over the summer and in the past few months. I have grown so much as a producer in the past year as well, learning the ins and outs of logic and starting to develop my own unique sound as an artist. I am currently preparing for my next release, "Jaguar," which is set to be out sometime in April, and follows after my latest release "Cherry on Top" produced by TrackDilla.
What are your proudest achievements?
I think one of my proudest achievements is getting to come to this school and earning the Presidential Scholarship from Frost in the process. It was a surreal feeling, getting into not only my dream college but to also be awarded with that kind of accolade. Another really surreal moment for me was realizing that I had reached over a million views each on my past two music videos—"Cherry on Top" and "Trick or Treat"—in under a month for both. It was kind of crazy to think that so many people were watching my videos and engaging with my music in a way that was real and tangible.
Who do you look up to, or are inspired by, the most?
One of my greatest inspirations is definitely Leonardo DiCaprio because of how he's utilized his platform as a successful actor to create the Leonardo DiCaprio Foundation dedicated to addressing the issue of climate change. He has gotten to speak at the United Nations about sustainability and the work he does with his foundation to combat these issues. Not only is he incredibly talented in every artistic endeavor he pursues, but he also utilizes his achievements for a greater purpose.
What are your future goals and how do you hope Frost can help you achieve them?
This past semester—the fall of 2020—I was remote and living in Los Angeles working nonstop on music for my next projects. I was developing as a producer and songwriter with the help of some of my industry mentors, CesarDaEmperor and TrackDilla, two incredibly talented producers. I can say wholeheartedly that I would not have been prepared for that experience without the knowledge and skill sets I have been able to grow through my time at Frost. I have developed so much as a songwriter and producer because of the courses and professors I have gotten to experience; so, I think that my time here has already had an incredible impact. Some of my future goals include working full time as a recording artist and being able to tour to perform my music. I also want to keep working as a songwriter and producer both for myself and for other artists. Long term, I see myself engaging heavily in advocacy work and potentially considering a future in law school.
---